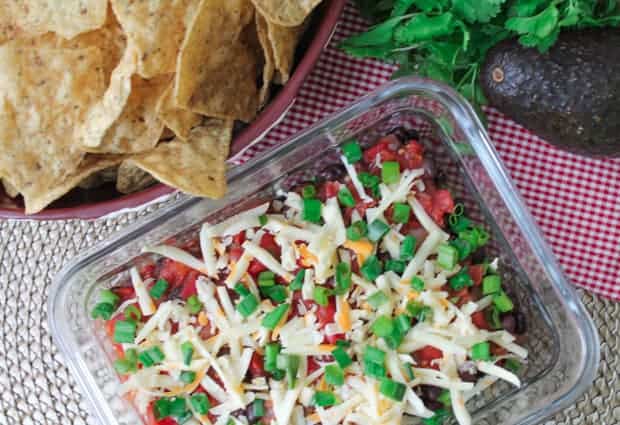 Who doesn't love Seven Layer Dip? Especially when it's a healthy version using Greek yogurt over sour cream and lots . of . veggies. No one that's who! 😉 You can use tortilla chips, Mary's gluten free crackers, or sticks of celery and peppers for dipping. Celery and peppers are the best for this as they form a scoop shape that allows you to get a bit from every layer in your mouth. That's the most important part, right? How much can be shoveled into your gob! 😉
Anywho, if you're looking for healthier Super Bowl party options, look no further. Oh, and Danielle tweeted the other day if she wasn't a blogger she would have no idea that it was Super Bowl time. So Danielle, it's homework time! What teams are in this years Super Bowl? Bonus points if you can guess who I'm rooting for!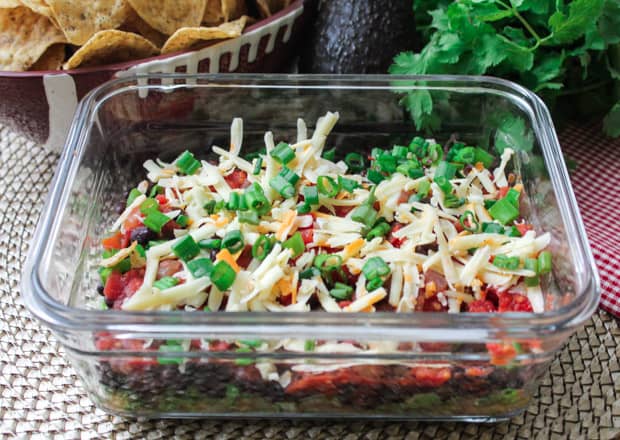 Now let's see the players in this game … er … ingredients in this recipe! 🙂
For the first layer I shredded a head of romaine. Easy.
Then, I made some chipotle yogurt. What the heck is chipotle yogurt you ask? Let me tell you! Instead of sour cream I'm using Greek yogurt for this healthier dip but I want it to have some oomph, so I stirred some of the adobo sauce from a can of chipotle peppers into the Greek yogurt. Presto! Chipotle yogurt. Just make sure you are using the natural flavour yogurt. Vanilla would be pretty gross in this. 😉 Natural yogurt + adobo sauce.
Next I scooped out the goods from a avocado and chopped it up with a handful of cilantro and added that on top of the chipotle yogurt.
Following the avocado  we have black beans, salsa, shredded cheese and finally, the seventh layer, sliced green onions.
I layered all of the components into a glass container and promptly went to town munching away. It was a great snack for watching the Grammy red carpet show. I love watching the parade of fashions for the award season. the Grammys is good but the real glamour is usually at the Oscars. Do you watch the award shows? Prefer the Superbowl over the Oscars?
Either way, this dip was the winner in our house. 🙂
Healthier Seven Layer Dip – Gluten Free
Ingredients
1 head of romaine, shredded
1/3 cup greek yogurt
1 tbsp adobo sauce
1 avocado
handful of cilantro, chopped
1 tin (398 ml) black beans, rinsed and drained
1/3 cup salsa
1/3 cup shredded cheese
3 green onions, sliced
Instructions
Mix the adobo sauce together with the yogurt
Chop together the cilantro with the avocado
Layer the ingredients as listed in a medium sized glass container
Serve with chopped peppers, celery, tortilla chips, or Mary's gluten free crackers
7.6.7
272
https://thehonoursystem.com/healthier-seven-layer-dip-gluten-free/