Alabama White BBQ Sauce. We all have our favourite BBQ sauce but have you heard of White BBQ Sauce? It is tangy with a definite spicy kick. Fabulous drizzled and on grilled chicken or spun into pulled sandwiches, this easy recipe is also keto, low carb and gluten free! Those are the perks of homemade. The mayo is homemade too! Learn how.
When the grill gets fired up everyone thinks about BBQ Sauce.
White BBQ Sauce was a discovery for me. It originated in an homemade Alabama fire pit and the mayo based, horseradish and cayenne laced wonder has been drizzled over char grilled chicken legs ever since. 🙂
So here it is, the famous Alabama White BBQ Sauce.
I was perusing Pinterest the other day and came across this link for a BBQ sauce that was right up my alley.
It's a mayonnaise based sauce which I love because I make my own mayo (and so can you). Horseradish is one of my favourite things and I am always looking for more ways to enjoy it and this sauce has it!
WHAT IS WHITE BBQ SAUCE
It all started in Alabama with a guy named Big Bob Gibson.
Legend has it he was a six foot three, three hundred pound railroad worker who loved BBQ so much he hand dug his own pit to fire his meats. He then concocted this this cool, tangy sauce to compliment his roasts.
It's mayo, thinned out with apple cider vinegar then punched up a few notches with horseradish and some pepper.
HOW DO YOU USE WHITE BBQ SAUCE
A better question is how DON'T you use it.
It's fabulous on grilled chicken. Baste it on a few minutes before the chicken is cooked and then use the rest for dipping.
Marinate your chicken in it!
Excellent in pulled pork or chicken sandwiches.
Use it as a dip for your roasted potatoes or french fries.
HOW DO YOU STORE HOMEMADE BBQ SAUCE
This sauce can be stored in a sealed glass jar, such as a small mason jar in kept in the fridge. You can shake it up in the jar or use a spoon to give it a stir before serving. Vinegar helps the life of this White BBQ Sauce and it should last up to two weeks refrigerated.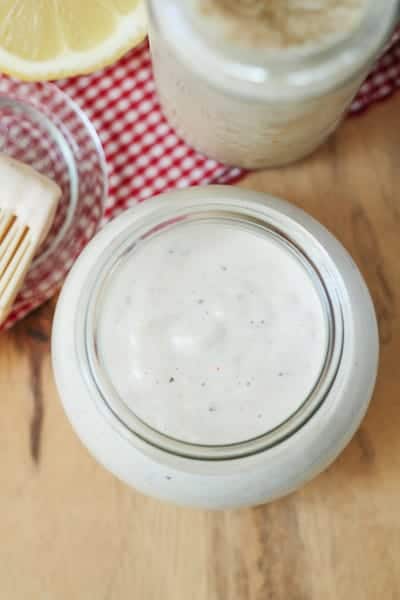 MORE GLUTEN FREE RECIPES:
Be sure to follow me on social media! I love pinning to Pinterest, sharing on Facebook and posting pics to Instagram. See you there. 🙂
As an Amazon Associate I earn from qualifying purchases.
White BBQ Sauce
Instructions
Add all ingredients to a medium mixing bowl and use a wire whisk to blend them together until creamy and smooth.

Store any leftovers in a sealed glass jar in the fridge for one to two weeks.
Nutrition
Calories:
1565
kcal
Carbohydrates:
8
g
Protein:
3
g
Fat:
168
g
Saturated Fat:
26
g
Trans Fat:
1
g
Cholesterol:
94
mg
Sodium:
2772
mg
Potassium:
226
mg
Fiber:
2
g
Sugar:
7
g
Vitamin A:
370
IU
Vitamin C:
14
mg
Calcium:
53
mg
Iron:
1
mg