Cheesy Cauliflower & Leek Soup – Vegan & Gluten Free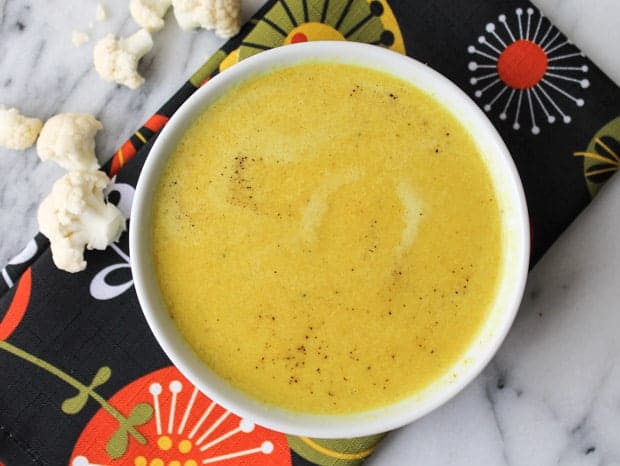 How can a soup be both cheesy and vegan? Nutritional yeast, that's how!
If you are new to these fabulous flakes I am honoured to introduce you 🙂 Fortified nutritional yeast is not only a great source of B vitamins, and a complete protein, it is also naturally low in sodium and free of sugar, dairy, and gluten. With a cheesy, nutty taste it is super popular in soups. I love adding energy, fibre, and protein into my meal with just a few tablespoons of this tasty, nutritious flake. I buy mine in the bulk bin section at my grocery store. If I'm looking to limit my dairy, nutritional yeast is such a great flavour option.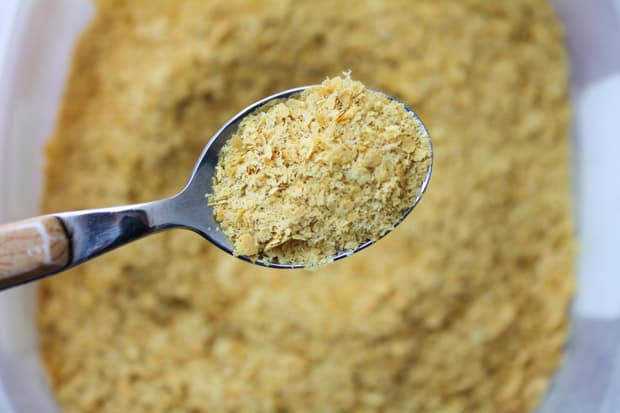 Adding to the creamy texture is cauliflower. Ditch the heavy cream and sub in the veggie alternative! Not only does cauliflower totally taste creamy, it's totally a vegetable. 😉 I chopped a small head into little florets. For some light onion-y flavour I thinly sliced up the whites of a large leek to get my soup started. Sautee up the veggies in some coconut oil over medium low heat.
Cover them in some veggie broth (if you want to make your own check out this method) and let everything simmer for about half an hour.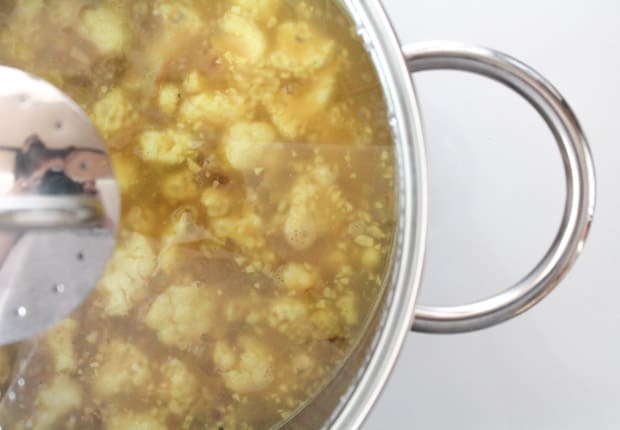 I haven't used my immersion blender since I faced my fear of tomatoes awhile back, and made this roasted tomato soup . It is a great appliance for creamy pureed soups as you don't have to fuss with transferring hot soup to a blender, in batches no less, and it's super-fast to clean. The result is a velvety smooth soup that's irresistable.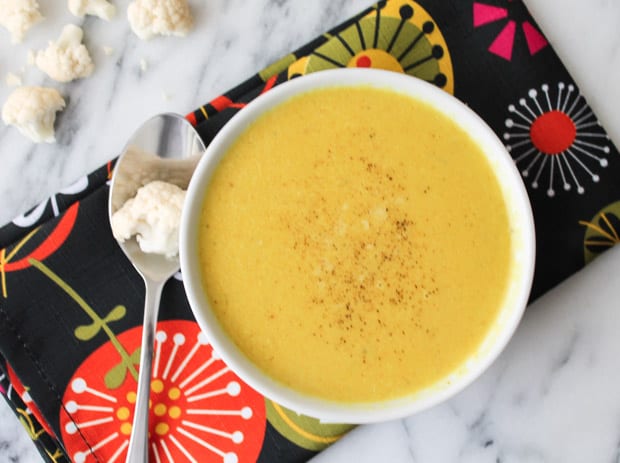 Pair this up with a sandwich or some toasted Ezekiel bread if you're looking for a hearty meal or toss up a simple salad to keep things light. Whatever you do, add lots of fresh ground pepper! Pepper in this soup = brilliant. I brought some leftovers to work for lunch and more than a few co-workers inquired about what I was eating. It smelled and looked good. I cleaned my bowl and felt no shame. You won't either 🙂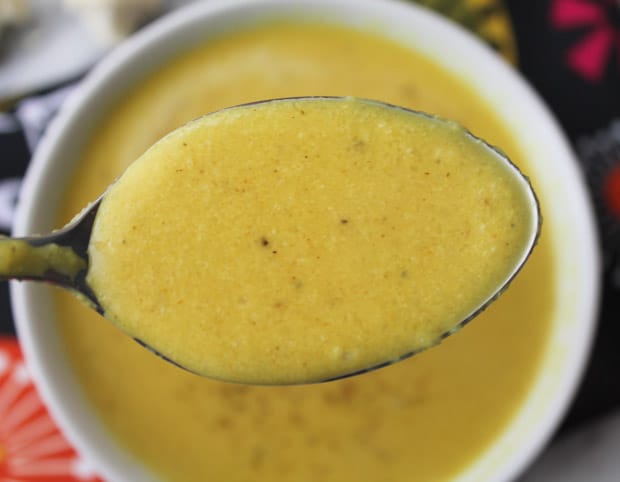 As an Amazon Associate I earn from qualifying purchases.
Cheesy Cauliflower & Leek Soup – Vegan & Gluten Free
Instructions
In a large soup pot, melt the coconut oil over medium low heat and add in the sliced leeks

Once the leeks have softened, add the garlic and stir. Toss in the cauliflower and stir to combine. Cook for about 3 minutes more. Reduce heat to low, add the 3 cups of stock, coriander and turmeric

Cover and let everything simmer for 20 minutes

Remove from heat, uncover and stir in the additional nutritional yeast. Puree with and immersion blender, or blend in batches in your regular blender

Season with sea salt & pepper. I love lots of fresh ground pepper in this soup
Nutrition
Calories:
113
kcal
Carbohydrates:
10
g
Protein:
3
g
Fat:
7
g
Saturated Fat:
5
g
Sodium:
718
mg
Potassium:
230
mg
Fiber:
2
g
Sugar:
2
g
Vitamin A:
745
IU
Vitamin C:
16
mg
Calcium:
26
mg
Iron:
1.1
mg