With the abundance of nut allergies, it seems like peanuts have gotten kind of a bad rap. No longer the star of sandwiches at lunch and thanks to the paleo movement, almonds have taken over as the 'health nut' of  choice.
Well, today I am bucking the system and going rogue with a peanut recipe. A sweet and salty delight that will once again bring peanuts to the forefront. I present you:
Honey & Coconut Oil Roasted Peanuts! Boom. 🙂
Perfect for snacking on while watching a movie, or maybe even adding to a salad for an interesting texture component. Lots of options with these crunchy little nuggets.
I use a local honey that I buy from my local health food store. I can't tell you how amazing this honey is. I add it to anything I make and it transforms it into magic. No comparison with the store bought. None.
Melt the liquid gold honey together with some coconut oil, which is another staple ingredient I could just go on and on about. A little punch of sea salt and we are ready to toss in our nuts!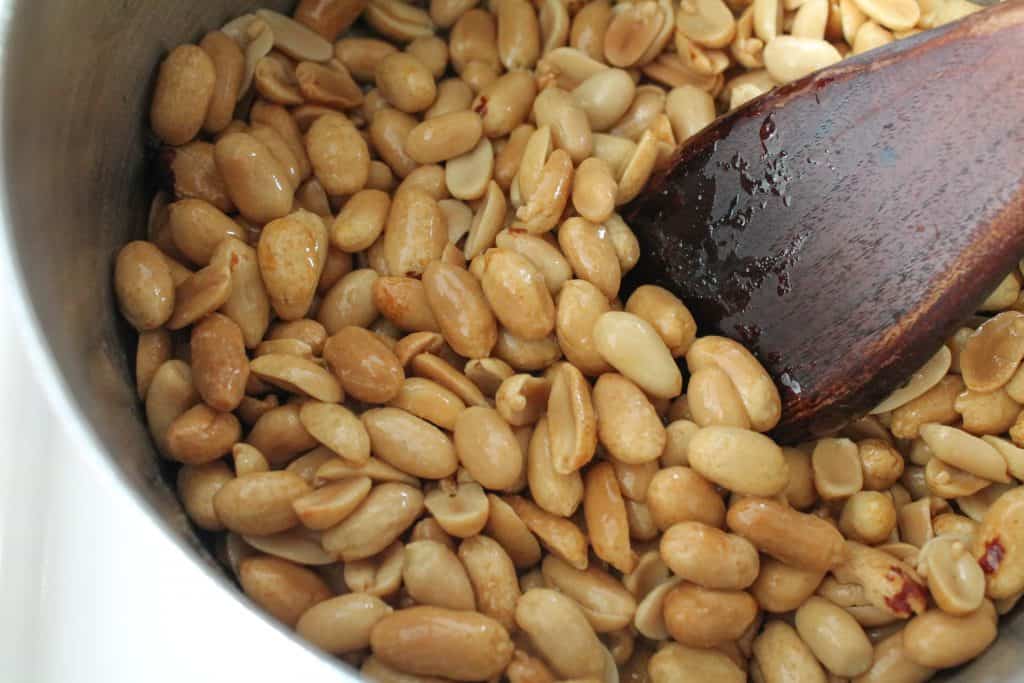 Once they are nicely coated, the peanuts get toasty in the oven. Stirring them around a few times keeps them from sticking or burning. It also lets you sample the goods while you work. Perks of being the cook. 😉
Toss the roasted nuts with coconut sugar and then leave them be to absorb all the of the goodness. Stir it every once and awhile so it doesn't form one huge clump.
The result is a sweet and savoury snack that would definitely be a hit when hosting friends for drinks or having a simple movie night in with your family. A must try.
Enjoy!
As an Amazon Associate I earn from qualifying purchases.
Honey & Coconut Oil Roasted Peanuts – Gluten Free
Keyword:
honey coconut oil roasted peanuts
Instructions
Preheat oven to 325 and spray a 9x13 with non-stick spray and set aside

In a large saucepan over medium heat melt together the honey, coconut oil and sea salt until liquidy

Remove from heat and stir in the peanuts, coating them well

Pour into prepared 9x13 dish and roast for 30 minutes, stirring every 10 minutes or so to make sure they aren't burning or sticking

Pour roasted nuts into a large bowl and toss with the coconut sugar again, coating them well

Leave the nuts in the bowl to cool completely, about 15 minutes, stirring every few minutes to make sure they don't clump together
Nutrition Facts
Honey & Coconut Oil Roasted Peanuts – Gluten Free
Amount Per Serving
Calories 129
Calories from Fat 90
% Daily Value*
Total Fat 10g 15%
Sodium 107mg 4%
Potassium 135mg 4%
Total Carbohydrates 6g 2%
Protein 4g 8%
* Percent Daily Values are based on a 2000 calorie diet.