OK…my mission was for something sweet and crunchy…I was craving (and let's face it, eating) sweets galore this week! Not sure why but my body was craving sugar, big time…
I always have cinnamon in my arsenal and almost always have maple syrup. The new ingredient for these wicked good almonds was coconut sugar.
I've had it in the cupboard for a bit after buying it on a whim when I saw it on sale. The benefits of using coconut sugar over refined white sugar or chemical sweeteners are substantial. With the processed sugars, vitamins are being depleted whereas coconut sugar has been reported to actually contain micro nutrients. This toasty flavoured, natural sweetener is very low in the glycemic index which has shown to lower 'bad' cholesterol. It was my first time using coconut sugar so I was curious how it would turn out.
I warmed the maple syrup a bit so it would be more liquid-y and really coat the almonds.
Then I stirred together some cinnamon, sea salt, and the aforementioned, coconut sugar…
…and mixed them in with the maple covered almonds.
Give them a good stir so that that each almond has been coated.
Spread them out on a parchment lined sheet and bake for 10 minutes.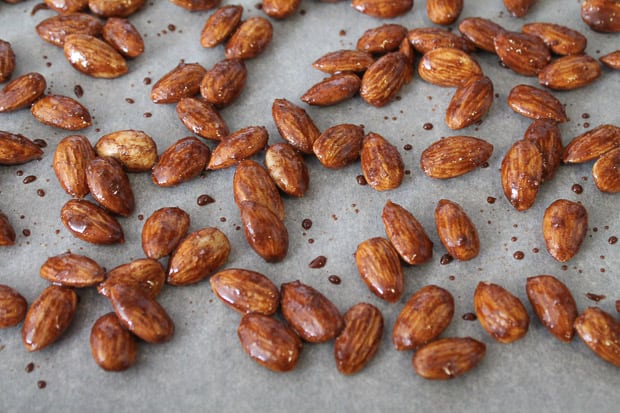 When they come out of the oven they are deep brown in colour, almost caramelized.
Stir them around, loosen them from the parchment and leave for 10 minutes.
The coconut sugar is definitely not super sweet. You may want to use a bit more than I did to sweeten them up just a tad but it's not totally necessary. As they were I could not stop eating them…
At one point I was worried that I wouldn't even have enough to photograph if I didn't stop!
Best part? Done in 25 minutes flat, including doing the dishes. Boom!
Maple Cinnamon Roasted Almonds
Ingredients
1 cup almonds
2 tbsp maple syrup, slightly heated
1 tsp coconut sugar
1 tsp cinnamon
pinch of sea salt
Instructions
Preheat oven to 375.
Coat almonds with heated maple syrup, stirring well.
Mix dry ingredients together and mix into almonds, coating well.
Bake for 10 minutes on parchment lined sheet.
Remove from oven, loosen almonds from parchment and stir around.
Let sit for 10 minutes.
7.6.7
84
https://thehonoursystem.com/maple-cinnamon-roasted-almonds/