These Chocolate Peanut Date Squares are a fabulous energy-boosting snack. Sweet dates, crunchy peanuts and don't forget the dark chocolate topping. Made with organic ingredients without breaking the bank!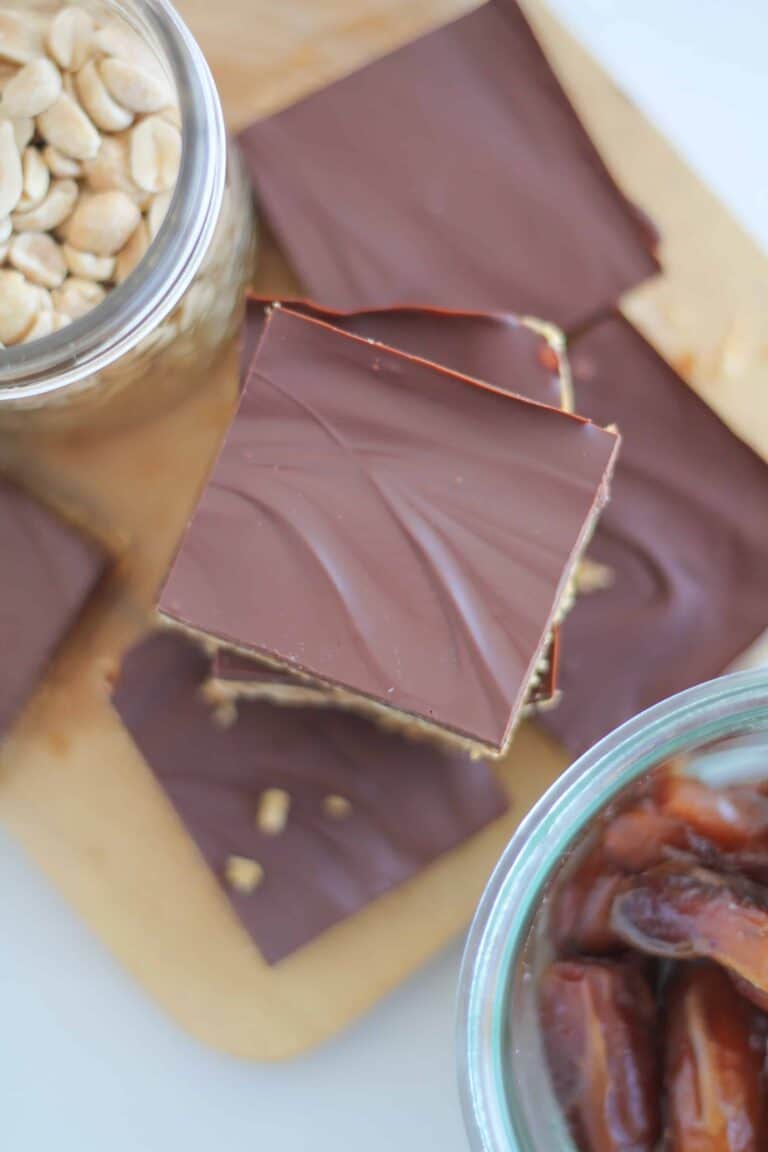 If you are anything like me, eating fresh organic food can really test your food budget.
In my case, food basically comes first.
Shoes, clothes, fancy purses all come a very distant second to my grocery needs. That being said, we live in the most expensive city in Canada.
Yes, Vancouver is beautifully scenic and the weather can't be beat, but emptying my bank account for organic almonds is not working for me anymore. 😉
CHOCOLATE PEANUT DATE SQUARES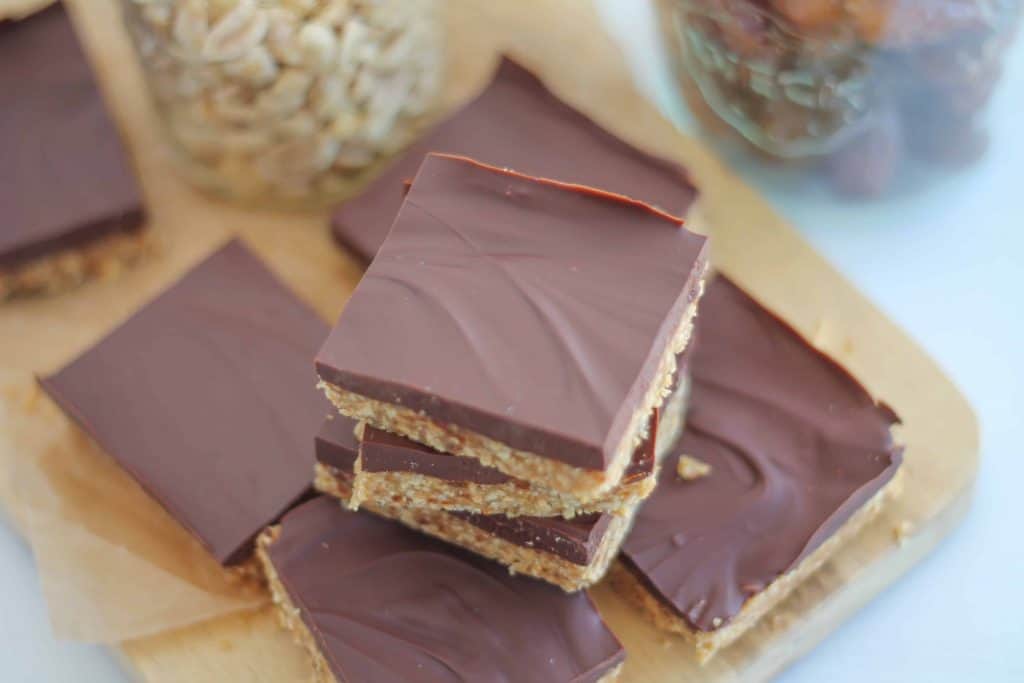 Don't get me wrong, I love almonds.
But you know what I love more?
Putting more than just almonds in my grocery buggy. Enter peanuts. Why, oh why, have I forsaken the beautiful peanut. I realize that it is a highly allergenic food for a lot of folks, but thank the lord above, I am not one of them.
Organic peanuts are a fraction of the price of the almonds and they are my new best friend. 🙂
Another budget find was a big bag of organic dates from Costco. The wholesale giant has some great deals on organic foodstuffs like grains, frozen fruit and more. Oh, and did I mention organic coconut oil?
Stock up on that at Costco too.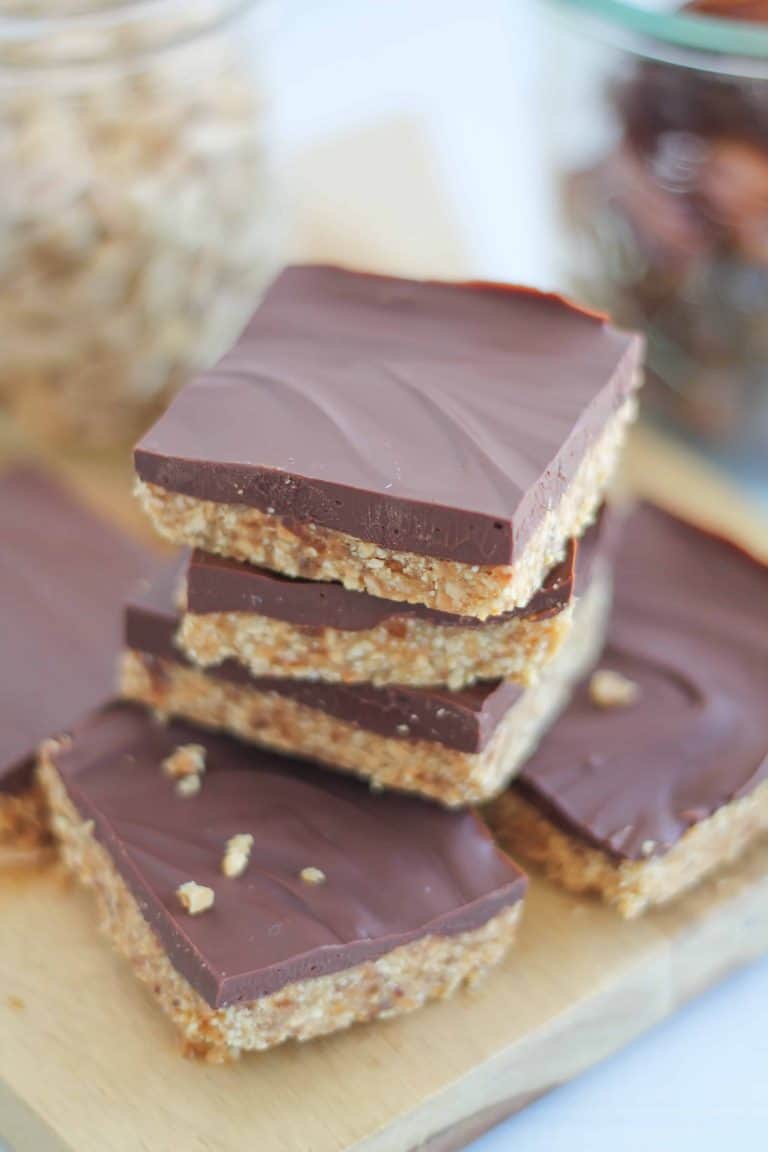 The dark chocolate chips were purchased on sale at my local grocery store. Whenever I see a pantry staple on sale I stock up. For instance the coffee beans we buy are fairly pricey but are routinely discounted at an almost 2-for-1 price. When that happens we buy four bags and coast for a few months.
These Chocolate Peanut Date Squares took all of fifteen minutes to whip together and after chilling in the freezer, they made for a great treat. I like them cold, whereas Joe will thaw his for a bit to soften the chocolate.
It's up to you. 🙂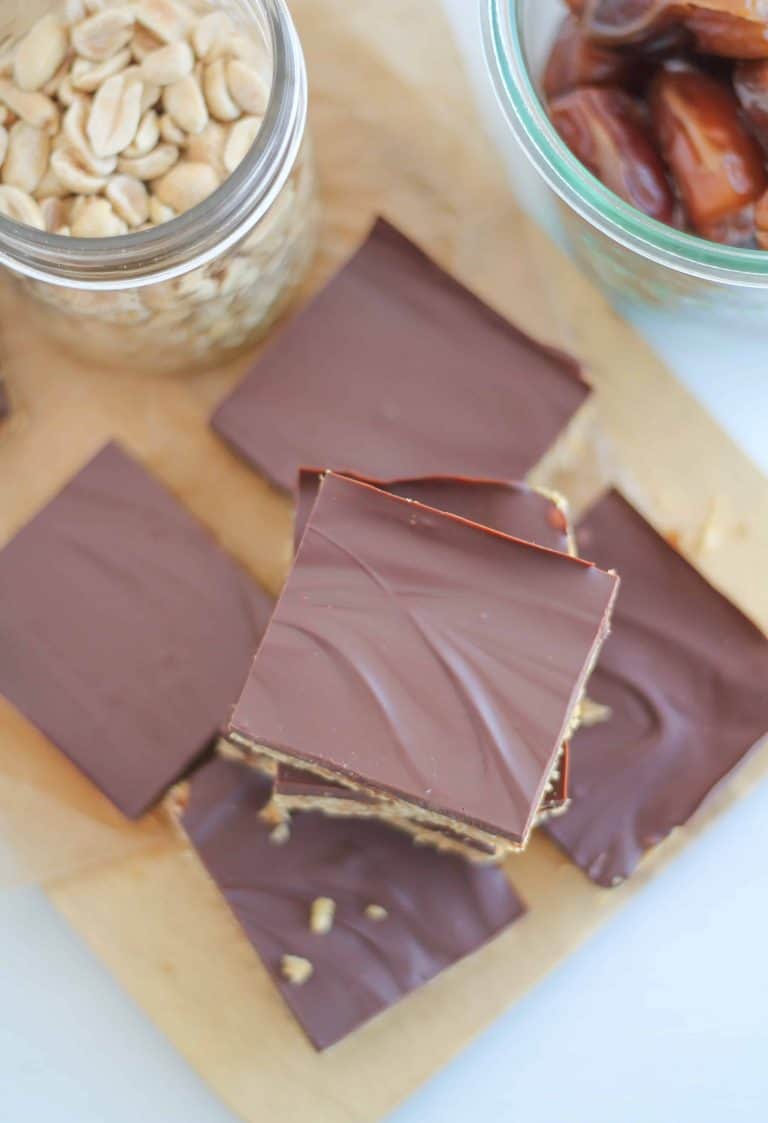 Enjoy!
MORE HEALTHY SNACK RECIPES:
Chocolate Chunk Cookie Dough Protein Balls
Homemade Cashew Cookie Larabar
Originally posted August 24, 2018. Updated July 9, 2019
Be sure to follow me on social media! I love pinning to Pinterest, sharing on Facebook and posting pics to Instagram. See you there. 🙂
As an Amazon Associate I earn from qualifying purchases.
I used a Kitchen Aid Food Processor for this recipe.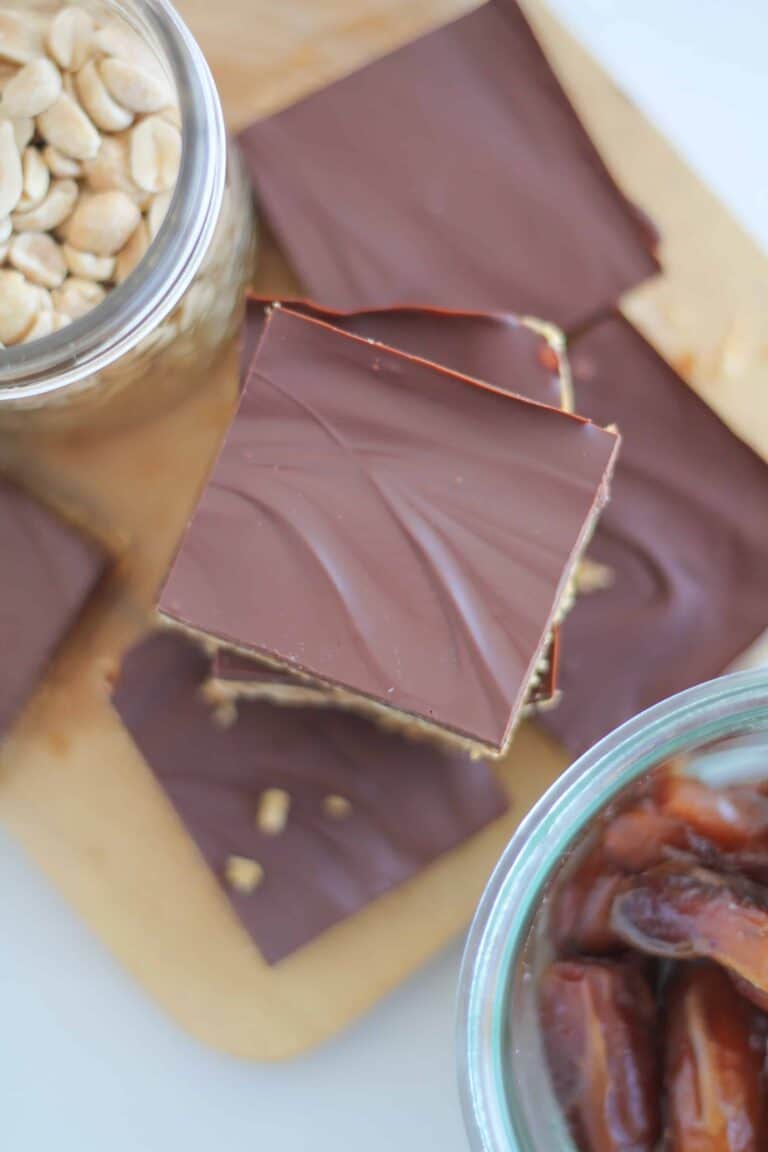 Chocolate Peanut Date Squares – Vegan & Gluten Free
Keyword:
Chocolate peanut date squares
Instructions
Take the pits out of your dates and place them in a bowl. Cover them with water and soak for 5 minutes. Meanwhile, line a 9x5 loaf tin with parchment paper and set aside

Drain the water and place the soaked dates in a food processor along with the peanuts

Process until the mixture is sticky and the dates and nuts are broken down. Press the mixture into the prepared loaf tin, being sure to really press it down evenly and into the ends. Place in the freezer to chill

In a small saucepan over low heat, melt together the chocolate chips and coconut oil. Once the chips have melted and the mixture is smooth, remove from heat and stir in a pinch of sea salt. Take out the loaf tin from the freezer and pour the chocolate mixture over top. Spread it evenly with a spatula and place back into the freezer for 20 minutes. Cut into 8 big squares or 16 bite sized squares (recommended). Store in a covered container in the fridge or freezer
Nutrition Facts
Chocolate Peanut Date Squares – Vegan & Gluten Free
Amount Per Serving
Calories 154
Calories from Fat 90
% Daily Value*
Total Fat 10g 15%
Sodium 15mg 1%
Potassium 204mg 6%
Total Carbohydrates 12g 4%
Protein 4g 8%
* Percent Daily Values are based on a 2000 calorie diet.