These Rosemary Roasted Almonds are the perfect Fall treat. They are savoury and woodsy with a touch of heat. A healthy, gluten free snack recipe.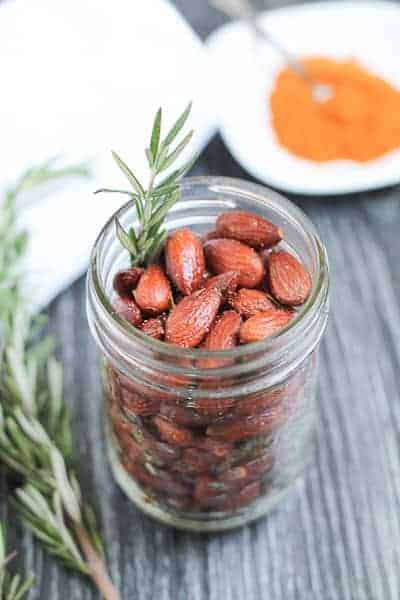 These Roasted Rosemary Almonds are a great snack for everyday but also fantastic for putting out at a party or bringing as a hostess gift.
These tasty almonds have a great crunch factor as well as a super flavourful spicy punch.
ROSEMARY ROASTED ALMONDS
OK, people! I can not tell you enough how good these almonds are.
I brought a small batch into work yesterday and they were gobbled up quite enthusiastically by the crew. This recipe was inspired by leftover rosemary from the flax bread I made earlier in the week and I also thought I was due for a savoury roasted almond recipe.
I've already done a couple of sweet varieties, like the very popular maple cinnamon almond recipe, so here is a spicier option that delivers that crunch factor.
HOW TO MAKE ROSEMARY ROASTED  ALMONDS – STEP BY STEP
All you need are a few ingredients you probably already you have on hand!
Olive oil, sea salt, rosemary, cayenne powder and of course almonds.
The prep work is easy for these tasty tidbits. In fact it's as simple as one:
Two:
Three:
Give them a good stir so everything is coated all nicey-nice, then pop them in the oven and booooom …
There's something about the spice that makes me feel satisfied me with fewer almonds. That's saying a lot considering I can consume a crap-ton of almonds. 🙂
These are a little on the spicier side so if that worries you at all just leave out the cayenne. However, if you're on the fence as far as spice is concerned, give them a try. The heat just kicks in at the end and is fairly subtle, but it's definitely there.
The addition of the fresh rosemary is sooooo nice. I've mentioned in the past how much I love the fragrance of rosemary wafting through my kitchen.
There is something to be said about the power of aromatherapy.
When these almonds are roasting, I found myself taking long, deep breaths in and out inhaling the distinctive scent. I find it soothing.
Then, instead of inhaling the aroma, I inhale these almonds!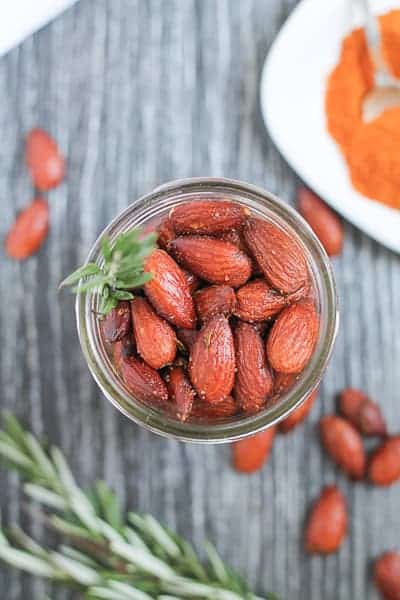 Be sure to follow me on social media! I love pinning to Pinterest, sharing on Facebook and posting pics to Instagram. See you there. 🙂
As an Amazon Associate I earn from qualifying purchases.
Rosemary Roasted Almonds
These Rosemary Roasted Almonds are the perfect Fall snack. They are savoury and woodsy with a touch of heat. A healthy, gluten free snack recipe.
Keyword:
gluten free snack recipes, savory almond recipes
Instructions
Preheat oven to 350

Mix all ingredients together ensuring the almonds are well coated

Pour out onto a baking sheet and roast for 10 minutes

Allow almonds to cool for 15 minutes

I store mine on the counter and we'll snack on them for a few days