Are you looking for a quick and easy treat? Try making your own Chocolate Covered Almonds! A vegan and gluten free sweet snack.
The big news around here is that I finally bit the bullet and JOINED COSTCO!
I know!!
After years of tagging along with Joe's mom, or friends, and even impersonating a co-worker (shhh), I decisively became a bonafide member of the grand daddy of all big box stores.
Now don't get me wrong, I still love farmers markets and local products, it's just that getting a big bag of avocados for a tiny price is music to the ears of the healthy home cook. I also stock up on coconut sugar,  Silver Hills sprouted grain bread, baking soda and … almonds.
A huge bag of almonds.
Chocolate Covered Almonds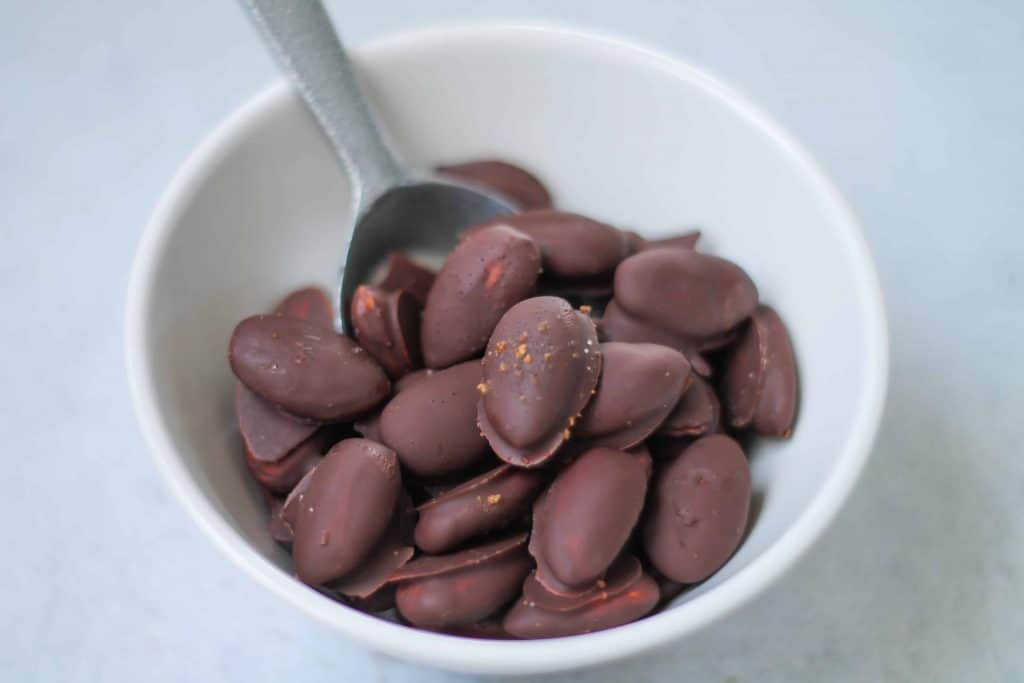 Before leaving on my last excursion to my new hangout, I asked Joe if he wanted anything. He answered "Chocolate Covered Almonds". I made a mental note of it but between considering a fleece blanket from Kate Spade and a new shower-head, I never found chocolate covered almonds.
However, there was that massive kilogram bag of almonds in my cupboard.
I put my food blogger apron on and got to work. 🙂
Using almonds that I had already roasted the night before made these babies even faster and easier to whip up. I do recommend using roasted almonds for that authentic taste.
And by authentic I mean like the ones you buy from some kid outside the grocery store. 😉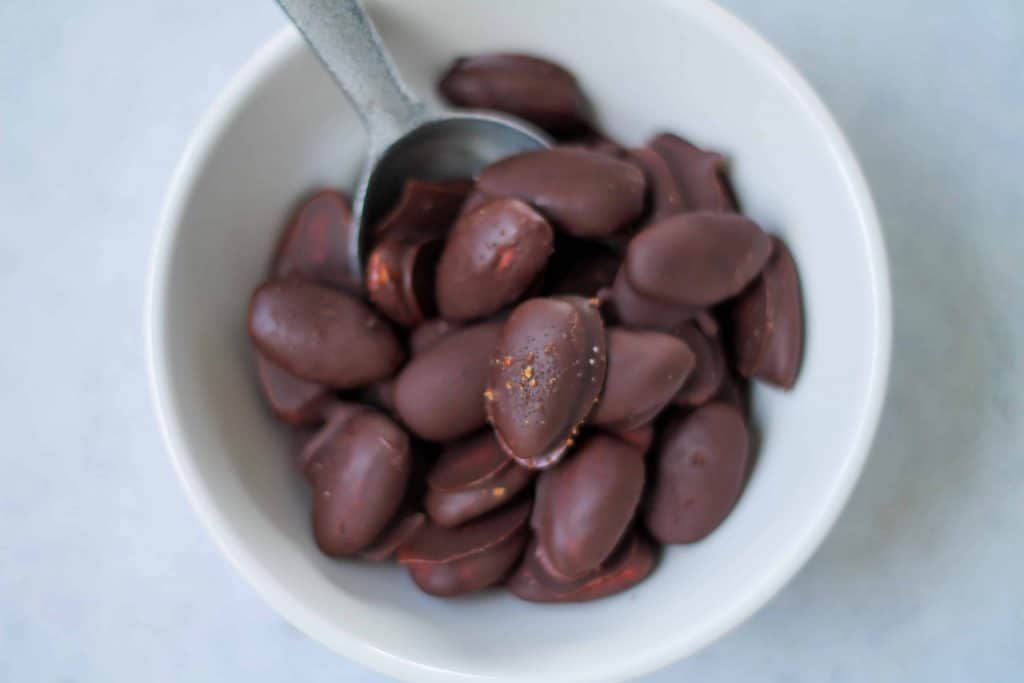 Using this recipe as a guide, these Chocolate Covered Almonds took form.
I placed half of the almonds on the tray in single file then got impatient and just dumped the rest out and spread it around into a bark-like chocolate bar.
So freaking good.
Happy Joe, happy me, and soon, happy you.
Enjoy!
MORE HOMEMADE ALMOND RECIPES:
Maple Cinnamon Roasted Almonds
Originally Posted July 24, 2017. Updated July 30, 2019
Be sure to follow me on social media! I love pinning to Pinterest, sharing on Facebook and posting pics to Instagram. See you there. 🙂
As an Amazon Associate I earn from qualifying purchases.
I recommend unbleached parchment paper for this recipe.
I use non toxic baking sheets like these in this recipe.
Chocolate Covered Almonds – Vegan + Gluten Free
Keyword:
vegan chocolate covered almonds
Instructions
Line a baking sheet with parchment and set aside

In a small sauce pan over medium low heat, melt together the chocolate chips and coconut oil, stirring until smooth and all of the chips have melted. Remove from heat and stir in the almonds, coating them well

Use a fork an one by one transfer the chocolate covered almond to the lined baking sheet ( alternately dump the whole thing on the sheet, spread it out evenly and make a bark ). Sprinkle with a little sea salt & coconut sugar to jazz them up a bit

Pop into the freezer for 30 minutes to set. Store in a sealed container in the freezer or fridge