Spicy Turkey Chili – Gluten Free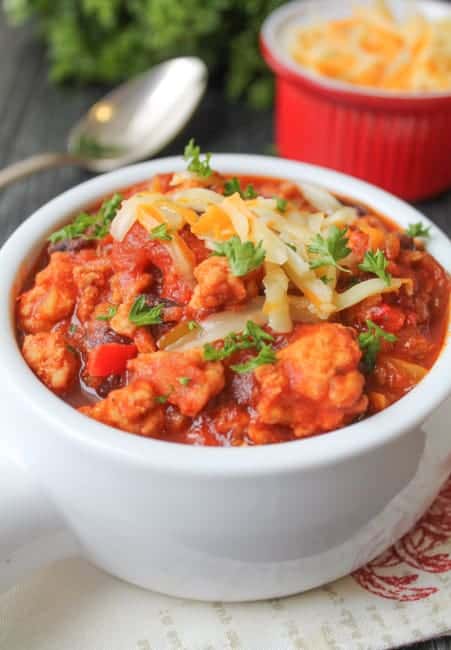 I've made a couple of variations of chili on The Honour System. A Vegan Chili, that we loved, and a traditional Beef Chili topped with some not so traditional avocado (yum!). Up next in the chili queue is a turkey incarnation. Tis the season, right? 😉 Time for turkey!
Spicy is a pre-requisite. There are so . many . ways to add life to your chili. For this turkey chili, I rolled with lotsa peppers. I spent a good while at the counter chopping away. This is probably a weekend-type meal because it does take some time to prep and you do want to let it bubble away and get all full of flavour.
So speaking of flavour, let's talk garlic. I minced up a bunch of cloves of garlic for this recipe. I adore garlic.
Now, I know this is not the most natural thing out there but I do like a good hot sauce. My go-to is this chipotle number. I douse eggs in it and love it in spicier soups and stews.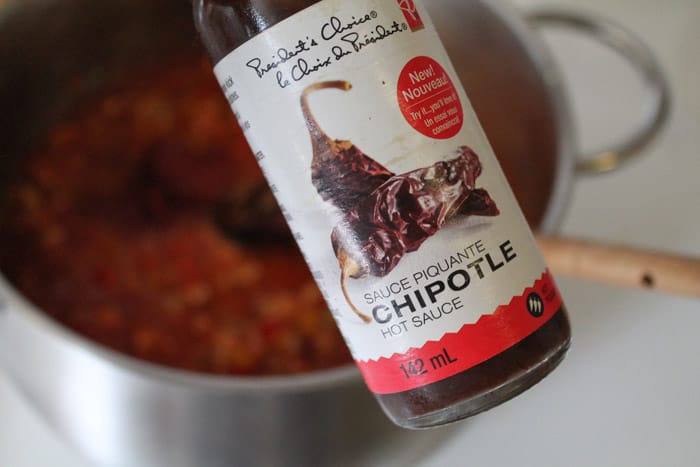 Time for the chopping peppers! I used a red one, a yellow one, and two yellow hot peppers. More spicy. 🙂
I chopped up some leftover tomatoes instead of buying a can. I really try to avoid cans because of the BPA shit in the lining that has been linked to numerous health concerns. I am still forking out the dough for canned beans, however, for the brands without the BPA in the lining. It's a lot more expensive than buying dried but my attempt at soaking and cooking beans fell flat. Any tips?
Clearly my skills lie in chopping. Check it out:
Some shredded cheddar on top was a nice, creamy addition and softens the heat a bit. Oh, and I love cheese. Chives or green onions would be nice too. If I had some, I totally would have tossed them on top. I had parsley, so that's what I used.
Chili is so good for freezing or for leftovers heated up for a nice lunch the next day. Cook once and eat twice, as I like to say. So smart for maintaining a healthy eating lifestyle.
Have a great week, everyone!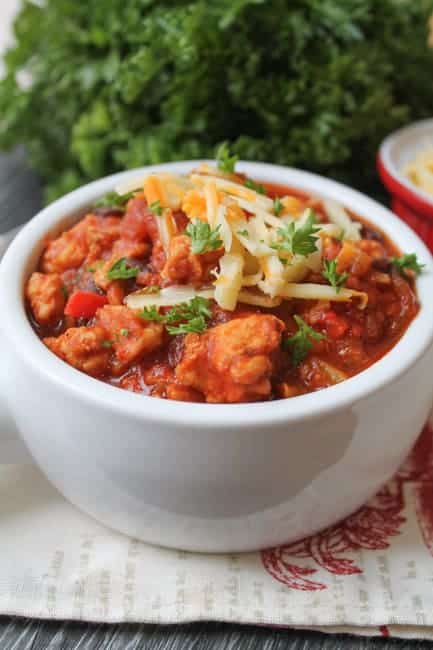 As an Amazon Associate I earn from qualifying purchases.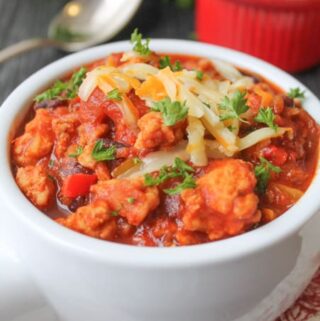 Spicy Turkey Chili – Gluten Free
Instructions
Over medium low heat, warm the olive oil in a large pot. Add onion and sauté for 4-5 minutes, until softened. Sit in garlic until fragrant, about another minute

Add ground turkey and cook until crumbled and cooked through

Stir in the remaining ingredients and simmer on medium low heat, stirring every so often, for at least an hour.
Nutrition
Calories:
425
kcal
Carbohydrates:
30
g
Protein:
59
g
Fat:
9
g
Saturated Fat:
1
g
Cholesterol:
124
mg
Sodium:
2727
mg
Potassium:
2027
mg
Fiber:
8
g
Sugar:
19
g
Vitamin A:
5430
IU
Vitamin C:
137.5
mg
Calcium:
82
mg
Iron:
6.4
mg