Put learning How to Make Dried Cranberries on your to do list. Making your own allows you to control the type type of sweetener you use and how much of it. No dehydrator needed! A healthier option to use in your holiday baking or in trail mix.
I was looking to make my own trail mix blend to tote with me to work as a healthier snack option.
A tasty addition to trail mixes is dried fruit, yet some people avoid it due to the refined sugar content. I thought, if I could make my own then I control what kind of sugar and how much of it goes into the dried fruit.
For this recipe, I roll with coconut sugar. I've done a fair bit of research on the benefits/pitfalls of the various sugars. We all know that basic white sugar is the crappiest out there and we should simply treat it as the poison it is.
You wouldn't pour a cup of poison into your cookies would you?
Me neither!
With that being said we all still enjoy sweet things. Part of enjoying life, to me at least, is enjoying food and I'm not willing to give that up. So, I've found that using coconut sugar, maple syrup and local honey is the solution that works for me.
I've heard the naysayers who will refer to recipes containing natural sweeteners like honey as being 'loaded with sugar'. Yes, it is technically sugar, but while we get technical let's also include the benefits to sweeteners like local honey and maple syrup. Just remember, with most things, moderation is key.
HOW TO MAKE DRIED CRANBERRIES – Step by step
OK!
Back to the purpose of this post which is my cranberries. Making your own dried cranberries starts with actually making cranberry sauce. Combine the cranberries with water and the coconut sugar.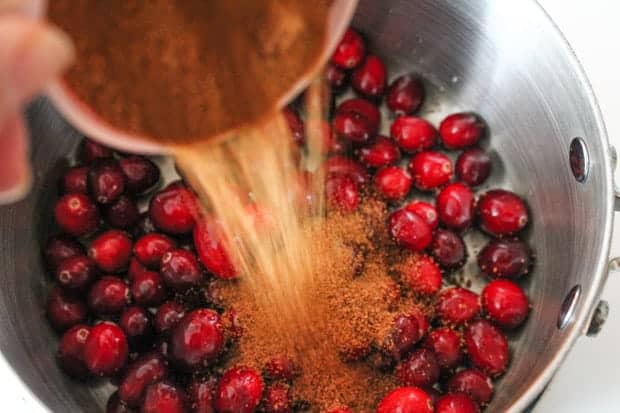 Bring the pot to a quick boil, then turn it down to a simmer and let it cook down until all of the cranberries have popped open.
Give it a good stir, ensuring all of the cranberries are opened and blended together.
Layer a baking sheet with paper towels. I used two layers. Then lay down a sheet of parchment paper and spread the cranberry mixture on top.
Since I don't have a dehydrator, it's low and slow in the oven for me.
And by slow, I mean 8 hours slow. That's right. I started this on Friday afternoon and finished Saturday morning. Easy prep, but it takes a long time to dry.
The verdict? It's worth it. I threw together a simple trail mix with raw almonds, dark chocolate chips and my fancy cranberries. Yes. Fancy.
I shared it around at work and it disappeared rather quickly. In fact, the cranberries were the first trail mix ingredient to go! I went back to the container to grab some and there were only almonds and chocolate left.
That's what I like to call, a good sign. 🙂
HEALTHY RECIPES USING CRANBERRIES:
Spicy Roasted Butternut Squash with Cranberries
Healthy Fruit, Nut and Seed Bars
Cranberry Orange Air Freshener
*Originally posted January 6, 2014. Updated November 14, 2019*
Be sure to follow me on social media! I love pinning to Pinterest, sharing on Facebook and posting pics to Instagram. See you there. 🙂
As an Amazon Associate I earn from qualifying purchases.
How To: Make Dried Cranberries
Keyword:
gluten free recipes, homemade cranberries
Instructions
Heat oven to 170 and line a baking sheet with 2 layers of paper towel and 1 layer of parchment

Combine coconut sugar and water in a medium saucepot and bring to a boil, stirring frequently

Add cranberries, stir well and reduce heat to medium low

Cranberries will pop open. Pop any that are still intact with the back of your spoon

Pour the mixture on the prepared baking sheet and spread it out as thinly as possible

Place in the preheated oven for 4 hours, remove from the oven, peel off the parchment, flip it over, and replace on a fresh sheet of parchment. Place back in the oven for another 4 hours, until completely dried through

Let sit on the counter overnight or for another 3-4 hours and tear into pieces with your fingers

Store in an airtight, glass container or jar
Nutrition Facts
How To: Make Dried Cranberries
Amount Per Serving
Calories 10
% Daily Value*
Sodium 4mg0%
Potassium 6mg0%
Carbohydrates 2g1%
Vitamin A 5IU0%
Vitamin C 1.1mg1%
Calcium 1mg0%
* Percent Daily Values are based on a 2000 calorie diet.