How to Make Homemade Refried Beans
How to make easy Homemade Refried Beans! This is the BEST refried beans recipe, made from scratch with healthy ingredients. Enjoy this vegan and gluten free recipe on its own or add cheese and pop in the oven for a baked bean dip.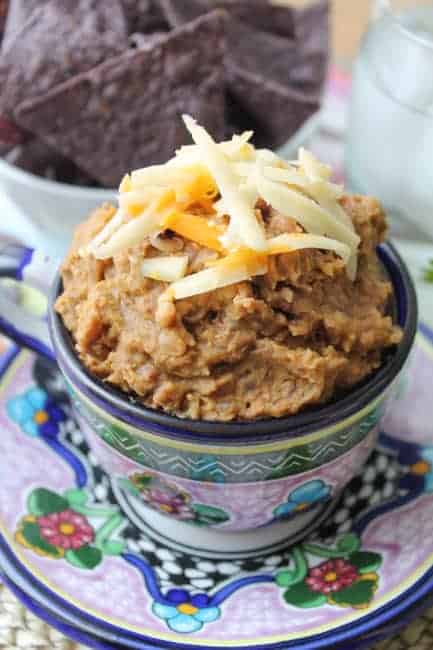 This Mexican refried beans recipe is so easy it's almost ridiculous that they sell it in a can. If you are heating them up for dip then you are going to dirty a pot anyway, why not just make your own version? This way you can tailor your spices and have control over the quality of your ingredients.
HOMEMADE REFRIED BEANS
So why are they called refried beans anyway? Surprisingly it isn't because they are fried twice! They are more cooked than fried really. The name is translated from Spanish frijoles refritos which means 'well-fried' or 'intensely fried'. The conversion to English is a bit misleading but so many things get lost in translation, don't they?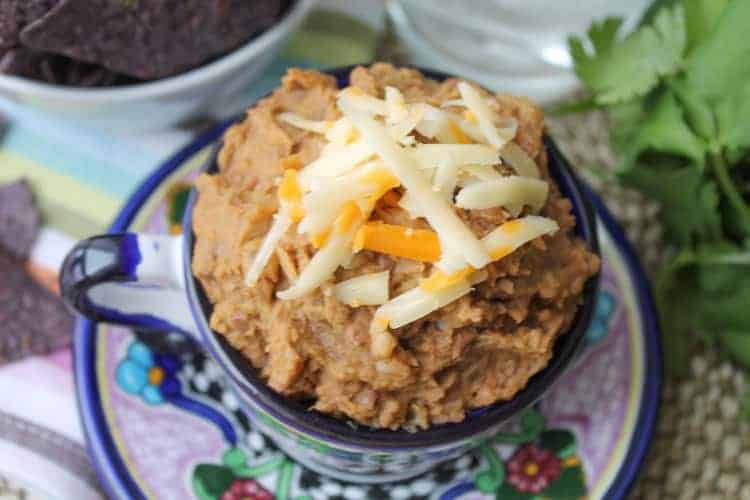 HOW DO YOU MAKE REFRIED BEANS FROM SCRATCH?
As mentioned above this recipe is really simple. The traditional and authentic way is a bit more labor-intensive. Dry beans are soaked overnight first, then stewed. After that, they are drained and mashed and then strained through a sieve to remove the skins. When that process is complete the beans are cooked with spices.
I've cut a few corners to make this recipe easy and quick yet still tasty and of course a little healthier. Most old-school recipes add lard to their refried beans so we are going to skip that part too. 😉
So if you wondered 'are homemade refried beans healthy', with this recipe, yes they are.
What kinds of beans are refried beans made out of? Most recipes you will find are using pinto beans. They have a slightly nutty flavour and will give a lovely creamy consistency.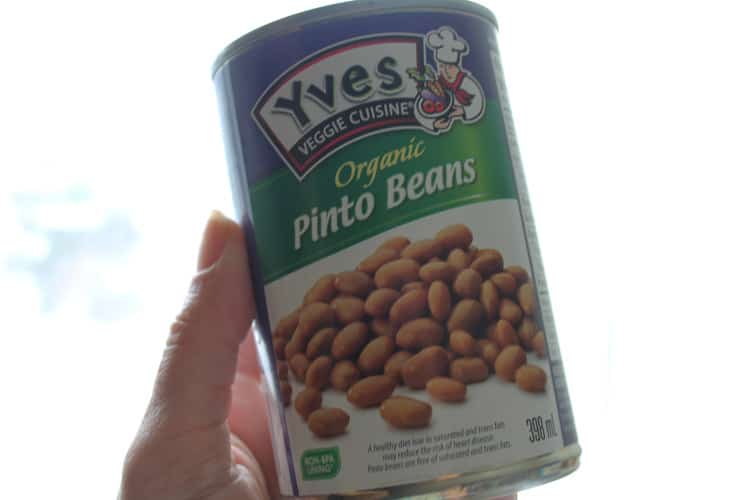 What else do you need for this recipe?
pinto beans – you could also use black beans or kidney beans for a variety
coconut oil – olive oil works too
onion
garlic
almond milk – or whatever milk you choose
seasonings – chili powder, cumin, coriander, paprika, chili flakes, salt
Be super economical and soak your own beans, or, be lazy like me and buy them. 😉
Coconut oil is really tough against heat so I've been using it more for higher temperature cooking. I don't find it to be an overpowering flavour, either. Olive oil or any other cooking oil will work also.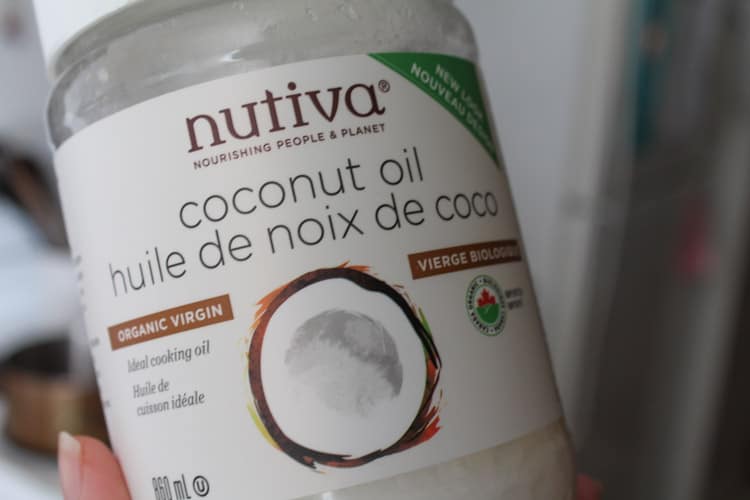 STEP BY STEP
Firstly, use the coconut oil to soften up the chopped onions.
As per usual, there is garlic added too. 😉
A variety of spices brings your beans to life. Cumin, coriander, and the like are added to the onions and garlic. Of course, I also added chili flakes. It seems that I kind of like the spicy side of life, no?
You can omit the chilis if it is too much fire.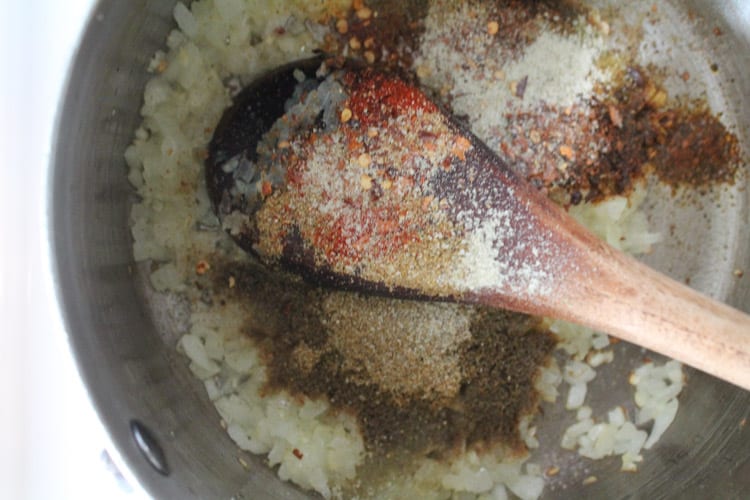 Add the beans and simmer it all together and let the magic happen. The beans will soften a bit and absorb all the spicy goodness before your milk of choice is added and it is all mashed together.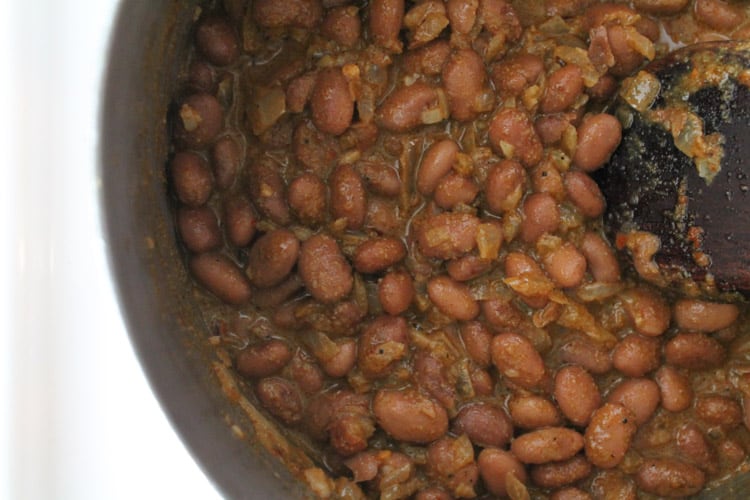 I simply use a potato masher to mash the beans. A fork isn't quite enough and a hand blender is too much. I like to have slight texture to my refried beans and not sompletely smooth.
That is another wonderful thing about homemade dishes is you can make it how YOU like it.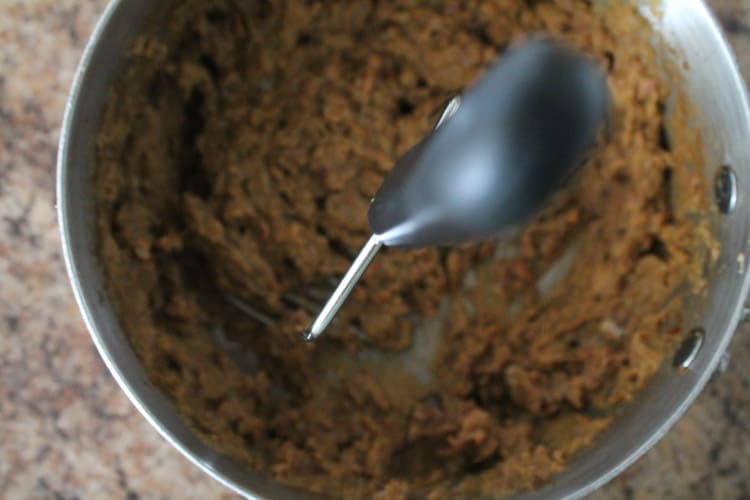 And that's it.
Your healthy side dish is ready!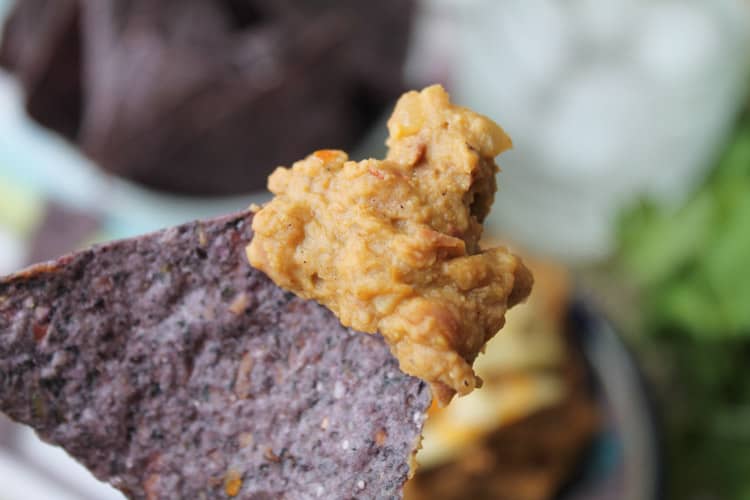 What do you serve with refried beans?
burrito stuffer
add to tostadas
use in chimichangas
with fajitas
Deliciouso!
Or is it deliciousa? Well, how about yummy? That works.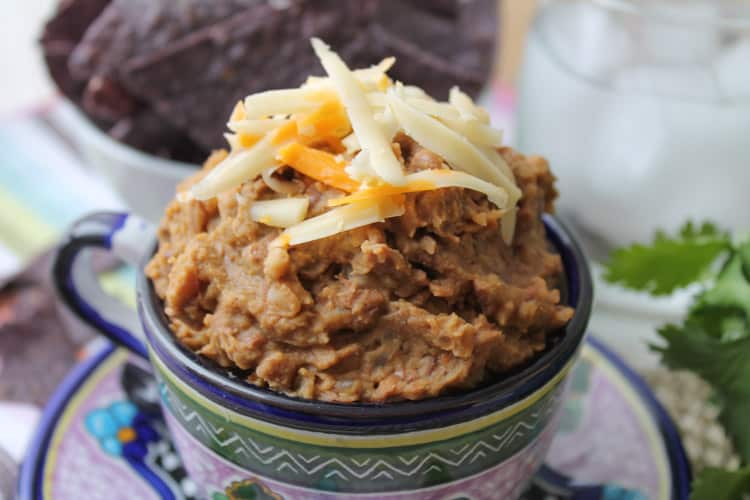 MORE HEALTHY TEX MEX + MEXICAN RECIPES
Be sure to follow me on social media! I love pinning to Pinterest, sharing on Facebook, and posting pics on Instagram. See you there.  🙂
As an Amazon Associate, I earn from qualifying purchases.
Homemade Refried Beans – Vegan & Gluten Free
Instructions
In a large saucepan over medium heat, melt the coconut oil. Add the chopped onion and sauté until soft, about 5 minutes, stirring every so often. Add in the minced garlic, stir for another minute or so.

Add in the spices and stir well. Pour in the beans and HALF the milk (1/4 cup) stir well, lower the heat to low and simmer for about 20 minutes. Add in more milk if it looks like it's getting too dry

Remove from the heat and mash with a potato masher until you reach your desired texture. Add in more milk of you like a creamier consistency
Nutrition
Calories:
113
kcal
Carbohydrates:
7
g
Protein:
2
g
Fat:
9
g
Saturated Fat:
6
g
Sodium:
674
mg
Potassium:
210
mg
Fiber:
2
g
Sugar:
1
g
Vitamin A:
930
IU
Vitamin C:
3
mg
Calcium:
121
mg
Iron:
5.4
mg