Discover How to Make Spaghetti Squash in the oven. This easy, healthy and versatile recipe is the BEST way to make veggie noodles from scratch.
Roasting vegetables gives them a deeper flavour and your choice of pan can make a difference. Check out this post on which is better between 3-ply and 5-ply roasting pans for a useful guide.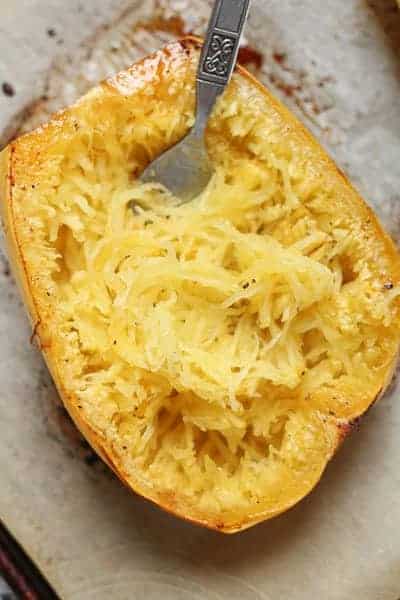 After kicking regular white pasta to the curb, I now typically use some kind of grain like brown rice or quinoa to pair up with my pasta sauces.
This tutorial gives another option, one that is grain free and also sneaks in some extra veggies.
I love a sneaky veggie!
HOW TO MAKE SPAGHETTI SQUASH
How do you make spaghetti squash from scratch? The process for making this healthy winter vegetable couldn't be easier.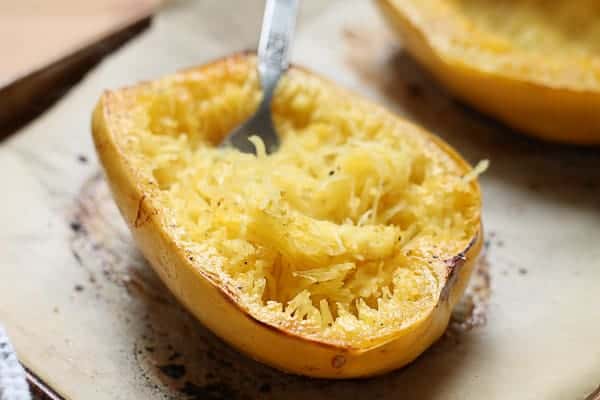 Possibly the most challenging part, and it isn't evening challenging really, is to cut the squash down the centre. And yes, in Canada we spell it centre.
I saw Jerry Seinfeld on stage a few years back and he even had a bit about how Canadians spell centre. "It's so good to be back at the Sony Cen-tray, in beautiful downtown Toronto!" Ha! Centray … Good one, Jerry. 🙂
HOW TO CUT IT IN HALF
Steady your cutting board by using a damp cloth underneath your cutting board. This will keep it from sliding around on you.
Slice the stem off first, then cut through the squash lengthwise.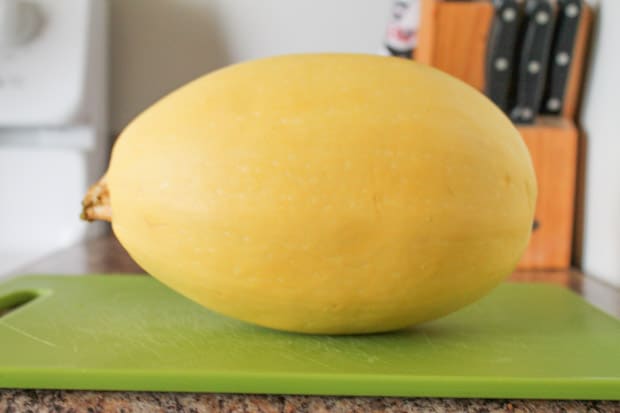 Once it is split in two, scoop out the seeds and gunk.
I use a soup spoon.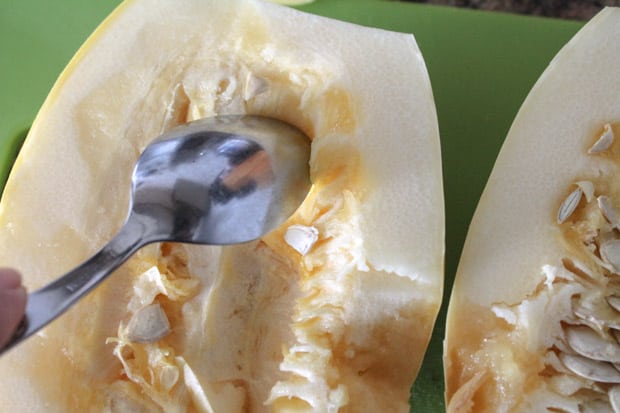 Then transfer the two halves to a parchment lined baking sheet.
Sprinkle on some sea salt, fresh ground pepper, and rub in some olive oil.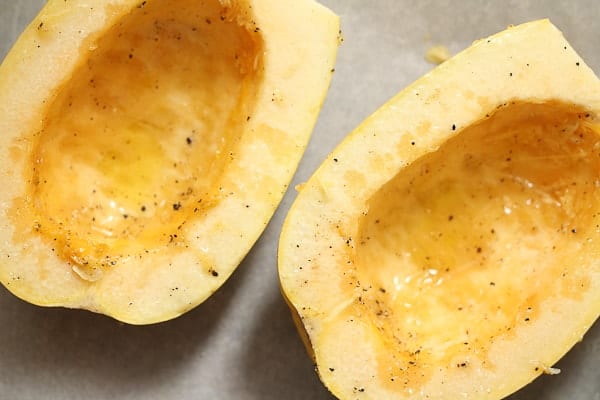 Aaaaaand that's it! So easy!
The prep work takes all of 5 minutes.
Pop the baking sheet into the oven for about half an hour.
In the meantime, you could be heating your pasta sauce.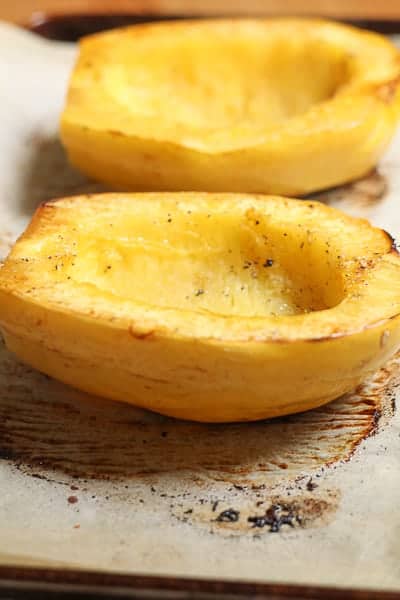 Once the squash is crispy and browned along the edge it's ready.
HOW TO MAKE NOODLES FROM SPAGHETTI SQUASH?
Using your dinner fork, I use the same one I plan to eat dinner with ( dishes 😉 ) and scrape away.
The strands just form into your 'noodles' automatically as you scrape.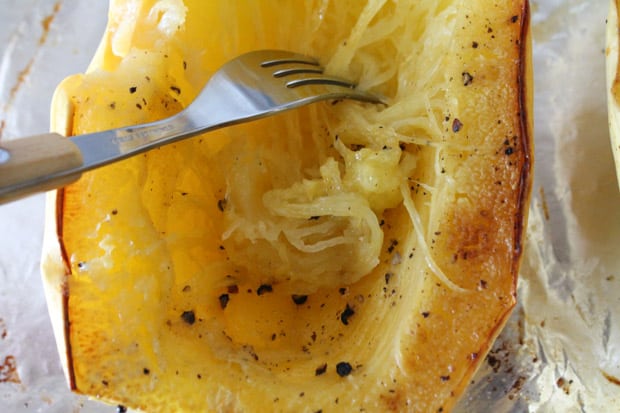 Of course it doesn't taste like pasta but it does taste good. It still has a touch of crunch that gave the dish texture.
TIP! If you want to know how to cook spaghetti squash so it isn't watery this is my trick. Don't overcook your squash. This will result in mushy, watery noodles and no one wants those.
Even Joe tried it and proclaimed it, "not terrible!" Ha! Don't listen to him. After that he ate an entire bowl. 😉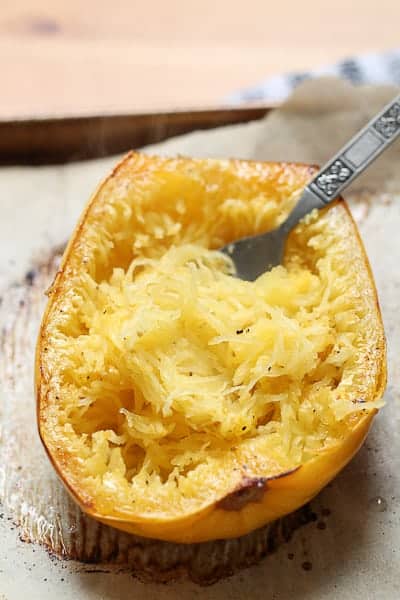 It's so good to get a variety of vegetables in your diet and now that you know how to easily oven roast this one, this gives you another great option.
Ditch the pasta for a night and have a veggie instead. Your body will thank you!
MORE BAKED SPAGHETTI SQUASH RECIPES?

Originally posted December 2, 2013. Updated November 24, 2020.
Follow me on Instagram, Pinterest, and Facebook where I share a ton of tasty recipes and other fun stuff.
As an Amazon Associate I earn from qualifying purchases.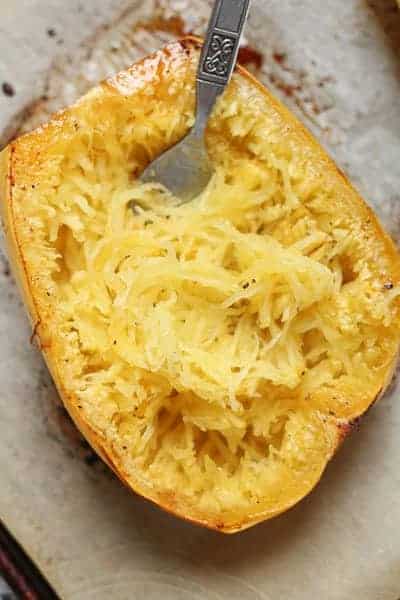 How to Make Spaghetti Squash
Oven Roasted Spaghetti Squash is an easy, versatile recipe. Discover how to make spaghetti squash noodles in the oven! Less watery and an excellent low carb, healthy alternative. Swap out pasta and enjoy veggie spaghetti squash noodles instead.
Keyword:
how to make spaghetti squash
Instructions
Preheat the oven to 425 and line a baking pan with parchment paper.

Using a sharp knife, slice the stem off the end of the squash. Then slice it in half lengthwise and scoop out the seeds with a spoon. Transfer the 2 halves to the prepared sheet.

Drizzle with the squash olive oil, and sprinkle with sea salt, and pepper. Rub it in and flip them over.

Cook face-down for about 30 minutes, until the ends have browned and the squash has softened – this will vary depending on the size of your squash. Check after 20 minutes if it is a smaller size.

Flip it over and let cool on the pan for about 5 minutes then shred with a fork and enjoy warm.
Nutrition Facts
How to Make Spaghetti Squash
Amount Per Serving
Calories 105
Calories from Fat 36
% Daily Value*
Fat 4g6%
Sodium 41mg2%
Potassium 260mg7%
Carbohydrates 16g5%
Protein 1g2%
Vitamin A 290IU6%
Vitamin C 5mg6%
Calcium 56mg6%
Iron 0.8mg4%
* Percent Daily Values are based on a 2000 calorie diet.