Paleo Granola – SUGAR FREE!
If you are avoiding added sweeteners this Paleo Granola recipe has no sugar! It does have lots of toasted seeds and crunchy nuts and tastes like banana bread – only much healthier.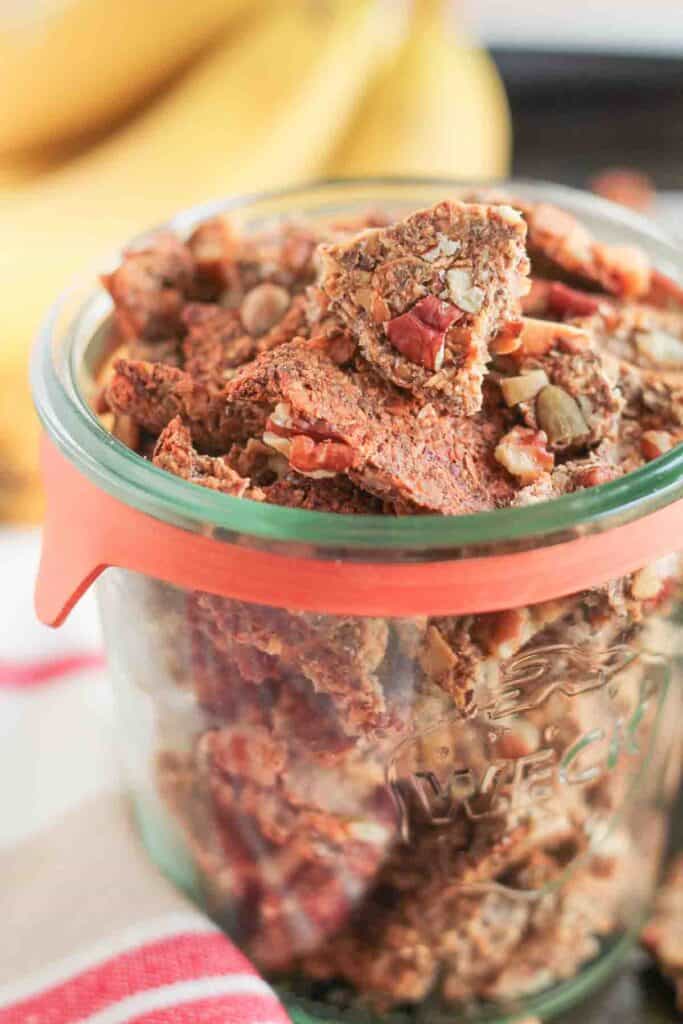 Have you wondered about the paleo diet? Is paleo granola healthy? Well, I'm not a huge fan of the Paleo diet firstly because I need grains in my life and I also believe in a more balanced approach to eating healthy, but I do like the concept of limiting sugar.
These little bites are healthy paleo breakfast snacks or a sugar free treat you can pack with you while at work or on a hike.
Is there a healthy granola? There sure as heck is!
This is actually a spin on this healthy granola I made a few months back when I did the Twelve Days of Detox.
This time I added in some coconut and chia seeds to switch things up a bit. I also used super ripe bananas which added to the natural sweetness.
If you're anything like me, these black bananas always seem in abundance.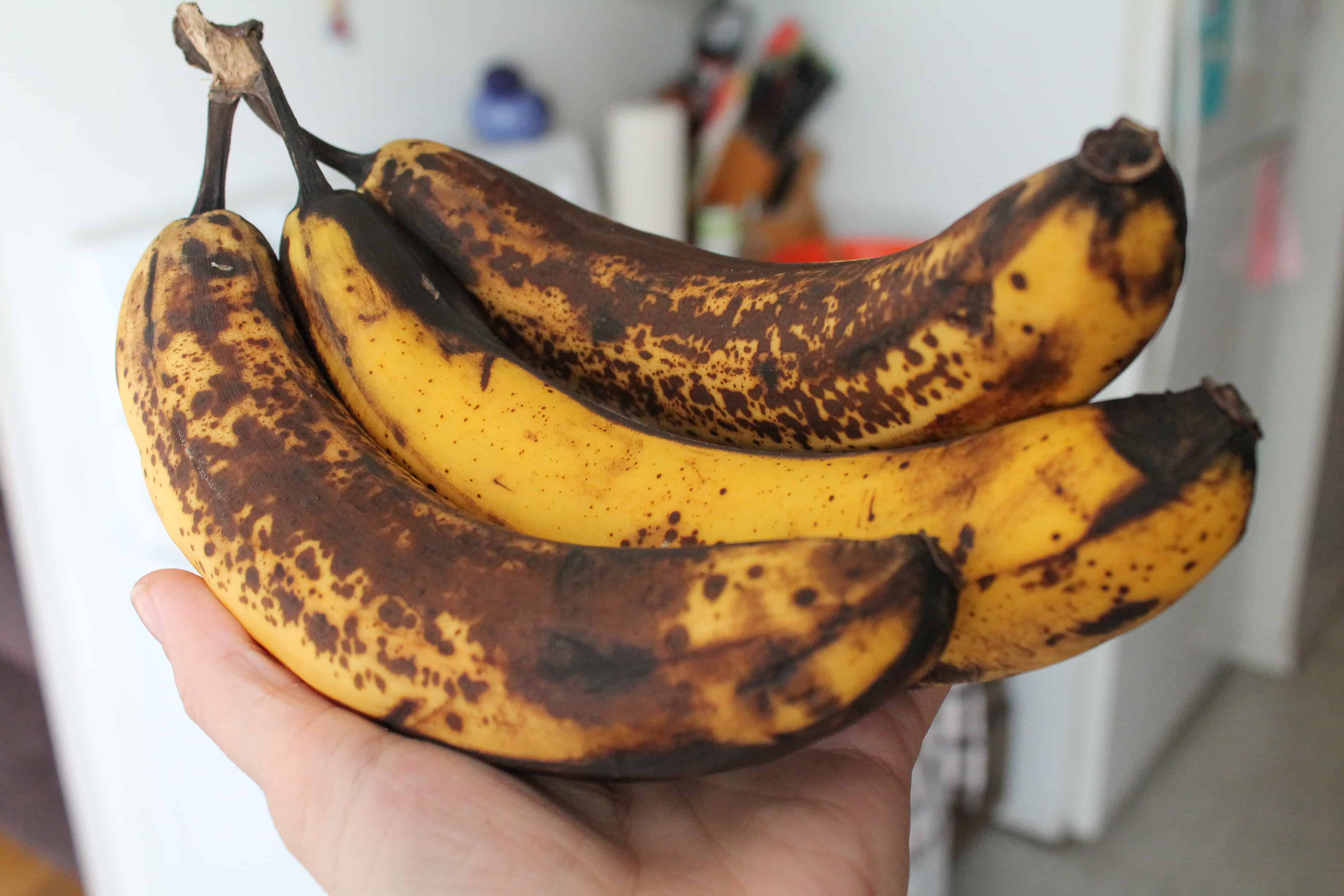 PALEO GRANOLA
Healthy fats, like in the nuts and seeds that make up the majority of this Paleo Granola, are the best for a satisfying snack.
Passing up on the cookies, etc. is so much easier when you have a little baggie of these on hand.
Great to tote with you to work or school so you are prepared with something nutritious yet, interesting. Nothing is worse than a boring, healthy snack, am I right?
HOW DO YOU MAKE SUGAR FREE GRANOLA
Gather your ingredients and get ready! Here is what you need to make the healthiest granola:
almonds
walnuts
pecans
chia seeds
pumpkin seeds
ground flaxseed
unsweetened coconut
ripe bananas
egg
vanilla
sea salt
Also, I highly recommend toasting your nuts first. Check out this HOW TO TOAST NUTS ON THE STOVETOP for an easy tutorial. It is super simple but really elevates the taste of the granola.
I love the look of this bowl full of textures and flavours. So inviting!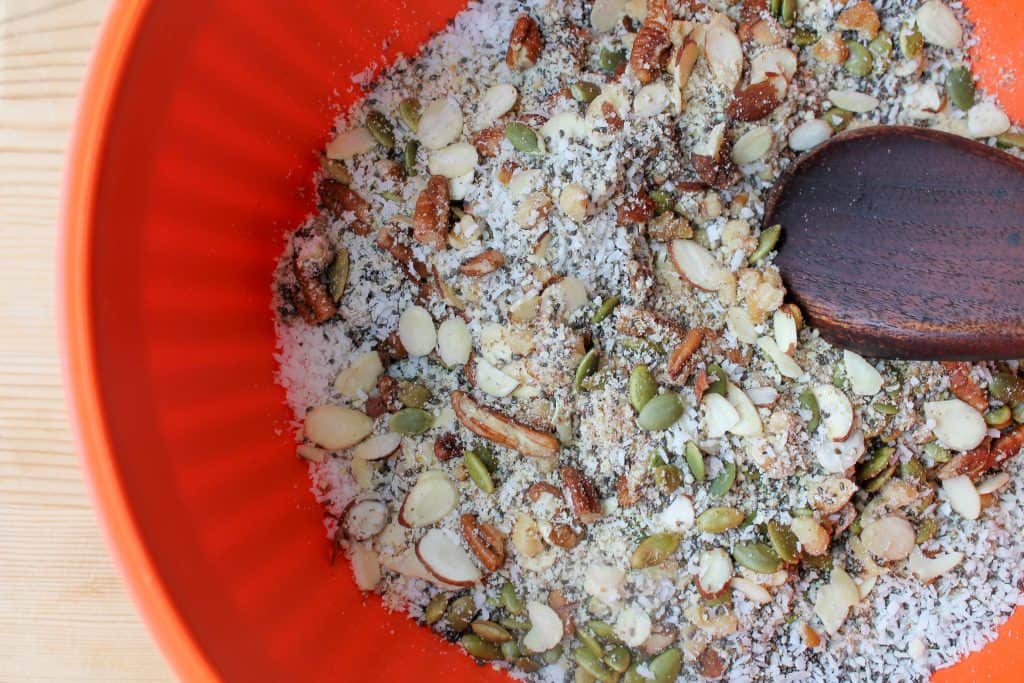 But, we quickly go from beauty queen to ugly duckling once the blended eggs and bananas get mixed in.
Not so pretty!
But, fear not! Once your oven works its magic on the toasted nutty mixture, it will taste like warm banana bread with lots of crunch.
Just wait until your kitchen fills with the aroma while it bakes away in the oven.
Seriously.
This Paleo Granola is for both of your senses of smell and taste. A little gift to them from me.
Wait for ten minutes for it to cool in the pan and then break it into clusters!
You can enjoy this as breakfast as it is or add some to a bowl and pour some yummy homemade hemp milk over top! Personally, I snack on this recipe. I like to keep it in a glasslock container and serve myself a little dish when I feel peckish.
It is a satisfying treat if I am avoiding sugars!
MORE HEALTHY GRANOLA RECIPES
Orginally posted March 20, 2015. Updated November 26, 2020.
Be sure to follow me on social media! I love pinning to Pinterest, sharing on Facebook, and posting pics on Instagram. See you there. 🙂
As an Amazon Associate, I earn from qualifying purchases.
Paleo Granola – Sugar Free
If you are avoiding added sweeteners this Paleo Granola recipe has no sugar! It does have lots of toasted seeds and crunchy nuts and tastes like banana bread – only much healthier.
Instructions
Heat oven to 350 and line a baking sheet with parchment paper.

In a large mixing bowl stir together the chopped nuts, seeds, coconut, and almond flour and set aside.

Place the bananas, the egg, vanilla, and sea salt in the blender and blend for about 30 seconds, or until it is smooth with no lumps left.

Pour the banana mixture over the nut mixture and stir well until everything is incorporated.

Empty the bowl onto the lined baking sheet and spread the mixture evenly.

Bake for 25-35 minutes until it is fully browned on top.

Let the granola cool on the pan for 10 minutes before breaking it into bite-sized clusters.

Store at room temperature in a sealed container or Ziploc bag for up to three days.
Nutrition
Calories:
259
kcal
Carbohydrates:
14
g
Protein:
8
g
Fat:
21
g
Saturated Fat:
4
g
Cholesterol:
14
mg
Sodium:
58
mg
Potassium:
278
mg
Fiber:
7
g
Sugar:
4
g
Vitamin A:
32
IU
Vitamin C:
2
mg
Calcium:
100
mg
Iron:
2
mg