If you're on the hunt for the perfect party appetizer, look no further than these Strawberry Brie Crostinis. So easy to make using strawberry jam, bread and cheese but taste anything but simple.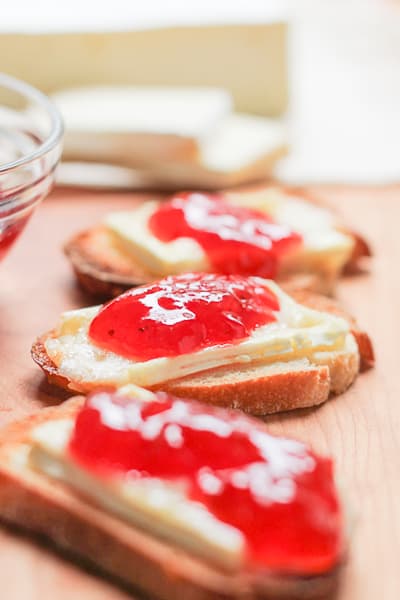 My inspiration for these super yummy Strawberry Brie Crostinis was Harry Styles.
Harry Styles?
Why is that, you ask?
Well, let me tell you. 🙂
Every year at Oscar time, I hook up with a group of food bloggers to bring a variety of party friendly appetizers and snacks that match up with the theme from each Best Picture nominee.
Other movies I've made fun recipes for were Selma – these Alabama Firecrackers have become super popular – and The Martian which featured Matt Damon and his potato growing efforts on Mars so I concocted these homemade Cheddar & Chive Tater Tots.
This year my movie is Dunkirk, starring none other than the aforementioned Harry Styles.
I was happy to be assigned Dunkirk because, to be completely honest, I haven't seen ANY of the other films. I really hadn't even heard of them.
Dunkirk though? I've seen it twice.
I'm a fan of war movies (not really sure why) and I'm an even bigger fan of cute guys.
Guys like Harry Styles. 😉
I would also shout out the very cute Tom Hardy who is in the movie, but since you hardly ever see his handsome face it's a bit of a moot point. 🙂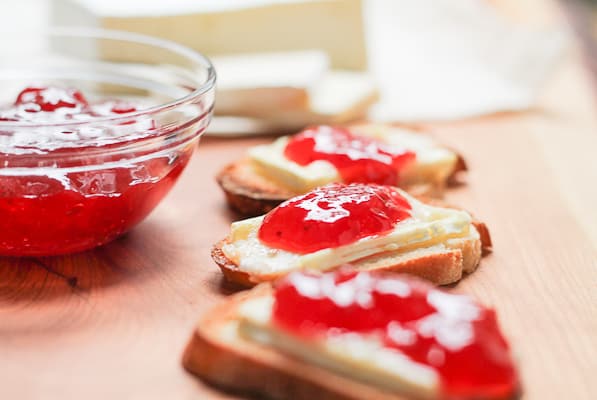 Strawberry Brie Crostinis
So why Strawberry Brie Crostinis? How do these relate to the subject of Dunkirk?
The movie is set in the French town of the same name and highlights the evacuation of allied forces from the beaches there. It's a story of National pride and bravery as regular, every day folks became the heroes. Anyone who owned a boat, be it a fishing boat, pleasure cruiser, you name it, joined the war effort by crossing the small body of water that separates England and France to help rescue the stranded soldiers.
In a scene where my sweet Harry was safely rescued and aboard a large war ship, the soldiers were given tea and what looked to be strawberry jam on bread.
Harry showed  his acting chops by chewing very convincingly. 😉
Basing my idea on that scene and adding in the brie cheese to tie in the French element of the movie, these Strawberry Brie Crostinis were born.
They are too easy. I went a little light on the brie for each slice to give it a good jam to cheese ratio but feel free to slap a thick slab of it if you prefer. I also used a lovely French baguette to further the French theme.
They are sweet and creamy with a nice crunch from the toasts. A fancy looking plate with minimal effort which is awesome when you are hosting a party.
For some more fabulous party food ideas check out these posts that feature the other Best Picture nominees: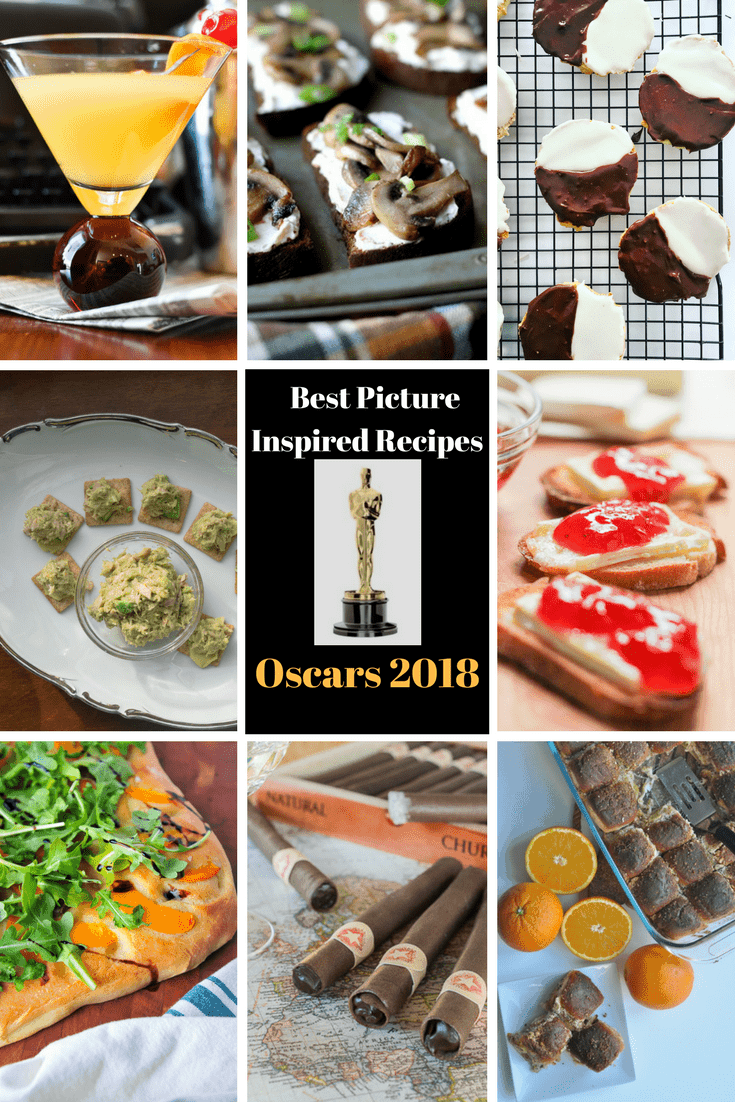 Suzanne – Chocolate Tuile Cigars with Whisky Ganache – The Darkest Hour
Julia – Black and White Cookies – Get Out
Greta – Tuna Fish and Avocado Appetizer – The Shape of Water
Kara – Peach Focaccia with Arugula – Call Me By Your Name
Lane and Holly – Orange Vanilla Martinis – The Post
Haley – Mushroom Toasts – Phantom Thread
Alice – Orange Baked Chicken Sandwiches – Lady Bird
Originally posted in February 11, 2018. Updated July 25, 2019
Be sure to follow me on social media! I love pinning to Pinterest, sharing on Facebook and posting pics to Instagram. See you there. 🙂
As an Amazon Associate I earn from qualifying purchases.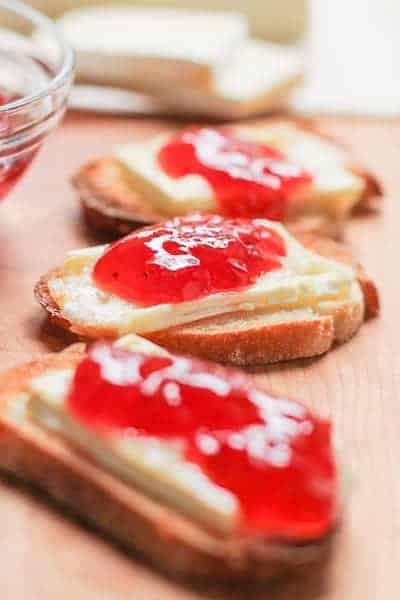 Strawberry Brie Crostinis
If you're on the hunt for the perfect party appetizer, look no further than these Strawberry Brie Crostinis. So easy to make using strawberry jam, bread and cheese but taste anything but simple.
Course:
Appetizer, Dessert, Snack
Keyword:
strawberry brie crostinis
Instructions
Heat the broiler of your oven and line a baking sheet with parchment.

Slice the baguette into ½ inch thick slices and lay it out on the parchment. Pop under the broiler for about 2 minutes a side to toast them. Keep watch as every oven is different. Don't let them burn!

Slice the brie into ¼ inch thick slices (or thicker if you'd like)

Lay the sliced brie over the toasted baguette and pop back under the broiler for another minute or two until the brie in melted. Again, keep watch!

Remove from the oven and top each slice with a tablespoon of strawberry jam.

Serve warm.
Nutrition Facts
Strawberry Brie Crostinis
Amount Per Serving
Calories 508
Calories from Fat 72
% Daily Value*
Fat 8g12%
Cholesterol 24mg8%
Sodium 442mg19%
Potassium 169mg5%
Carbohydrates 98g33%
Protein 9g18%
Vitamin A 140IU3%
Vitamin C 10mg12%
Calcium 99mg10%
Iron 1.9mg11%
* Percent Daily Values are based on a 2000 calorie diet.