Homemade Cheddar & Chive Tater Tots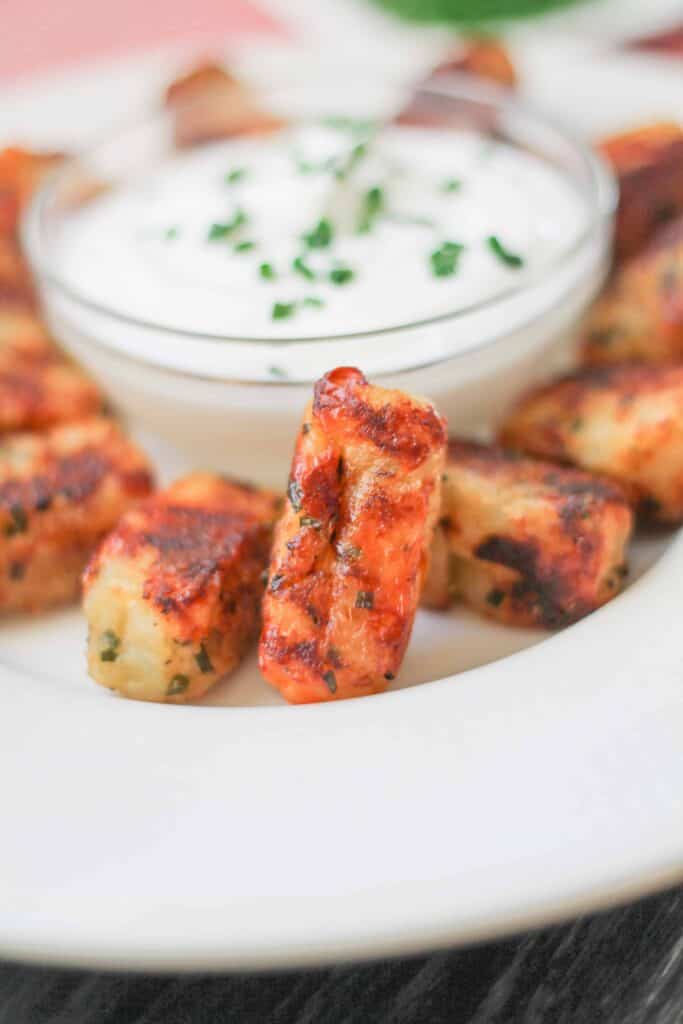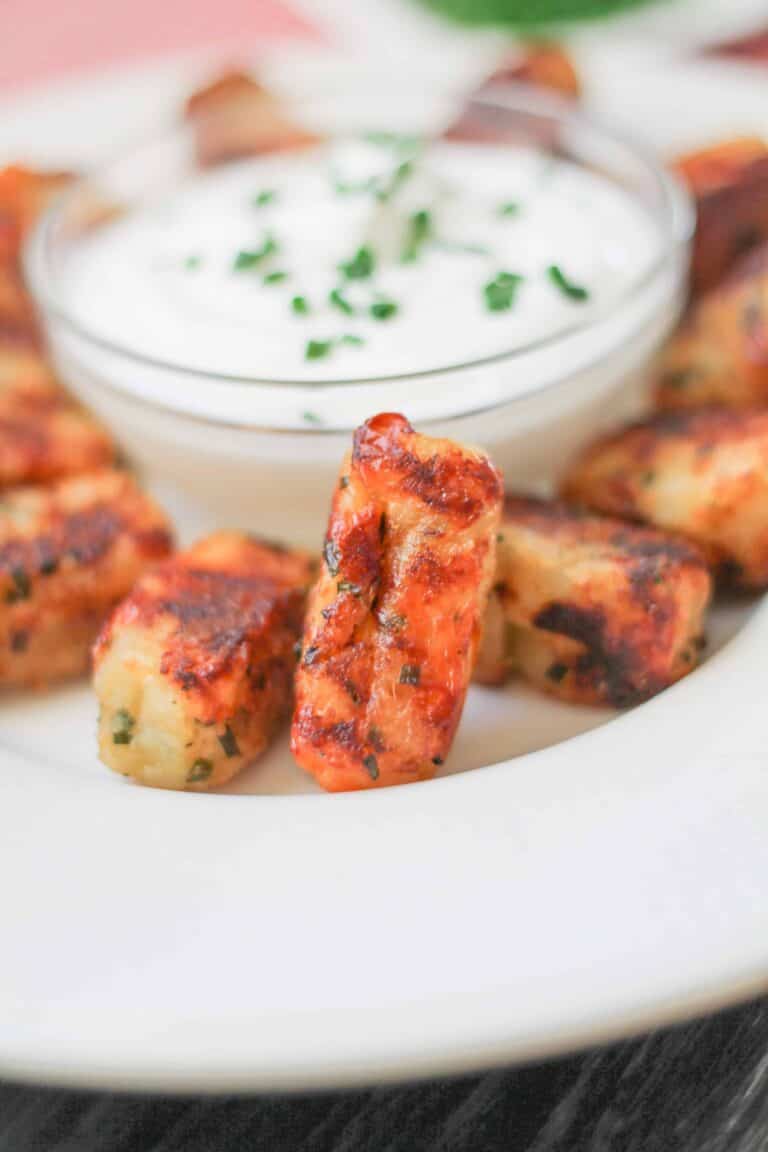 It's Oscar time again! If you remember last year, I took part in a fun project with a bunch of talented food bloggers to create recipes centred around movies nominated for Best Picture at the Academy Awards. We are back again this year and have some fun, delicious ideas for your celebrations.
I love watching the awards and this year will be even better thanks to the help of my PVR! There are always so many darned commercials and I truly can't stand it. I won't be home the night of the show, so it will be PVR city and I plan to use the fast forward button with reckless abandon. I mostly just watch for the main awards … and the fashion, of course.
Last year, I made these super delicious Alabama Fire Crackers for my assigned movie, which was Selma. The film was great and totally recommend it. Snack on the crackers while you watch! 😉
This year, my movie is The Martian. I saw it a few weeks before and knew I had a winner with some kind of potato recipe. In the movie, Matt Damon's character is stranded by his team on the moon * (edited – thank you to my friend Andrea for pointing out me that this movie is called the Martian. He's stranded on Mars, not the moon. Silly rabbit. 😉 I did watch the movie, I swear! ) and he is left to fend for himself and try to survive. He devised a plan to grow potatoes and that is just what he did. Then it was potatoes, potatoes, potatoes.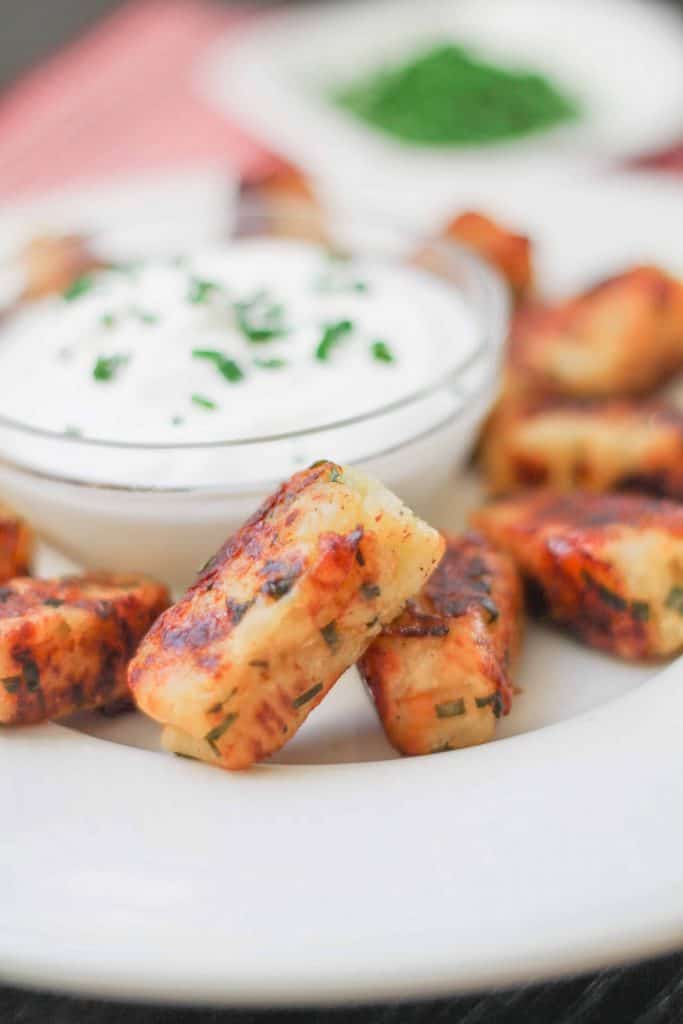 Considering a planet ( Mars, not the moon. 😉 ) was a big co-star in this flick, I thought adding cheese to represent it would be fitting. Oh, and I like cheese. A lot. Sue me. 🙂
Combining my potato and cheese ideas led me to these Homemade Cheddar and Chive Tater Tots. They are a play off these Caramelized Onion Tater Tots I made a couple of years ago. Serve them up with some sour cream for dipping and you have some tasty bites of goodness to keep you company while you watch the big Oscar show.
Check out the links below to see the rest of the nominated movies and the yummy themed recipes that have been created by my fellow bloggers.
Enjoy!
The Big Short: Jenga Veggie Towers with Creamy Cilantro Dip from Flour Arrangements
Bridge of Spies: Bitesize "TV Dinner" Meatloaf Appetizers from Pickles Travel
Brooklyn: Chocolate Stout Cannoli from Femme Fraiche
The Revenant: Crock Pot Ribs from Dining With Alice
Room: Victoria Sandwich Cake from Savoury Table
Spotlight: Cheesy Boston Clam Dip from Cheap Recipe Blog
As an Amazon Associate I earn from qualifying purchases.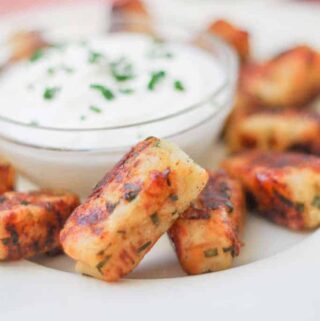 Homemade Cheddar & Chive Tater Tots
Ingredients
1

large or 2 medium russet potatoes

baked and cooled (or 2 cups of cooked potatoes)

1/2

cup

grated cheddar cheese

1/4

cup

finely chopped chives

1

tbsp

olive oil
sea salt & pepper

to taste

sour cream for dipping

optional
Instructions
Preheat oven to 425 and line a baking sheet with parchment paper

Peel and grate the cooked & cooled potato

Sprinkle in a good pinch of sea salt and pepper and mix well. Add in the cheese and chives stir well again

Form into cylinder shapes, about 1 tablespoon each, and place on lined baking sheet

Brush each side with olive oil

Bake for 35-40 minutes, rotating every 8-10 minutes to brown each side

Serve warm with sour cream and extra chives for dipping
Nutrition
Serving:
15
Calories:
34
kcal
Carbohydrates:
2
g
Protein:
1
g
Fat:
2
g
Cholesterol:
3
mg
Sodium:
24
mg
Potassium:
62
mg
Vitamin A:
65
IU
Vitamin C:
1.2
mg
Calcium:
29
mg
Iron:
0.1
mg