There is a great grilled vegetable salad at a downtown Burlington restaurant that I love. It has a bed of grilled veggies and is topped with arugula. In the middle it has this crispy parmesan cheese disc. It.is.so.good. The crispy parmesan adds such texture to the salad by bringing the crunch factor. I love it and was on a mission to make my own. I thought adding some grated veggies to it would give it a bit more of a nutritional boost and since I was planning on pairing it up with my vegan chili, the more the merrier, as far as veggies are concerned. Now I realize having cheese with a vegan chili seems a bit of a contradiction but really, it's the Honour System! I'm not a vegan, yet I try to limit my intake of red meat for health reasons. So my balance here is ditching the meat, but adding a little bit of cheese. Cheese with vegetables in it 😉
Two simple ingredients: Parmesan and Zucchini. Boom!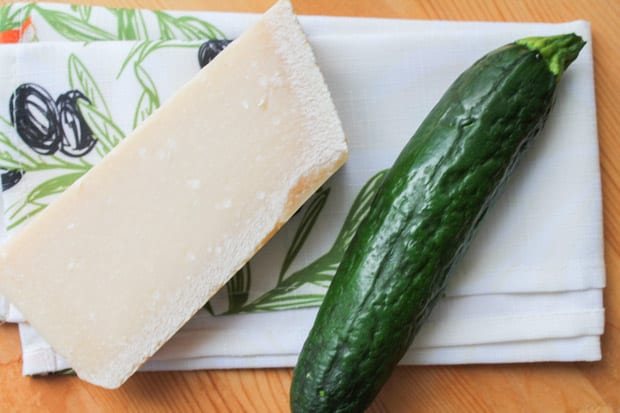 I peeled and grated up the zucchini first. I'm not sure if the peeling was necessary but nonetheless I peeled it. To get rid of the excess moisture, as zucchinis are super watery, I pressed the grated pile in between two layers of paper towel and squeezed out the liquid.
Then using my fingers I blended the cheese in with the dried zucchini. I added a few turns of the pepper grinder and blended again. No need to add any sea salt as the cheese will bring that flavour.
Shape the mixture into 15 little rounds on a parchment lined baking sheet.
Pop them into the oven. Keep a close eye as these don't take long to crisp up. Once the edges have browned you should be good to go.
This little addition to a chili or even a salad will really add some snap to your meal. If you want to impress guests with a restaurant quality garnish or just treat yourself, these tasty discs of crispy, cheesy, veggie goodness fits the bill perfectly.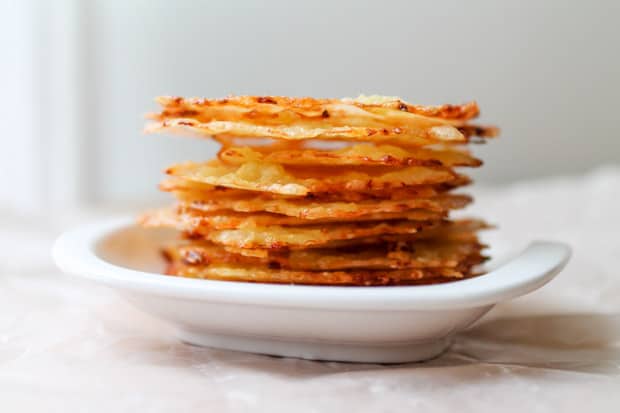 As an Amazon Associate I earn from qualifying purchases.
Zucchini Parmesan Crisps
Keyword:
zucchini parmesan crisps
Ingredients
1

cup

fresh

grated parmesan cheese

1/2

cup

shredded zucchini
Instructions
Preheat oven to 375 and line a baking sheet with parchment

Using paper towels or a clean tea towel, press the liquid from the shredded zucchini

In a medium bowl, combine the cheese and zucchini and crack in some black pepper. I did 3 turns of the grinder

Spoon drops of the mixture on a parchment lined baking sheet

Gently even out the drops until they are flat

Bake for about 8 minutes or until the cheese crisps are sizzling and the edges are starting to brown

Allow crisps to rest on the baking sheet for about 5 minutes

These are best eaten right away