This Baked Honey Mustard Chicken recipe is one that I make over and over. Not only is it both easy and healthy, the sauce that it creates is fantastic drizzled over brown rice, potatoes, veggies, you name it! Whatever side dish you choose, this sweet and slightly spicy chicken recipe will match it.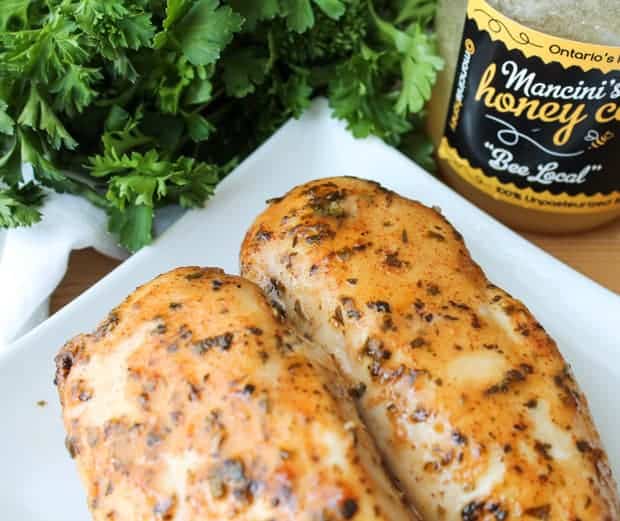 I wish you could have smelled the mouth-watering aroma that wafted from my oven as this delicious Baked Honey Mustard Chicken baked away.
I could not wait to taste it.
Even as I mixed up the marinade I knew. I knew it was going to be such a winner. No tweaks, no modifications.
This chicken was perfect on the first try. It is quite a glorious moment when a recipe just falls together.
My inspiration was the classic honey mustard sauce that is a perennial favourite at pubs and diners. I myself was never a chicken wing fan. Something about gnawing on the bones gives me the creeps. I like to eat my chicken with a knife and fork, thank you very much!
Regardless, I do think the sweet and savoury combo of the mustard with honey sounds pretty delish so I set about to make my own version.
Use local honey! Please. Support the local economy and get a much more nutritionally beneficial product.
Source out some honey in your area. If you live in the Burlington area you can look for Mancini's honey which is available at Anise Apothecary. You can even bring your own jar!
BAKED HONEY MUSTARD CHICKEN
I used a stone ground mustard which is ground from whole mustard seeds so it has a bit more spice to it.
To give it some kick, I added in some smoked paprika and a few other spices.
It's not set your mouth on fire spicy so do not be afraid! 😉
There was a huge revelation that happened during the making of this chicken as well:
I finally figured out that I can bake my chicken right in the glass container I marinate it in!
Why, oh why, it's taken me this long (my whole life) to figure out but I'm just so happy I did.
The chicken is put into a large glass dish that has a lid. I poured the marinade over the chicken and popped it in the fridge for 30 minutes.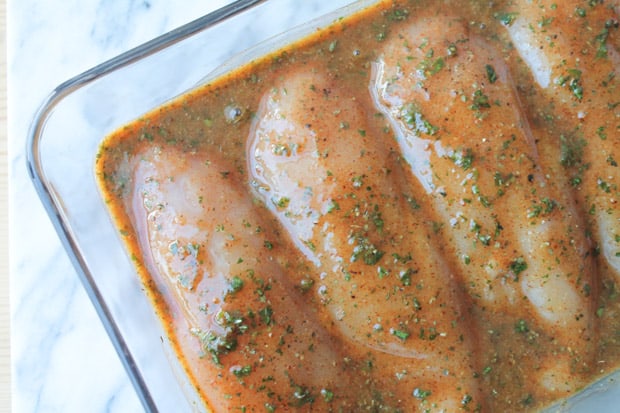 Then that same dish was simply transferred to the pre-heated oven, without the lid of course.
For some unknown reason I had been taking the chicken out of the glass container and putting it on a broiler pan then cooking it. So many extra dishes for all these years …
To the resident dishwasher, my loving other half Joe, I'm sincerely sorry about that. 🙂
Quick meal tip!
Throw in a couple of baked potatoes in the oven at the same time. I tossed in a small sweet potato for me and a russet for the fella. It went perfectly with this chicken.
How good does this look? Not super sweet, not incredibly spicy, just wonderfully seasoned chicken.
This one is a keeper! Looking for other tasty chicken recipes? Try this popular Chili Lime Chicken or this Baked Curry Spiced Chicken Breasts recipe.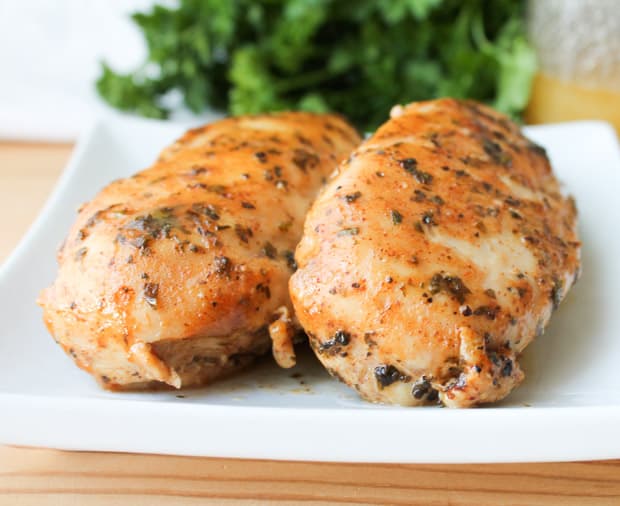 MORE GLUTEN FREE CHICKEN RECIPES:
*Originally posted February 5, 2014 Updated December 14, 2018*
Be sure to follow me on social media! I love pinning to Pinterest, sharing on Facebook and posting pics to Instagram. See you there. 🙂
As an Amazon Associate I earn from qualifying purchases.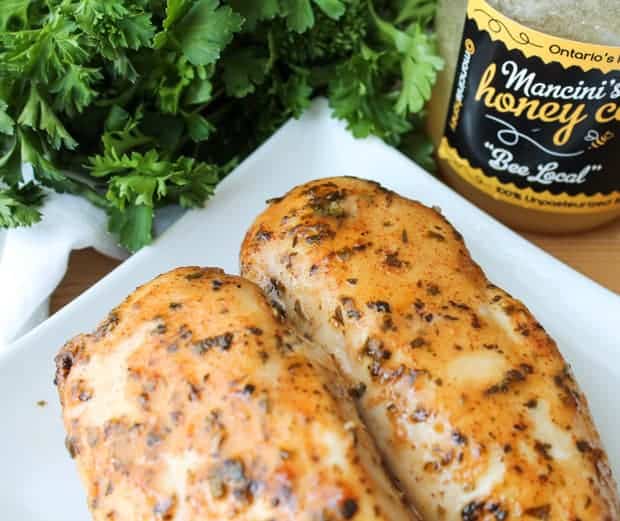 Baked Honey Mustard Chicken
Keyword:
baked honey mustard chicken, gluten free chicken recipe
Instructions
Preheat oven to 375

Rinse and pat dry chicken breasts and place in a large glass dish with lid. Season them with sea salt and pepper

In a small bowl, stir together the remaining ingredients and pour over the chicken. Flip each one over a few times to coat it well

Cook for 45-50 minutes, turning and basting them half way through. Make sure they're cooked by slicing into the thickest part of the breast to see there is no pink

*Throw in a baked potato at the same time for a complete meal!
Nutrition Facts
Baked Honey Mustard Chicken
Amount Per Serving
Calories 223
Calories from Fat 36
% Daily Value*
Fat 4g6%
Cholesterol 96mg32%
Sodium 293mg13%
Potassium 586mg17%
Carbohydrates 12g4%
Protein 32g64%
Vitamin A 265IU5%
Vitamin C 2.8mg3%
Calcium 16mg2%
Iron 1mg6%
* Percent Daily Values are based on a 2000 calorie diet.