Sometimes you just need something sweet. A nice little treat to remind you how great your taste buds are. 😉 For me, it's cookie dough type things. Peanut buttery, chocolate chippy, oatmealy goodness. If you are like me, then these No Bake Oatmeal Cookie Balls are just the ticket.
Have you made flour from oats before? I tried it out before with these Banana Nut  Greek Yogurt Muffins and it totally worked like a charm. It's such a great alternative for those with gluten allergies as you can purchase certified gluten free oats and simply grind them into a flour in your blender. Easy peasy.
In addition to the oats, I used my favourite North Coast Naturals product, Daily Cleanse. It's a probiotic flax blend that is super charged with fibre. Love it! I'm so lucky to have partnered with a brand that produces such incredible products that I really stand behind.
To give these balls of goodness (fully inflated with taste, no thanks to Tom Brady! 😉 Inside football joke.) simply melt together peanut butter and coconut oil with a little maple syrup.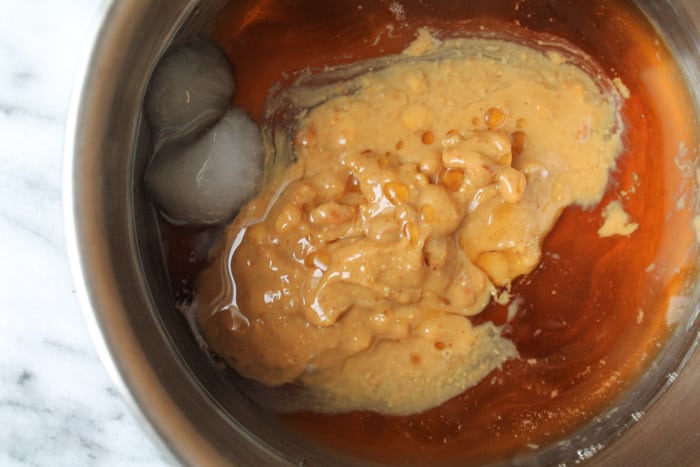 By now, I am an expert ball roller. The key is to wet your hands a tad before rolling to get that nice, smooth texture. Rinse the excess off once it begins to clump up and keep on rollin'. Then, what I like to do is, take a big old bite out of the best looking one. You've earned it!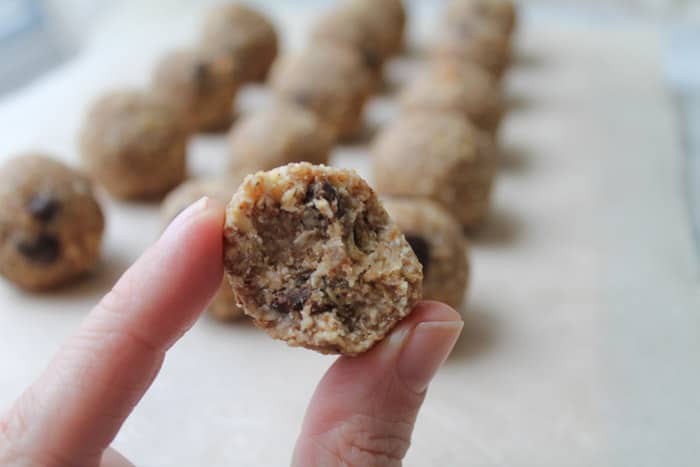 These are great for snacks, or whenever you're in the mood for something sweet. Which, lets face it, is all the time. Am I alone on that one? Surely not. Just keep it clean and there is no guilt.
Have a fabulous weekend, everyone! 🙂
As an Amazon Associate I earn from qualifying purchases.
No Bake Oatmeal Cookie Balls – Vegan & Gluten Free
Keyword:
no bake oatmeal cookie balls
Instructions
In a blender, pulse the oats until they turn into a coarse flour

Transfer them into a mixing bowl and add in the ground almonds, Daily Cleanse (or flax), coconut and sea salt. Mix them all together

In a small saucepan, melt together the coconut oil, peanut butter and maple syrup over medium low heat. Once it is smooth, remove from the heat and stir in the vanilla

Pour the peanut butter mixture over the oat mixture and stir well. Fold in the chocolate chips

Roll into tablespoon sized balls and freeze for about an hour

Store, covered in the fridge or freezer