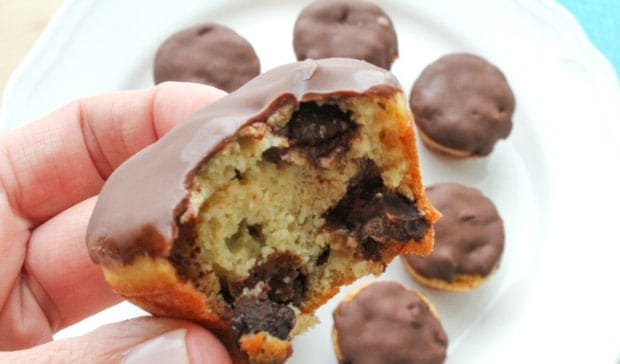 I love starting the week off with chocolate. Especially a chocolate recipe that isn't chemical laden and relatively easy to make. I used my favourite spelt flour and a little Greek yogurt for some tang. The chocolate dip is a blend of dark chocolate chips and uber healthy coconut oil that creates a delicious hard chocolate shell when it's refrigerated.
These cupcakes can do double duty by being both a tasty treat or a kick start to your day as a little breakfast muffin. Your call. I've been enjoying them morning, noon and night since I made them, so…#dontjudge
Start by whisking together the dry ingredients.
Combine the remaining ingredients in a larger bowl, then gradually incorporate the dry mixture.
Stir in the chocolate chips.
Spoon the batter into your muffin tins. I used mini tins for this recipe but you could use regular sized as well.
Once your cupcakes pass the toothpick test they are ready to sit and cool down. Can we take a quick moment for how cute my little red mini muffin tins are? Love these:)
While your cupcakes are cooling down, prepare your chocolate dip. All you need is the chips and coconut oil. I microwaved them for 30 seconds, then stirred until smooth and velvety.
One by one, dip your cupcakes into the chocolate dip and transfer them to the rack.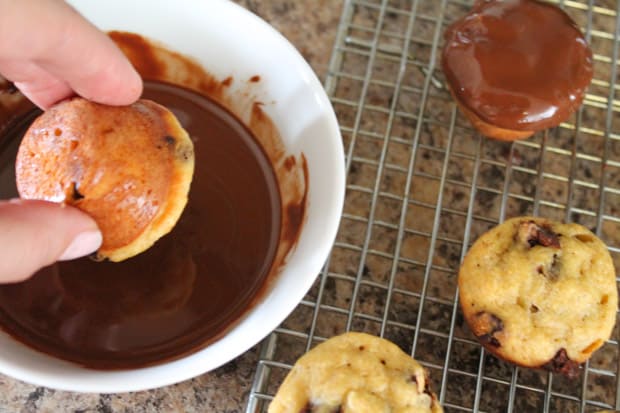 Pop them into the fridge for 20 minutes or so and viola! You now have a nice, light cupcake with lovely hits of chocolate chips all wrapped up in a crisp, chocolate shell. Delish!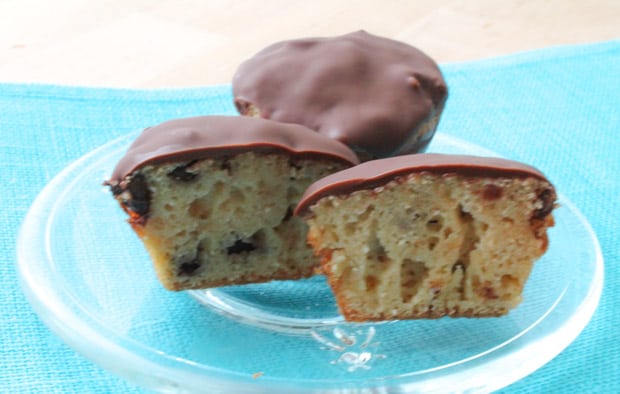 This was adapted from Sarah's Chocolate Chip Donuts.
As an Amazon Associate I earn from qualifying purchases.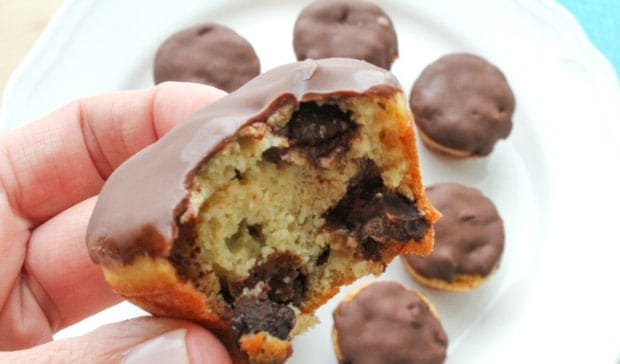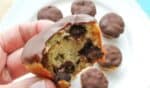 Chocolate Dipped Greek Yogurt Cupcakes
Keyword:
chocolate yogurt cupcakes, yogurt cupcakes
Servings
:
16
mini cupcakes
Instructions
Preheat oven to 350 and grease mini muffin tins

Whisk together flours, sea salt and baking powder in a bowl and set aside

In a large bowl, combine eggs, sugar, greek yogurt, melted butter, vanilla, maple syrup and almond milk and stir well

Bit by bit, stir in the dry ingredients until smooth, then stir in the chocolate chips

Fill the mini muffin tins flush to the top

Bake for 22 minutes or until a toothpick inserted in the centre comes out clean

Let cool for 15 minutes

Meanwhile, melt together the coconut oil and dark chocolate chips by microwaving for 30 seconds then stirring until smooth

Dip each mini cupcake into the chocolate mixture then refrigerate for 15-20 minutes until the chocolate has hardened