Chopped Winter Vegetable Chicken Salad
Has the cold season left you feeling a little blah? Do you feel the need for more veggies in your diet? Well, this Chopped Winter Vegetable Chicken Salad will help to cure winter blues and boost your vitamin intake.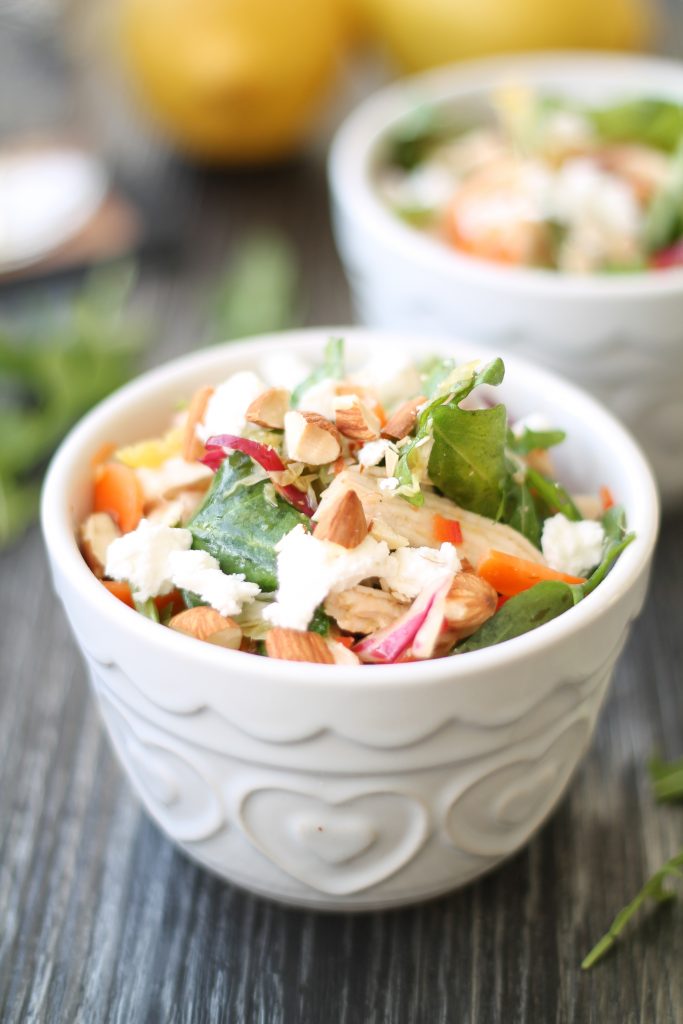 It's no secret that vegetables are the kings of a well rounded, healthful diet. This Chopped Winter Vegetable Chicken Salad is packed with a variety of colours, nutrition and texture.
CHOPPED WINTER VEGETABLE CHICKEN SALAD
Sometimes you feel healthier just eating something like this salad. You know how good it is for you.
I've kind of talked about a few health issues that I've been facing lately and have started to try and heal myself using food as my medicine. I'm really good about having a green smoothie everyday. It's very ingrained in me to blend one up and drink it down.
No problem.
Except one.
I tend to think that it's kinda good enough. Especially lately. If don't cook, or if I just poach a couple of eggs, I never have a vegetable. But because I drink the smoothies I'll give myself a bit of a pass.
Don't be like me. I've got to stop being like me!
So back to what's wrong with me. My blood tests showed a few things. My iron is super low. Like dangerously deficient. Healthy folks should have an iron level of 40-50, while most women sit at around 30, due losing iron when you have your period. My test came back at 12.
Oh my.
From there it's like a chain reaction. If you are low in iron, it effects your thyroid from functioning properly, which then results in smaller red blood cells. All of these different things have their own separate consequences to ones health.
For me, I experience fatigue, even with proper rest. I'm hit with random bouts of dizziness, heart palpitations, and can't keep my feet warm. Sometimes it's hard to catch my breath, which then causes anxiety. I wound up in the hospital one night in early December, when I lost feeling in my left arm and neck. It was so scary.
Thankfully though, through all of this I can see the light at the end of tunnel.
I know what's wrong now and am taking steps to fix it. I'm supplementing with iron and my Naturopath gave me a thyroid support supplement also. My meat game is getting better. 😉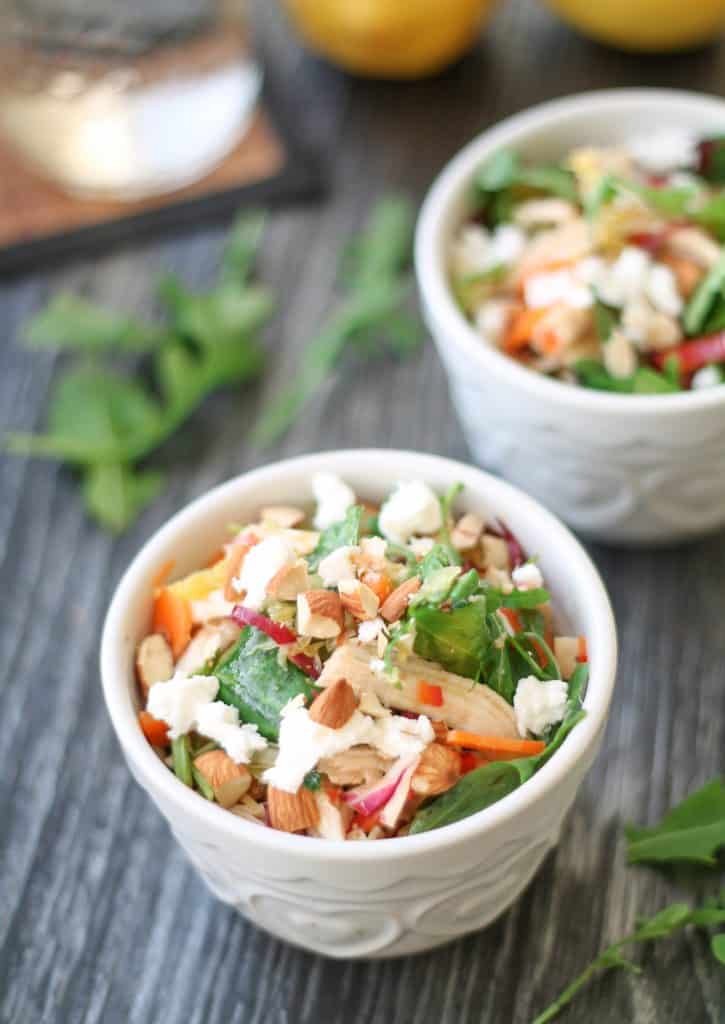 We come full circle back to the veggies. I am making a conscious effort to get back to eating more complete meals to avoid things getting drastic again.
This Chopped Winter Vegetable Chicken Salad is super charged with a variety of whole foods that provide an array of valuable nutrients. Simple ingredients means anyone can pull this meal off. Just get ready to chop. It makes a good four portions and gets better after a day in the fridge. Perfect for lunches!
Enjoy, and be well. 🙂
*Originally posted January 16, 2017. Updated February 25, 2019*
Be sure to follow me on social media! I love pinning to Pinterest, sharing on Facebook and posting pics to Instagram. See you there. 🙂
As an Amazon Associate I earn from qualifying purchases.
Chopped Winter Vegetable Chicken Salad
This Chopped Winter Vegetable Chicken Salad will help to cure winter blues and boost your vitamin intake.
Ingredients
1/4

cup

apple cider vinegar

1/4

cup

extra virgin olive oil

1

tbsp

fresh lemon juice

1

tsp

maple syrup

2

stalks celery

thinly sliced

3

medium carrots

halved and then thinly sliced

1

red pepper

diced

1

cup

thinly sliced radicchio

1

cup

thinly sliced savoy/napa cabbage

2

cooked chicken breasts

shredded or chopped

1 1/2

cups

arugula

3/4

cup

goat cheese

1/2

cup

chopped almonds

mine were toasted
Instructions
Add the apple cider vinegar, olive oil, maple syrup, and lemon juice to a large mixing bowl and whisk together

Add in the chopped celery, carrots, red pepper, radicchio, cabbage and chicken

Stir well and pop in the fridge for an hour

Stir in the arugula and almonds

Crumble the goat cheese on top
Nutrition
Calories:
522
kcal
Carbohydrates:
13
g
Protein:
39
g
Fat:
34
g
Saturated Fat:
9
g
Cholesterol:
92
mg
Sodium:
263
mg
Potassium:
675
mg
Fiber:
4
g
Sugar:
6
g
Vitamin A:
9385
IU
Vitamin C:
49.5
mg
Calcium:
153
mg
Iron:
3
mg