Prepare to be amazed! These vegan and no bake Chocolate Peanut Butter Cups are a homemade wonder. With this recipe you will never reach for the store bought ones again. Simple, healthy and delicious.
Homemade treats are the ticket to still enjoying those old favourites.
When you make it yourself YOU control the ingredients and lets face it, those big companies are using the cheapest, most addictive substances out there.
Make sure that your body receives only the highest of quality.
I'd like to celebrate the world's most perfect and harmonious marriage in existence. By this I am of course referring to chocolate and peanut butter, the ultimate couple.
And to celebrate I am sharing this Chocolate Peanut Butter Cups recipe.
One of my most favourite treats used to be Reese's Peanut Butter Cups, eaten icy cold, right out of the fridge.
Other examples of my fondness of cool treats can be found here –> with this ADDICTIVE freezer fudge or here –> with these oatmeal based no bake cookies
Back in my "trick or treating" days I loved the houses that chose to hand out  the peanut butter cups and when I became the hand-er out of Halloween candy, I was one of those houses.
However, now I don't feel super comfortable with consuming the petroleum derived preservatives found in the commercial version so I have been on a mission to recreate these little cups of bliss with natural ingredients.
I found a few recipes on Pinterest that looked like they fit the bill so I've made a few tweaks and have come up with something to be proud of.
CHOCOLATE PEANUT BUTTER CUPS
Gather up your ingredients.
Coconut oil, cocoa powder, peanut butter, maple syrup and vanilla.





Pour in the slightly melted coconut oil…
And whisk until smooth.
Pour carefully and evenly into paper lined cups.
After a short stint getting all chilled out in the freezer they are ready to bite into.
These are an amazing, sweet treat and go perfectly with a nice cup of peppermint tea.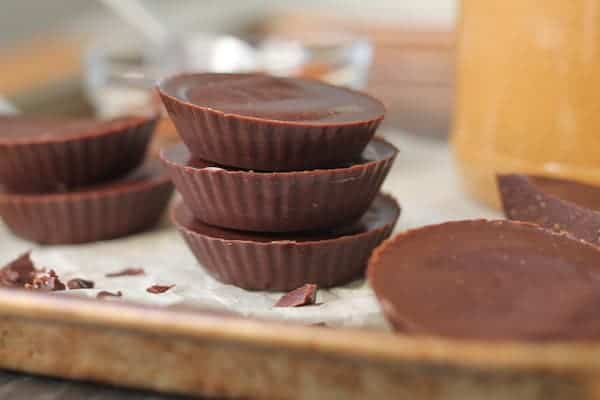 MORE VEGAN TREATS!
Chocolate Peanut Butter Oat Bars
This recipe was inspired by Practical Paleo recipe. <– blog no longer active
Be sure to follow me on social media! I love pinning to Pinterest, sharing on Facebook and posting pics to Instagram. See you there. 🙂
As an Amazon Associate I earn from qualifying purchases.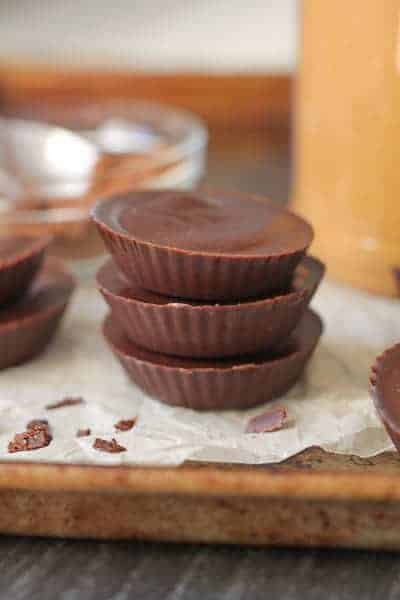 Chocolate Peanut Butter Cups - Vegan & Gluten Free
Keyword:
peanut butter cups recipe
Instructions
1.Line a muffin tin with 10 paper liners.

2.Combine all ingredients in a bowl and whisk until smooth.

3.Pour evenly into muffin liners, approximately 1/2 full.

4.Place in freezer for 15 minutes until set.

5.Store in the freezer or fridge.