This Garlic Maple Dijon Chicken is one of those 'instant staples'. Gluten free and full of flavour, this recipe balances sweet heat to perfection.
Who doesn't  love a quick and easy dinner of chicken with rice and/or salad?
There are endless options with so many delicious ingredients that can be used to create yummy, yummy chicken. So, my tried and true Chili Lime Chicken is always a popular option, but I also like a hint of sweet and spicy and thought some mustard and maple would do the trick.
And to kick it into high gear? Garlic. I love me some garlic. 🙂
GARLIC MAPLE DIJON CHICKEN
I hope you've been enjoying the posts about my trip with my day at the lake and the discovery of a secret gallery behind Victoria's Il Covo Trattoria. So, as a typical over planner/obsessor, I had an activity scheduled for almost every hour of my trip. There were times where the activity was sit-on-the-beach-and-do-nothing but still, planned. Needless to say, there are a few more stories to tell so stay tuned! I have a couple of more posts planned.
But first! Chicken.
HOW TO MAKE GARLIC MAPLE DIJON CHICKEN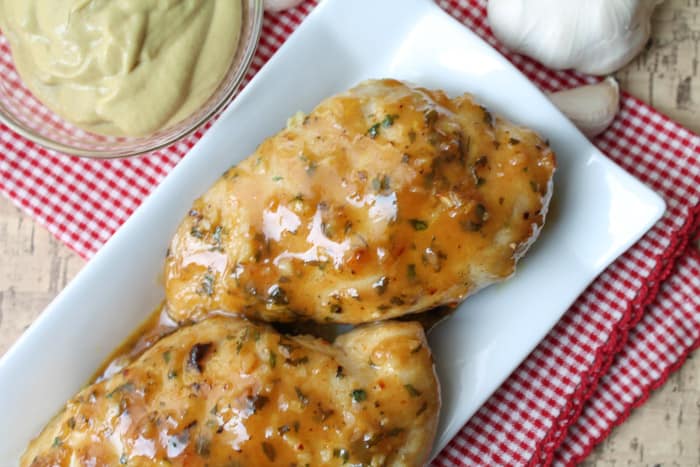 Add a whole lotta garlic to some olive oil and heat lightly to infuse the flavours.
To that, I add the Dijon mustard and a bit of heat.
Cayenne to be exact. Just a pinch, mind you. That sh$t's hot. 😉
Some maple syrup to balance the heat and a bit of parsley for a pop of colour and now you're ready to make some amazingly good chicken.
Scoring the top of the breast lightly with a knife and sprinkling some sea salt and fresh pepper directly onto your chicken are a couple of great ways to really bring out the best in your bird.
It emerges from the oven glistening and juicy looking. Tender and full of sweet heat.
I thought you may enjoy a 'non-styled' look at my meal.
Usually I impress the man of the house with my fancy, Foodgawker worthy plate and mine ends up being portioned out onto whichever random plate isn't dirty.
The leftover sauce in the bottom of my baking dish was spooned onto some brown rice, then promptly inhaled.
So I serve this with brown rice and I'm sure it would also pair perfectly with this easy quinoa side.
It was also very good cold, sliced up with some cheese and bread as a sandwich because who doesn't love sandwiches!
Any way you like it. Garlic Maple Dijon Chicken. It is so yummy.
MORE GLUTEN FREE CHICKEN RECIPES:
Coconut Curry Marinated Chicken
*Originally posted August 4, 2014. Updated August 10, 2019*
Be sure to follow me on social media! I love pinning to Pinterest, sharing on Facebook and posting pics to Instagram. See you there. 🙂
As an Amazon Associate I earn from qualifying purchases.
I use a glass Pyrex baking dish in this recipe.
Garlic Maple Dijon Chicken – Gluten Free
This Garlic Maple Dijon Chicken is one of those 'instant staples'. Gluten free and full of flavour, this recipe balances sweet heat to perfection.
Keyword:
gluten free chicken recipes, gluten free recipes
Instructions
Preheat oven to 450° and coat a baking dish large enough for the 4 chicken breasts to lay flat by brushing with olive oil

In small sauce pan, heat 2 tablespoons of olive oil over medium low heat. Add the minced garlic and stir, cooking until very lightly browned and tender

Remove from heat and stir in maple syrup and mustard. Add in the spices and stir

Place chicken breasts in a prepared baking dish, sprinkle with herbamere and freshly ground pepper. Cover chicken with the garlic mustard mixture

Bake uncovered for 30 minutes, or until there is no pink in the centre. Cooking time varies depending on the size of your chicken
Nutrition Facts
Garlic Maple Dijon Chicken – Gluten Free
Amount Per Serving
Calories 260
Calories from Fat 90
% Daily Value*
Fat 10g15%
Cholesterol 72mg24%
Sodium 305mg13%
Potassium 506mg14%
Carbohydrates 15g5%
Protein 24g48%
Vitamin A 80IU2%
Vitamin C 3.1mg4%
Calcium 46mg5%
Iron 0.8mg4%
* Percent Daily Values are based on a 2000 calorie diet.