Creamy No-Milk Green Smoothie – Vegan, Gluten Free, Paleo
If you're thinking "Another Green Smoothie?", you are correct. #sorrynotsorry 😉
I know I have quite the collection of smoothie recipes available here at The Honour System, but my philosophy with that is you can never get too much of a good thing. Right? I was telling Joe today that starting our Green Smoothie habit was the catalyst for the complete turnaround in our lifestyle and how eat. Something as simple as tossing greens into a blender can change lives, and I'm not even joking. Small efforts accumulate into something bigger until, before you know it, drinking green coloured concoctions have become the norm and you are eating more fresh foods than ever before. Next, the energy spikes, your confidence boosts and you become an improved version of yourself. So easy! 😉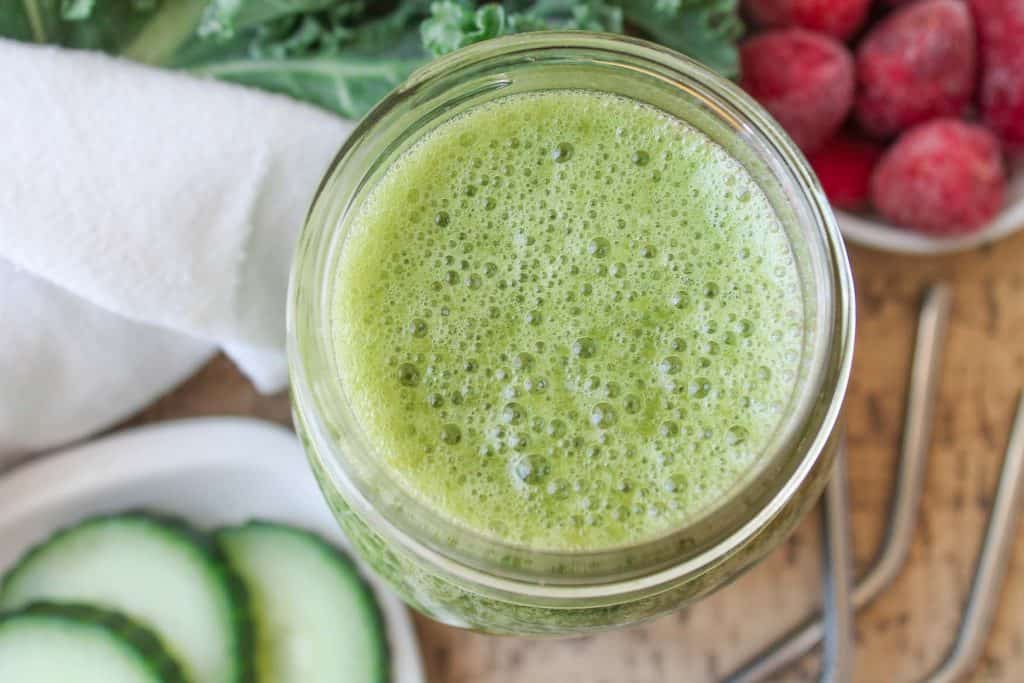 Anyway, this new blend was inspired by my Whole 30 Experience. Dairy wasn't allowed and almonds were supposed to be limited. So now what do I put in my smoothies? The answer was straight H2O.
Oh, and bananas.
Presenting my Creamy No-Milk Green Smoothie. Lots of hydration from the cukes, vitamins and antioxidants galore via the strawberries and leafy greens and of course the banana for creaminess. Frozen. You all know the drill with bananas for smoothies, right? Ripe bananas, peeled, broken in half and stored in a sealed container in your freezer for the sole purpose of making your smoothie totally kick-ass. No milk creaminess right there.
You also want to make sure you give your smoothie long enough in the blender. There is nothing worse than chewing your way through what's supposed to be a drink. We've all been there and don't want to return so, blend 'em up good. If you have one of those apparent miracle machines known as a Vitamix or Blendtec, then you don't necessarily benefit from this advice, but if you're rocking a eight year old Hamilton Beach like me, you need to let that smoothie run awhile. Trust. 😉
We find this blend light, refreshing and satisfying. Even though the Whole 30 experiment is over I'm still sticking to this particular green smoothie recipe.
Give it a go!
As an Amazon Associate I earn from qualifying purchases.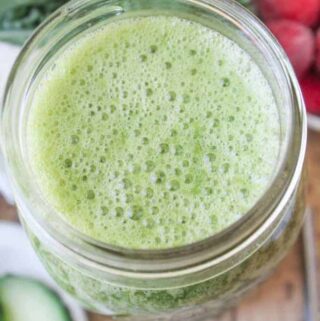 Creamy No-Milk Green Smoothie - Vegan, Gluten Free, Paleo
Ingredients
2

cups

water

2

cups

torn romaine lettuce

2

cups

torn kale

1

cup

frozen strawberries

1 1/2

frozen bananas

1/2

cucumber

2

scoops protein powder

optional
Instructions
Blend ingredients until smooth
Nutrition
Serving:
2
Calories:
155
kcal
Carbohydrates:
34
g
Protein:
5
g
Fat:
1
g
Cholesterol:
2
mg
Sodium:
47
mg
Potassium:
974
mg
Fiber:
5
g
Sugar:
15
g
Vitamin A:
10900
IU
Vitamin C:
134.7
mg
Calcium:
151
mg
Iron:
2.1
mg