Our wild Fridays typically consist of grocery shopping and dinner, followed by stretchy waisted pants and the TV. Sometimes I throw in a little Pinterest sesh if I'm feeling kooky. 😉 I suppose you might consider that a little boring, but I wouldn't have it any other way.
One of my Friday night shows is "You Gotta Eat Here" on the Food Network. The charming host visits various restaurants around Canada sampling their menu items that keep the customers coming in droves. Can you say dream job?!
Even though the fare that is featured on the show is far from the healthy variety, I do get ideas for lots of things to adapt for The Honour System.
Case in point, Pad Thai Fries.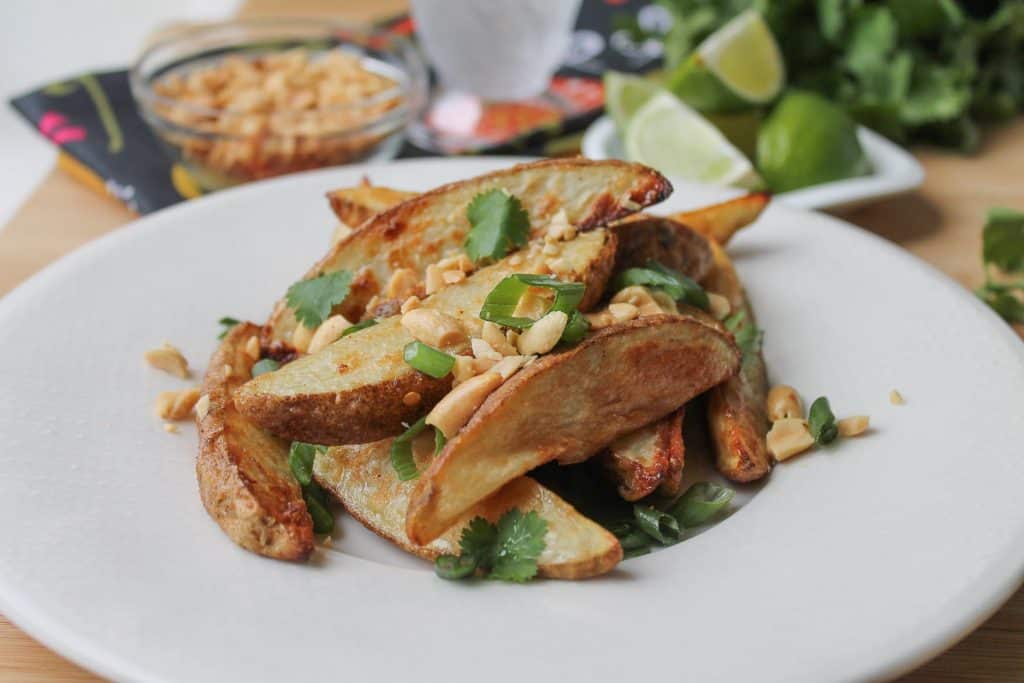 Recently the show visited a restaurant whose signature dish was Pad Thai Fries. I had never heard of Pad Thai Fries and thought it was a super brilliant idea. Of course, the chef used deep fried taters and I will be using baked to lighten things up.
I posted a Vegan Pad Thai recipe back in the day, so I just altered that sauce a touch and tossed it over Crispy Roasted Potato Wedges. A generous sprinkling of fresh chopped cilantro, green onions and the standard Pad Thai chopped peanuts pulled the theme together perfectly.
I . loved . these . Fries .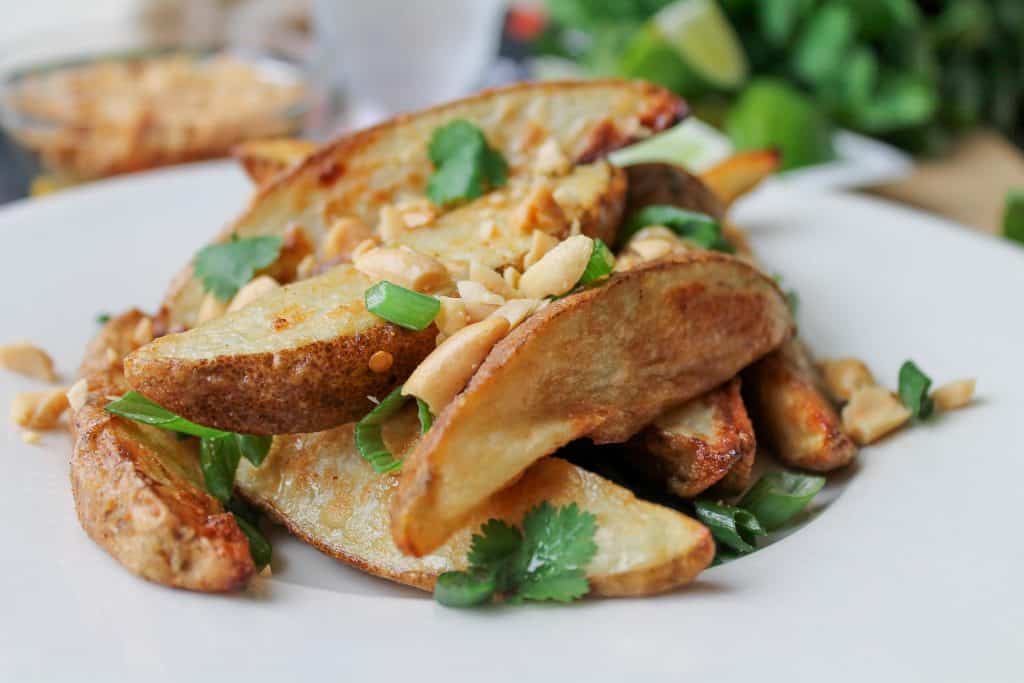 So original and the flavours of the sweet and spicy sauce worked brilliantly with the creamy roasted potatoes. We had some Chili Lime Chicken along with it which was a nice pairing.
If you're thinking of trying something different with a low risk factor, this is it, my friends. This is it. 🙂
Have a great weekend!

As an Amazon Associate I earn from qualifying purchases.
Pad Thai Fries - Vegan & Gluten Free
Instructions
Heat your oven to 425 and line 2 baking sheets with parchment. Set aside

Scrub clean your potatoes and cut each one into 8 even wedges

Add the wedges to a large Ziploc bag and sprinkle in the flour and seasonings. Close the bag and give it a really good shake. Add the olive oil, close the bag and shake the crap out of it!

Line your wedges up on the baking sheets, with a half inch between each

Roast for ten minutes, flip them over and roast for another ten minutes or until they have browned around the edges

Meanwhile, in a small bowl, whisk together the sauce ingredients and chop up your cilantro, green onions and peanuts

Toss the potato wedges with the sauce in a large bowl (I worked in two batches), top with the cilantro, onions and peanuts and serve warm
Nutrition Facts
Pad Thai Fries - Vegan & Gluten Free
Amount Per Serving (4 g)
Calories 379
Calories from Fat 144
% Daily Value*
Total Fat 16g 25%
Sodium 408mg 17%
Potassium 1005mg 29%
Total Carbohydrates 54g 18%
Protein 7g 14%
* Percent Daily Values are based on a 2000 calorie diet.