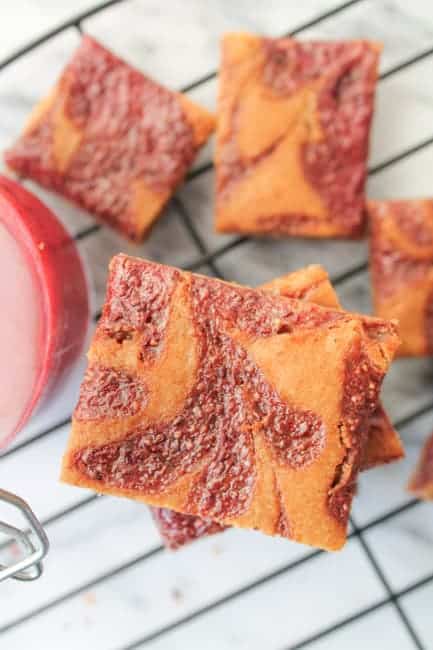 Alrighty, people! We have a winner here. And by winner, I mean we have none of these Peanut Butter & Jelly Cookie Bars left in the house. Aaand I made them yesterday. That's right.
Two revelations there.  
One: These are very, very good.
Two: A couple of gluttonous piggies live in this house. 😉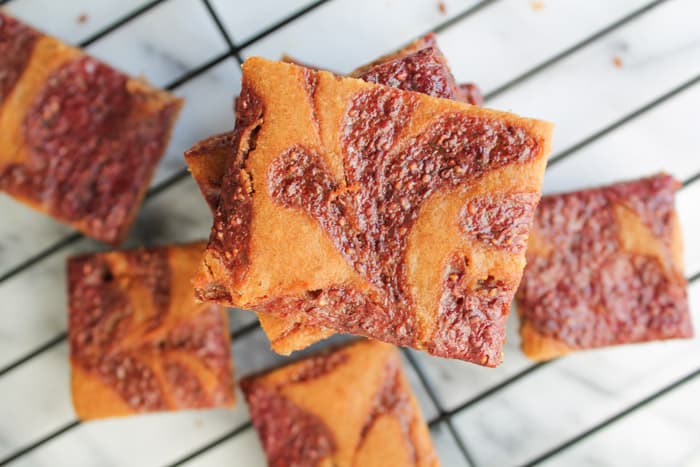 Luckily for us, these are made with real food ingredients and, besides feeling a little sheepish, I don't feel guilty.
The base of these cookie bars was inspired by the wildly popular Chocolate Chip Chickpea Cookie Bar. That's right, chickpeas, and if you haven't tried baking with these little miracles, you are indeed missing out on a full life. 😉 It looks like hummus but bakes up like a dream. A naturally protein packed, gluten free dream that will leave pools of drool on your pillow. Or just drool running down your face if you happen to be daydreaming.
The other inspiration was the most recent chia seed jam recipe, here at the Honour System. A strawberry incarnation that we've been spooning up at lightening speeds.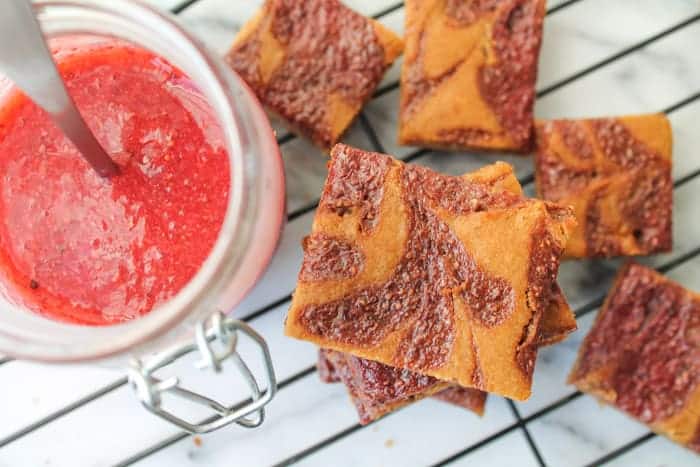 I wanted to pay homage to those heading 'Back to School' and thought a PB & J themed treat would be apropos. Even though, due to nut restrictions in schools you probably can't pack these with your kids but not to worry. They won't last long enough to make it into those lunch boxes anyway.
Prep work for these beauties is super easy. Everything except your jam is tossed into the food processor until it's smooth.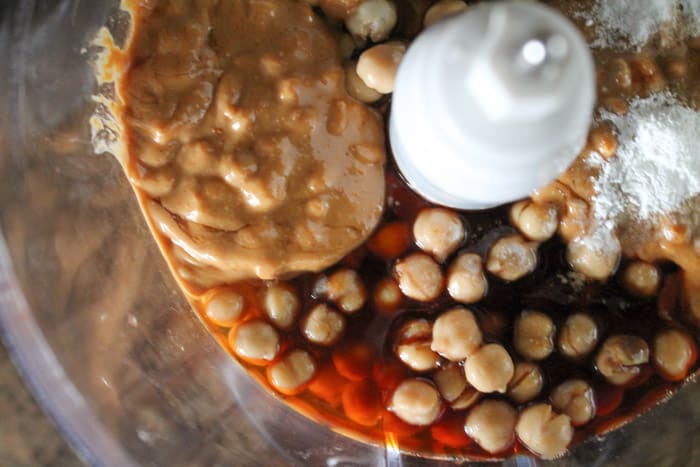 Pour your batter, stealing tastes along the way of course, into a parchment lined pan.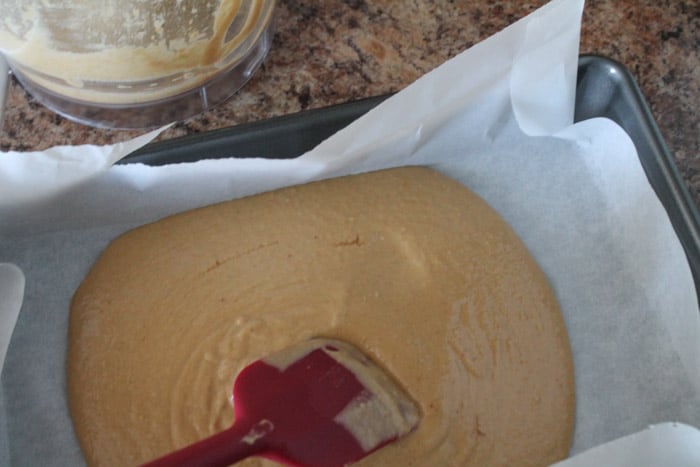 To get a nice marbled effect with your jam, spoon dollops of it on top and then drag the end of your spoon through the dollops. So pretty.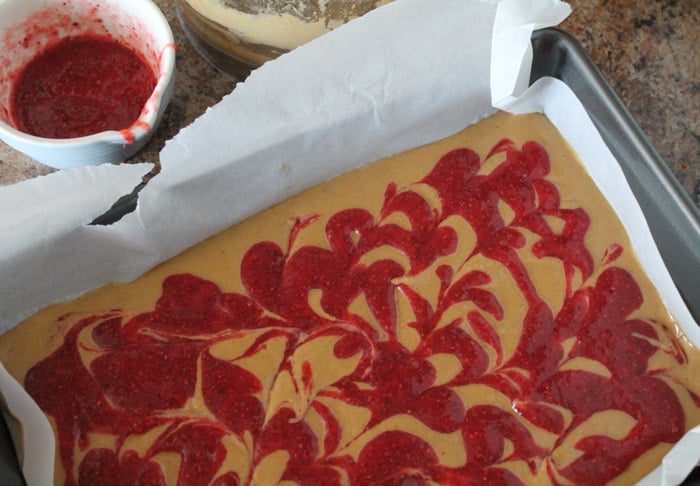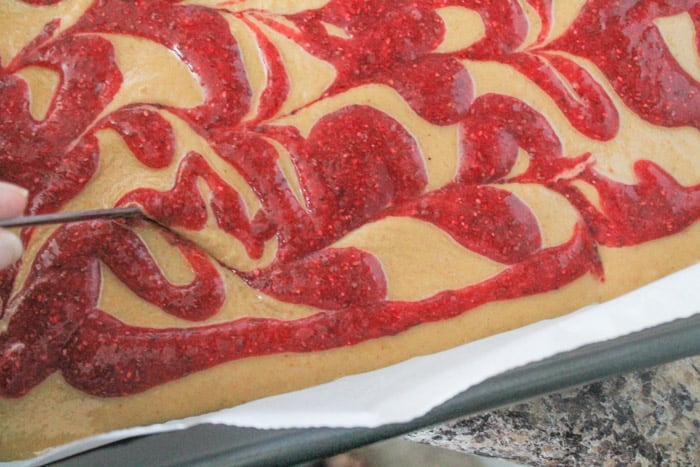 After baking and filling the kitchen with the most incredible aroma, out comes this masterpiece. Move aside Mona Lisa!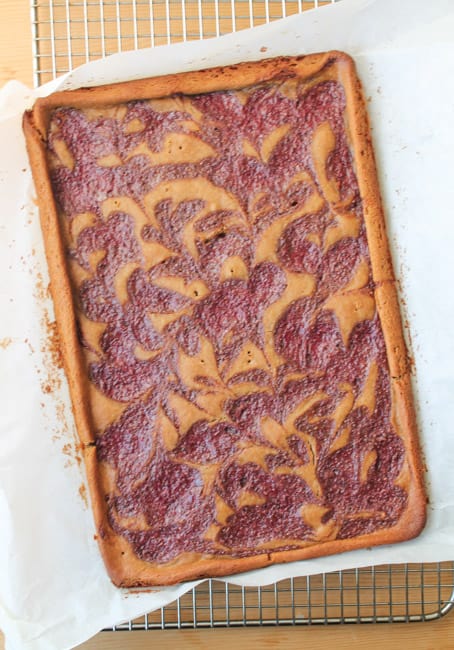 These bars were crispy, chewy awesomeness. Those edges? I'm dying.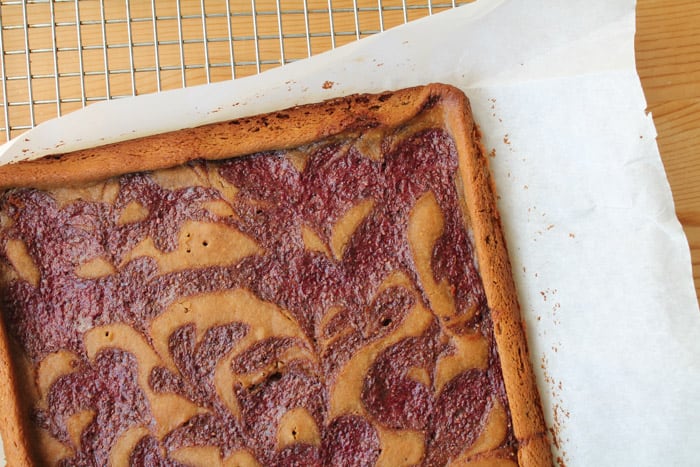 It's no wonder we destroyed this batch. You will too. Trust.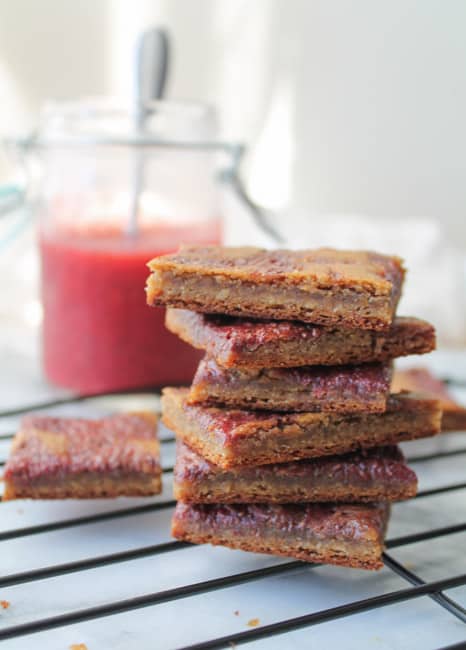 Peanut Butter & Jelly Cookie Bars – Vegan & Gluten Free
Ingredients
1 can (398ml.) chickpeas, rinsed & drained
½ cup peanut butter, I used a natural chunky variety
¾ cup maple syrup
2 tsp vanilla
¼ teaspoon baking powder
¼ teaspoon baking soda
pinch sea salt
½ cup strawberry chia seed jam
Instructions
Preheat oven to 350 and line a 9x13 pan with parchment paper
In a food processor (or high speed blender), add all ingredients, except strawberry jam, and process until batter is smooth. A similar consistency to hummus
Scoop the batter into the lined pan and smooth it out evenly
Dollop the jam along the top and using the end of your spoon drag lines through the dollops of jam to create a marbled effect
Bake for 60 minutes or until toothpick comes out clean. This will vary with ovens so, be patient! Wait until the edges are beginning to brown and the middle is set
Cool for 10 minutes in the pan then transfer to a rack for another 30 minutes for them to set
Cut into squares and store in a sealed container
7.6.7
400
https://thehonoursystem.com/peanut-butter-jelly-cookie-bars-vegan-gluten-free/