If you love the flavour of soy sauce but are trying to avoid either soy or a ton of sodium, this is the recipe for you! This Faux "Soy" Sauce is also gluten free making it a triple threat.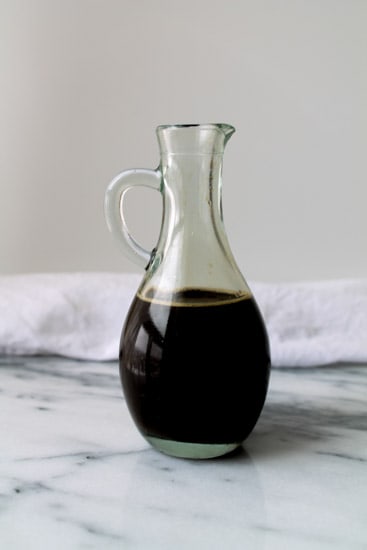 Soy sauce is such a popular condiment.
It is listed in numerous recipes and packs a nice salty punch to many dishes.
Unfortunately, for those with soy or gluten allergies it has to be avoided.
And that nice salty punch? Well, if you are looking to lower your sodium intake, limiting your use of soy sauce and trying this Faux "Soy" Sauce would be a good start.
The versions on store shelves contain about 920 mg of sodium.
Considering The Mayo Clinic recommends avoiding any foods that contain more than 200 mg of  sodium per serving, I would say that puts conventional soy sauces on the no-no list.
So here is my version.
I will be completely honest that it doesn't taste exactly like your typical soy sauce, but it comes close.
It has depth of flavour and is great added to stir fry's or Asian style dishes.
It's not so great on it's own, as say a dipping sauce, but when added to meals it adds a tasty element similar to it's uber salty counterpart.
How to make Soy-less Soy Sauce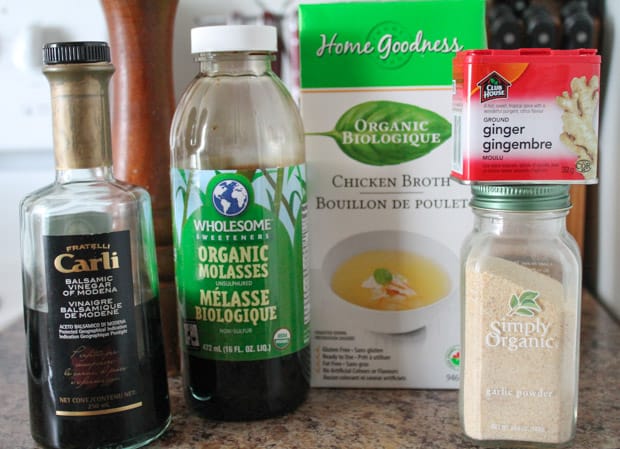 Combine all the ingredients, bring to a boil and them simmer until reduced. Done!
Let it cool on the counter. This takes about 15 minutes.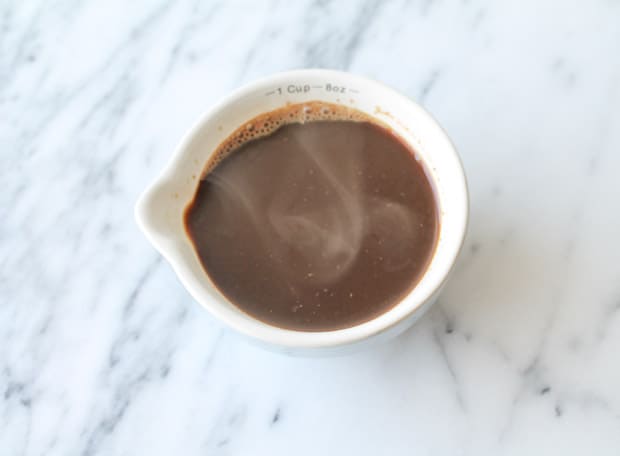 I banged this batch out while I cleaned up after dinner and did the dishes.
Once it has cooled, transfer it to a small mason jar.
Try not to spill it all over the counter like I did. 😉
Keep it refrigerated and give it a good shake before using.
This recipe could easily be made vegan friendly ( <—I've veganized this recipe here) by using a vegetable stock.
I use a gluten free stock so make sure you read your labels if avoiding gluten is something you do.
Enjoy!

As an Amazon Associate I earn from qualifying purchases.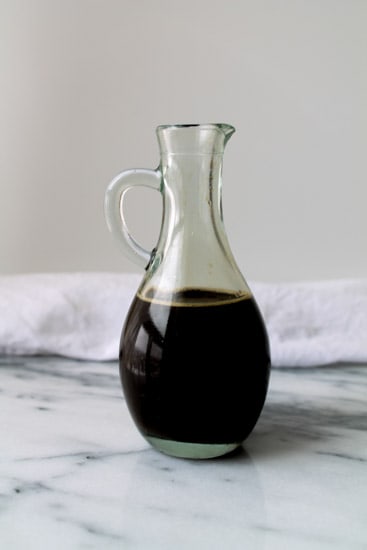 Faux "Soy" Sauce – Soy & Gluten Free
Keyword:
gluten free soy sauce, soy free soy sauce
Instructions
Bring all ingredients to a boil

Turn the heat to medium high and simmer for approximately 20 minutes until the liquid is reduced to one cup. Remove from heat

Let cool for 15 minutes then transfer to a glass jar. Store covered in the fridge

Shake well before using
Nutrition Facts
Faux "Soy" Sauce – Soy & Gluten Free
Amount Per Serving
Calories 23
% Daily Value*
Sodium 21mg 1%
Potassium 71mg 2%
Total Carbohydrates 4g 1%
* Percent Daily Values are based on a 2000 calorie diet.