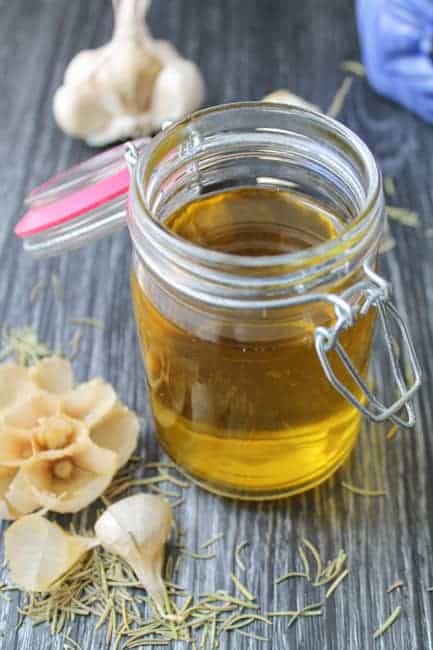 Sounds so very fancy.
Yet it was so, so easy.
Roasted garlic amazingness paired with fragrant rosemary equals an incredible way to add flavour to your cooking.
But wait! It gets better…
This recipe is actually a two-for-one deal. The oil an be used for sautéing your veggies or adding to vinaigrettes and the roasted garlic cloves that are strained out of the olive oil can be pressed into a paste to stirred into sauces or soups. So cool!
So by easy, I mean you have to chop a full head of garlic in half. This does require a some knife skills, which I am slowly working on. Joe is cringing every time he sees me with my big Henkel in my hand. I'm careful, I promise!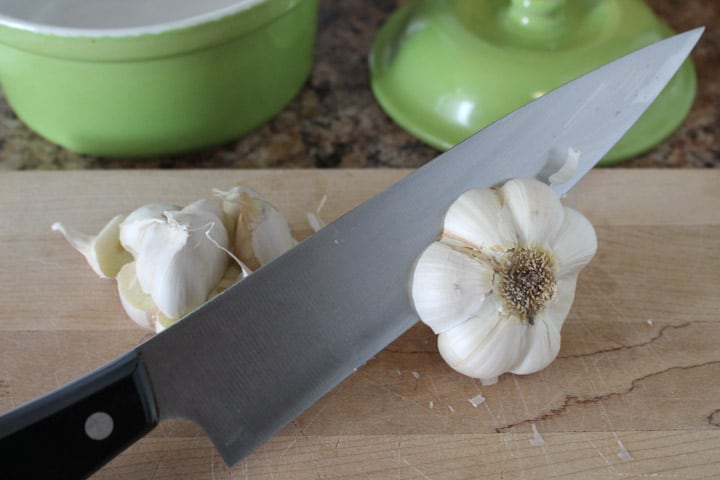 Place the garlic in an oven safe dish and cover it with olive oil.
Stir in some rosemary and you're done. Love easy.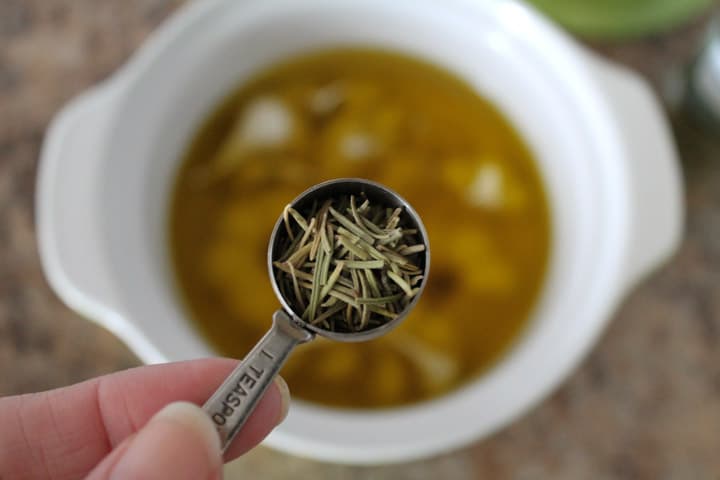 Cover it and pop into the oven. I made this on a Saturday while I prepped a few other things for dinner and the kitchen smelled ah-mazing. Better than any twenty dollar candle that's for sure. #natural 🙂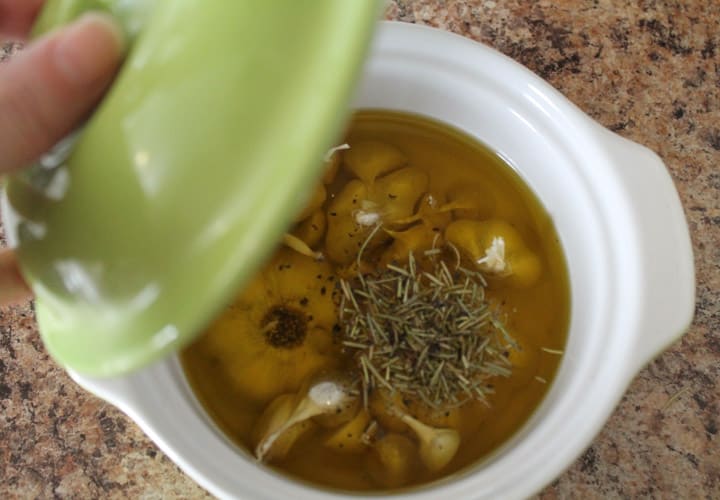 Test your bubbling pot of goodness by mashing a clove against the side of your baking dish. If its easy, you're done.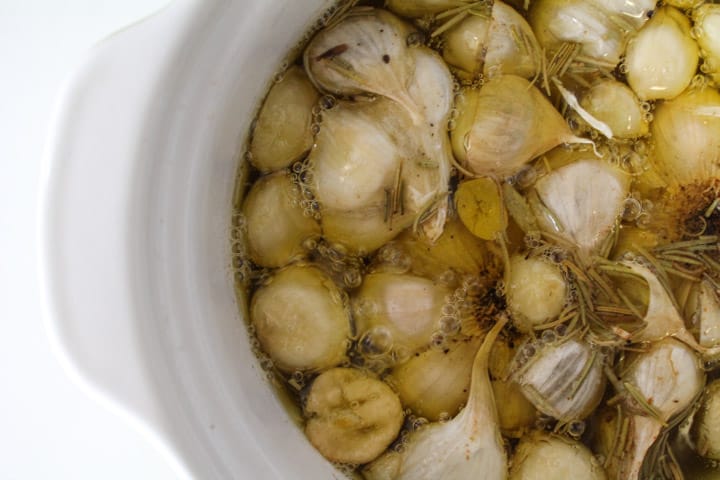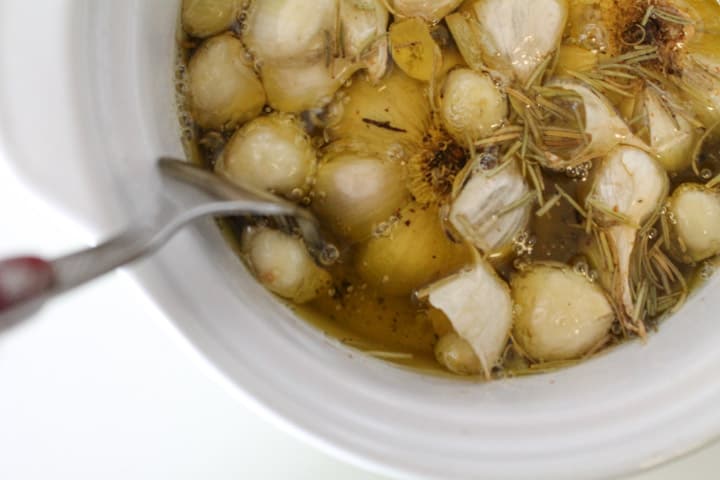 Strain the oil into a shallow bowl to cool and transfer the whole roasted garlic cloves to another bowl.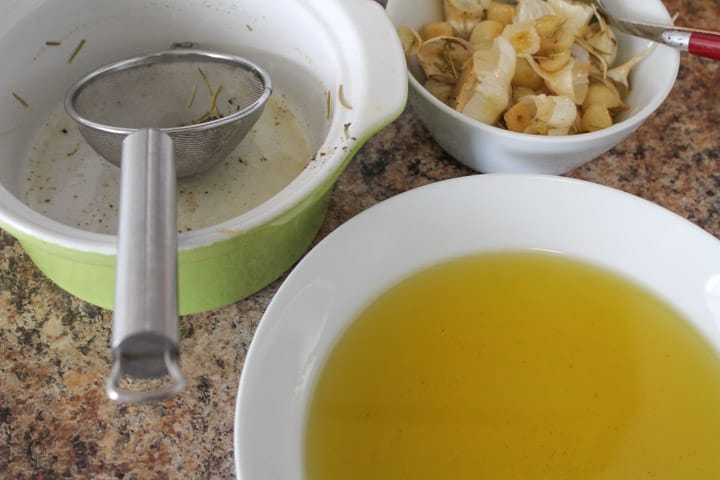 Ever wonder what to do with those really tiny containers you get in those sets you get from Costco? I've finally found a use for them! Store the pressed garlic cloves and use them up through the week in anything you would normally add minced garlic to.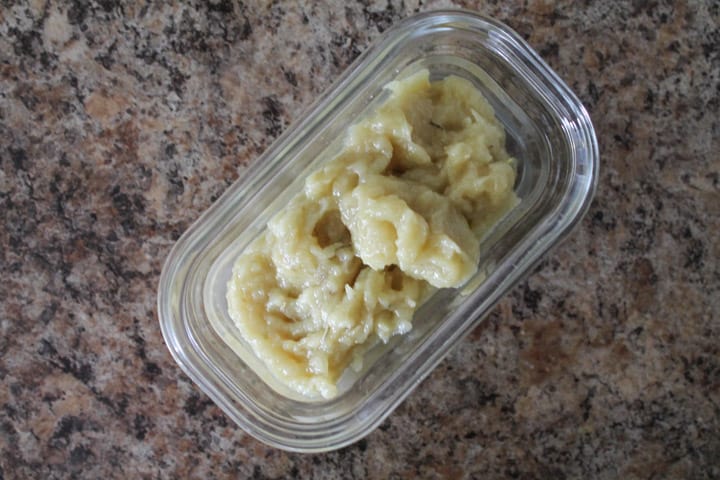 Store the flavoured oil in a jar and add it to anything you would add regular olive oil.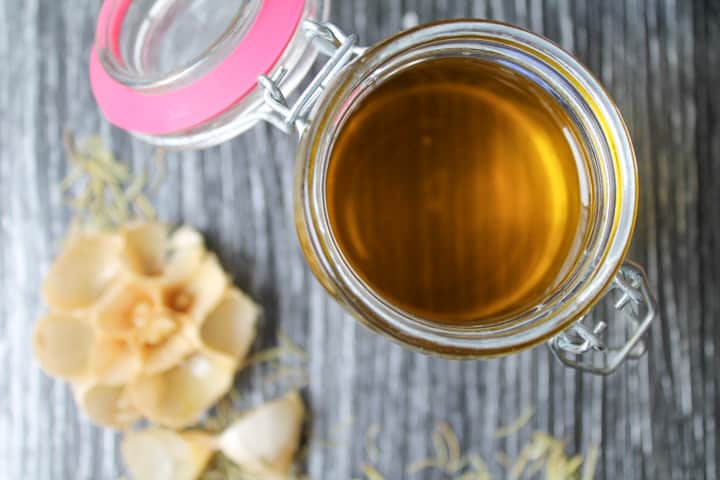 Like I said. Easy.
Yet, fancy.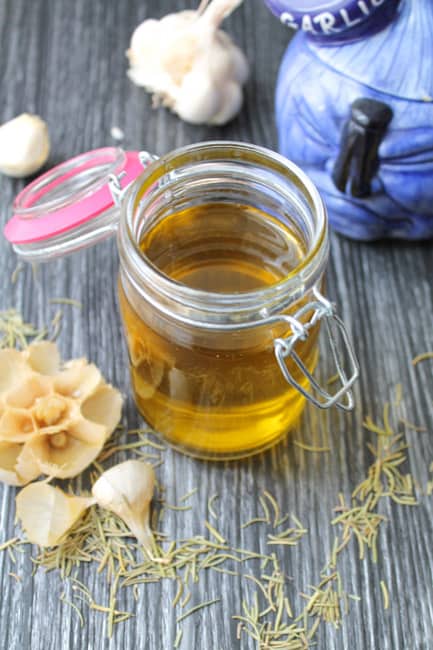 As an Amazon Associate I earn from qualifying purchases.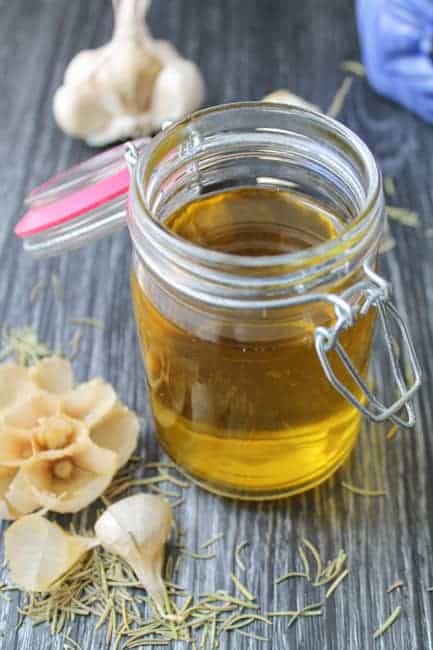 Roasted Garlic & Rosemary Oil
Keyword:
garlic rosemary olive oil
Instructions
Preheat oven to 300

Cut the garlic heads horizontally in half

Put the garlic cut side down in a small ovenproof dish with a lid and cover with the olive oil

Add rosemary and a turn or two of fresh pepper

Cover with a lid and bake for 45 minutes to 1 hour. The garlic should be soft when pressed with a fork

Remove the garlic from the oil and set aside

Strain the oil into a shallow bowl and let cool, then pour into an airtight jar.

Remove the roasted garlic cloves out of their husks and press it into a smooth paste. Store in an airtight container in the fridge
Nutrition Facts
Roasted Garlic & Rosemary Oil
Amount Per Serving
Calories 17
Calories from Fat 9
% Daily Value*
Total Fat 1g 2%
* Percent Daily Values are based on a 2000 calorie diet.