I can't wait to share this one! Like many of you, I'm sure, I've seen the countless recipes floating around for delicious cauliflower crusts that make pizza and flatbread type snacks available to those who avoid the gluten. To be honest, each time I get to the part about squeezing and squeezing every last drop of moisture out of the cauliflower I totally lose interest. Even though I know it would be incredible, I am far too lazy for that.
Then I read Lauren's recipe for a quinoa crust, (so far so good, love quinoa), that has a short ingredient list, (looks good, I have all these ingredients), and no squeezing required! We have a winner folks. 🙂
Since I have a batch my homemade roasted rosemary garlic puree, I thought why not toss some of the puree into the crust batter and use the garlic rosemary olive oil I made for the base of my flatbread. Now I had a theme going.
I had some parmesan in the fridge and a little wedge of marble cheese. I so wish I had some fresh mozzarella for this, but really, who has that just kicking around?
It's a super easy recipe to bang out so it would be good for a family snack or even for guests, as long as they don't mind the insane racket from the food processor. I hate that freakin' noise from that blasted thing. There must be some 'whisper' technology that can be developed to tame down the jarring loudness.
The only really time consuming thing is to soak your quinoa overnight. So it's not hard … if you remember to do it! Don't forget to soak the quinoa, people. 🙂
The batter was smooth and pourable. It almost looked like a thick milkshake!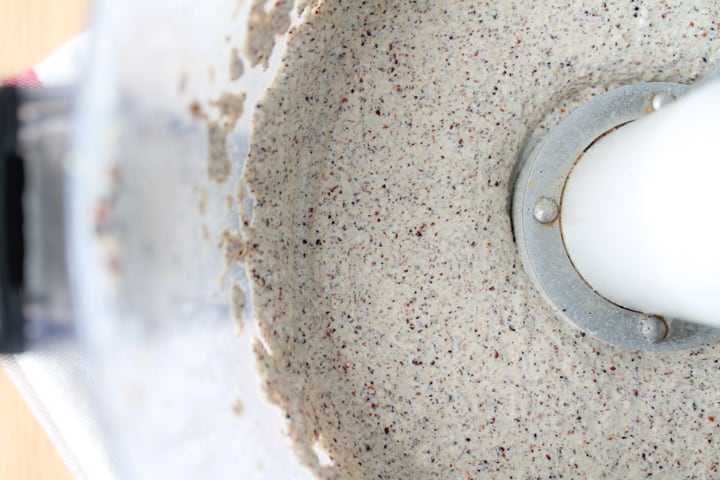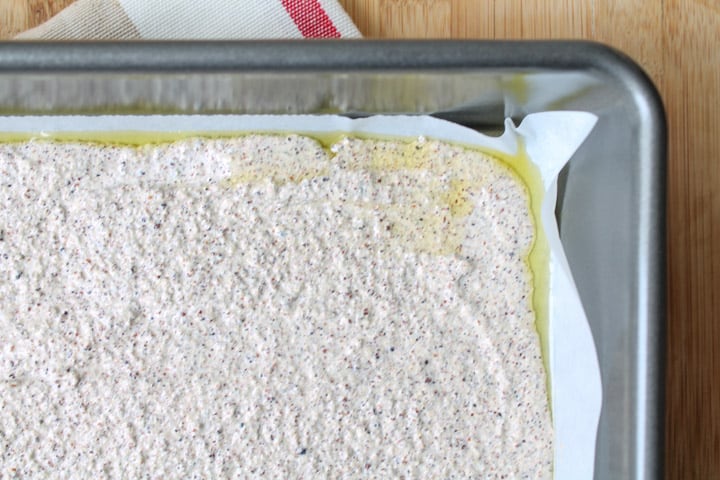 When it came time to flip the crust, I was amazed at how it looked. It was becoming apparent that quinoa was turning into 'bready', crusty goodness right in front of me.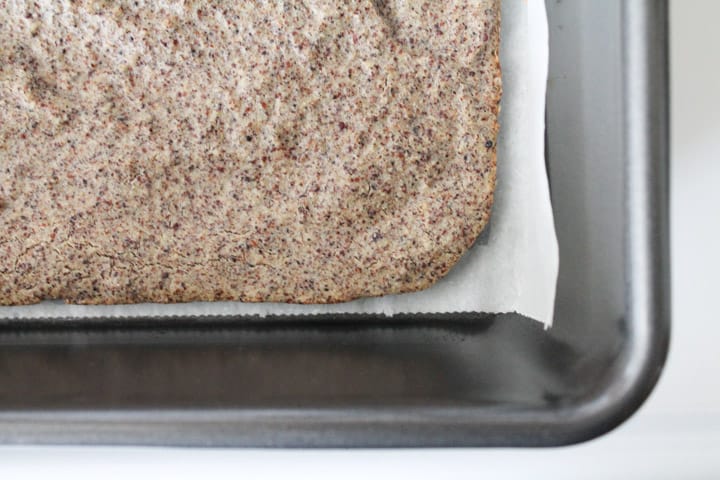 Once it was topped with the cheese and basil? Forget about it …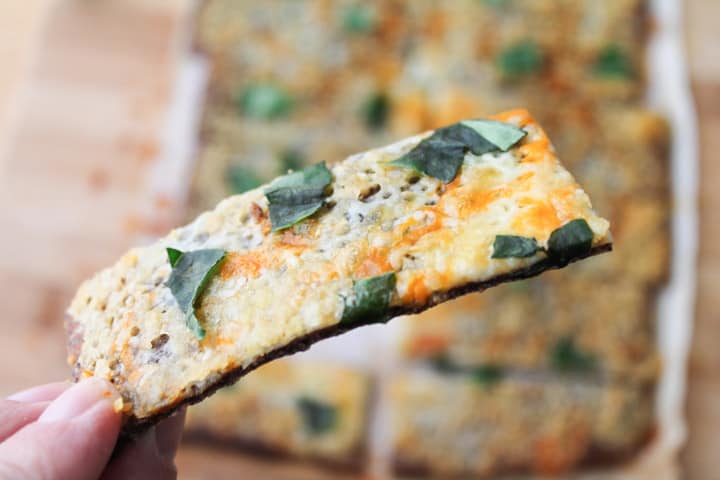 This batch was very promptly dee-voured. My photo shoot quickly turned into this: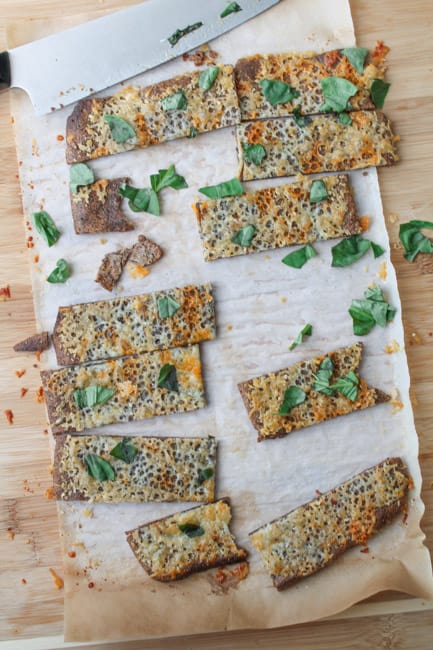 It's good. Trust.
Lightly adapted from Oatmeal with a Fork.
As an Amazon Associate I earn from qualifying purchases.
Quinoa Crust 'Flatbread' with Roasted Garlic & Fresh Basil
Keyword:
quinoa crust flabread
Ingredients
¾

cup

quinoa

I used a tri-colour blend, rinsed well, drained and soaked in water overnight

¼

cup

water

½

tsp

sea salt

1

tsp

baking powder

1

tbsp

roasted rosemary garlic puree

1

tbsp

roasted garlic rosemary olive oil + 1 tsp

½

cup

parmesan cheese

½

cup

marble cheese

5-6 to

basil leaves

torn
Instructions
Give your quinoa a good rinsing and transfer it to a bowl. Cover it with an inch of water, cover and soak overnight

Preheat the oven to 425 degrees

Drain the water from your soaked quinoa and rinse thoroughly

Transfer it to your food processor along with the roasted garlic, water, salt, and baking powder

Process for about two minutes until smooth

Brush one teaspoon oil on the bottom of a baking pan (I used a 9x13) and line with parchment paper. (the oil helps to stop the paper from moving around)

Brush the remaining oil on top of the parchment paper

Pour the batter into the pan and with a spatula, smooth it out evenly

Bake for 15 minutes, flip over, and then bake for an additional 5 minutes

Top with the cheese and broil for 2 minutes or until the cheese is melted and bubbly

Sprinkle with the fresh torn basil
Nutrition Facts
Quinoa Crust 'Flatbread' with Roasted Garlic & Fresh Basil
Amount Per Serving
Calories 269
Calories from Fat 117
% Daily Value*
Total Fat 13g 20%
Cholesterol 24mg 8%
Sodium 594mg 25%
Potassium 353mg 10%
Total Carbohydrates 23g 8%
Protein 13g 26%
* Percent Daily Values are based on a 2000 calorie diet.