Chicken & Onion Flavoured Quinoa
Every couple of months I get together with Joe's mom for a trip to Costco. Usually, we go for breakfast or lunch together as well and make a bit of a day of it. It's nice to spend quality 'girl time' and nothing says girl time like lunching and then shopping (unrushed, unlike with the men) through every.single.aisle at Costco:) There are a few healthy staples that I stock up on regularly when there and one of those things is a gigantic bag of quinoa. As you may of guessed by my quinoa bolognese and maple cinnamon quinoa bake, I love me some quinoa:)
This particular recipe is for quinoa as a side dish. It's a nice accompaniment for a plethora of meals and a tasty, healthy option to pair with a protein source like chicken or eggs. I do use chicken stock to cook the quinoa in for a bit of added flavour, but this could easily be made vegan by adding a veggie stock instead. Aaaaaaand since I was shopping the Costco aisles I picked up some of this stock as well.
Quinoa is super easy to whip up and I always make extra to throw cold into a salad or reheat for a quick side dish. Start by rinsing the quinoa to remove the film. Don't skip this part. Trust.
I use 1 cup of quinoa to 1 1/2 cups of stock. Slice up 1/4 of an onion into thin strips then stir it in with the quinoa and stock. Bring it all to a boil in a covered sauce pot, turn the heat down to a simmer for 10 minutes or so.
One all the liquid had been absorbed, take your pot of the heat and let it sit, covered for another 5 minutes then fluff with a fork.
BOOM!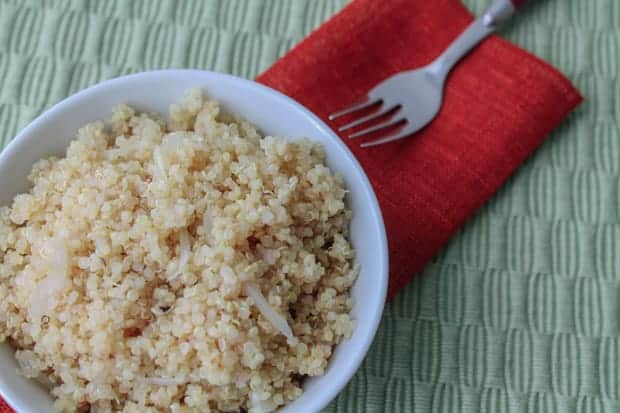 A classic side dish that is versatile enough to stand beside a number of meals.
Thanks to Cristel for being both my shopping buddy and for donating the lovely back drop for these photos;) #runningoutofplacemats #foodbloggerproblems
As an Amazon Associate I earn from qualifying purchases.
Chicken & Onion Flavoured Quinoa
Instructions
Bring ingredients to a boil in a covered sauce pot

Reduce heat to a simmer and cook covered for approximately 10 minutes or until the liquid has been absorbed

Remove from heat and leave covered for 5 more minutes

Fluff with a fork and serve

Store leftovers in the fridge for up to a week
Nutrition
Calories:
163
kcal
Carbohydrates:
29
g
Protein:
6
g
Fat:
2
g
Sodium:
354
mg
Potassium:
249
mg
Fiber:
3
g
Sugar:
1
g
Vitamin A:
190
IU
Vitamin C:
0.5
mg
Calcium:
20
mg
Iron:
1.9
mg