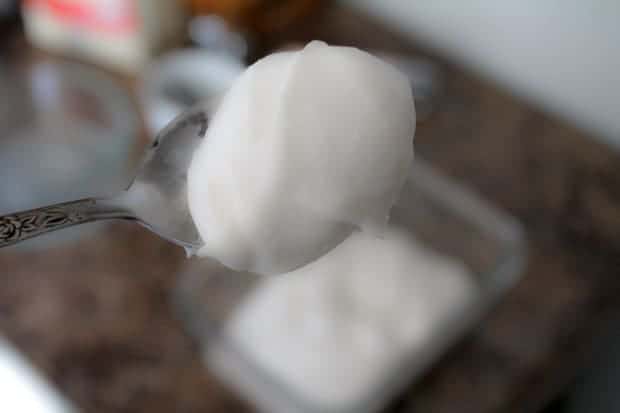 I'm lucky that I don't have any issues with digesting dairy. However, I know so many people that do, my sister included, as well as vegans who avoid dairy for both compassionate and health reasons. This particular recipe is a god send for such people. For those vegans and allergy sufferers who assume they can't enjoy the decadent taste of whipped cream anymore? Think again! It's easy, inexpensive, and pretty darn close to the real thing.
The very first thing you need to do is put a can of full fat coconut milk in the fridge overnight. This enables the milk to solidify. So get those cans in the fridge, people!
After a sleepless night, dreaming of the pillowy clouds of cream you are ready to get whipping!
Put the bowl you will be using in the freezer for 5 minutes.
Meanwhile, turn the can upside down and pour off the liquid that is at the top. Turning the can over makes this part super easy as all the liquid will now be sitting on the solid milk and all you need to do is tip the can and drain. You can reserve this liquid and use it in a smoothie!
Once the bowl is well chilled scoop out the hardened coconut milk and transfer it into the frozen bowl.
On a high speed, beat the coconut milk until it is the consistency of traditional whipped cream.
Add in some sweetener and vanilla. I used powdered sugar, but cane sugar or even maple syrup would also work. Beat again until the sweeteners are well incorporated.
And that's it! It's fluffy and creamy and delicious. There is a coconut flavour to it so it doesn't taste exactly like the whipped cream you may be used to but it's such a great substitute for those whose lifestyle doesn't include dairy.
This will store in the fridge in a sealed container for about a week. It will harden again so you may have to get out the beaters and give it a quick whip.
There are many adaptations of this on the web but this one was inspired from this recipe.
As an Amazon Associate I earn from qualifying purchases.
Coconut Whipped Cream
Instructions
Chill can of coconut milk overnight in the fridge

Place large mixing bowl in the freezer to chill for 5 minutes

Turn can of coconut milk upside down and open. Pour off liquid from the top

Scoop out hardened milk into chilled mixing bowl and beat on high speed until fluffy

Add in sugar, one tablespoon at a time, continuing to beat on high

Add in vanilla and continue to beat

Store in a sealed container in the fridge
Nutrition
Calories:
147
kcal
Carbohydrates:
6
g
Protein:
1
g
Fat:
13
g
Saturated Fat:
12
g
Sodium:
8
mg
Potassium:
140
mg
Sugar:
4
g
Vitamin C:
0.7
mg
Calcium:
11
mg
Iron:
2.1
mg