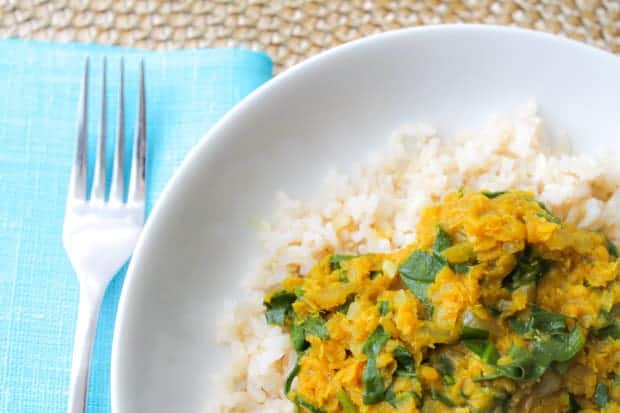 Some food looks great in photos and others…well, not so much. However, I've decided that this blog is not just about looks. It's about taste, real food, healthy ingredients etc. I won't not post something just because the camera may not love it. This is the case with this Indian Dahl. It won't win any Miss Photogenic contests any time soon but it has Miss Congeniality wrapped up!
Spicy and packed with flavour, this healthy vegetarian dish will please your palate and keep you full for hours. If you wanted to add some more protein to it besides the lentils, I'm sure some chicken stewed in with this would also be very good. I do like to keep it meatless for a couple of meals a week so I'm keeping this one vegetarian. It's also very vegan friendly, if you are so inclined, as you can easily sub out the butter for Earth Balance or just use more olive oil.
Start with rinsing the red lentils, them soaking them for about 20 minutes.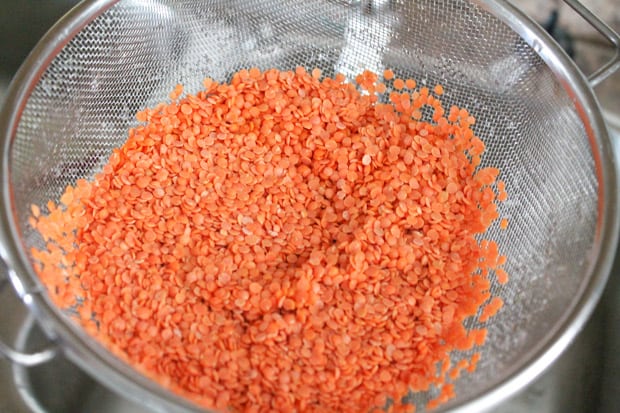 I love the colour of the red lentil:) It would make a great nail polish hue!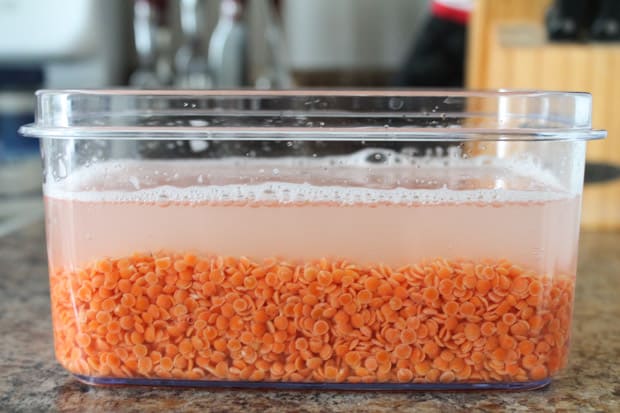 In the meantime chop up a medium sized onion.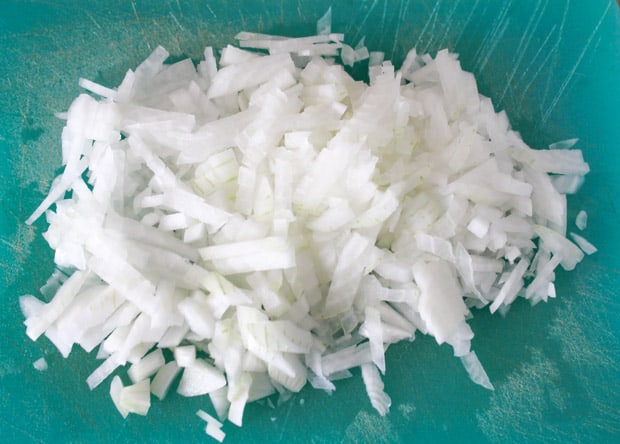 In a large pot, bring salted water to a boil and add the red lentils, turmeric and chili powder and let simmer.
Meanwhile, chiffonade 4 cups of spinach. Chiffonade is a fancy chef's term for slicing greens into strips. I like fancy chef talk.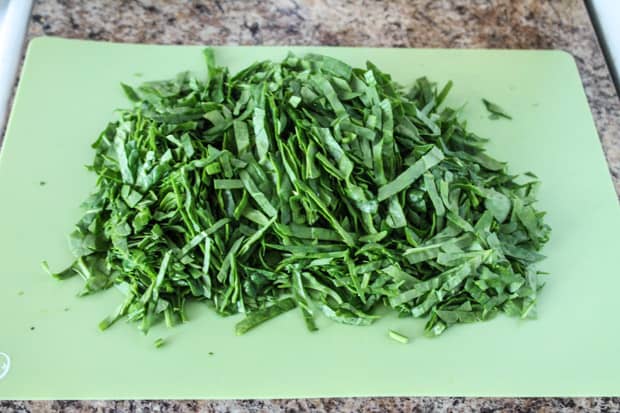 Add the spinach to the lentils, stir well and leave to simmer.
Melt some butter and olive oil in a small pot and add the onion along with curry powder, ginger, ground mustard, cumin and sea salt and pepper. Cook the onion until it's softened. About 5 minutes.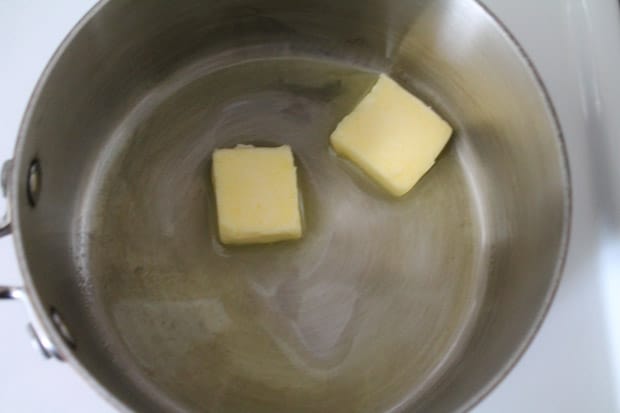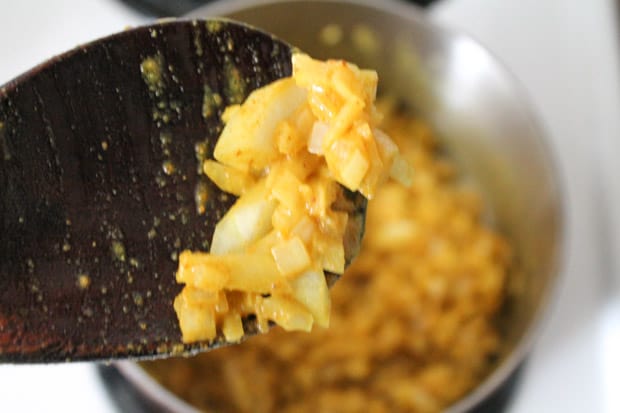 Pour the onions into the lentils, stir well. Pour in the coconut milk and cook until heated through.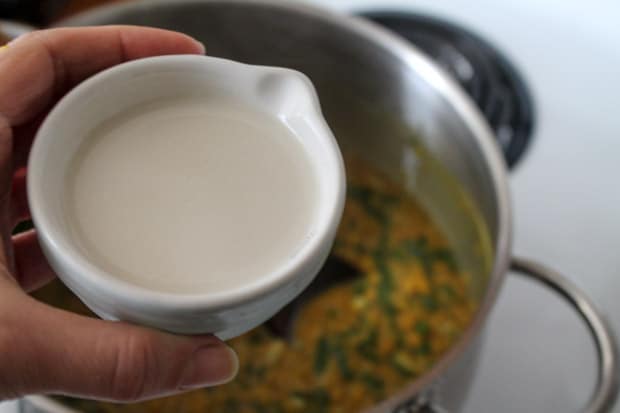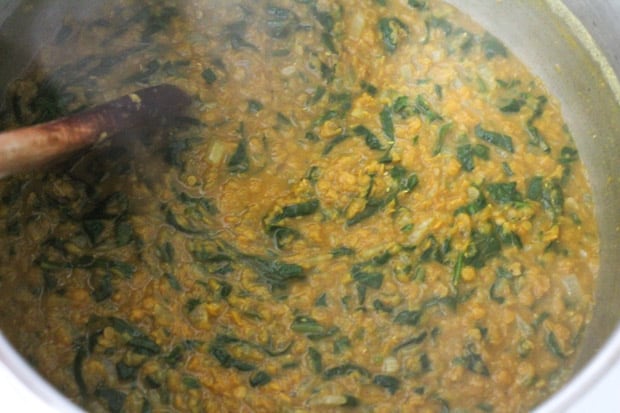 Keep in mind that I really like the spice so you may have to scale the flavour to suit your own taste buds. Serve this over brown rice.
Red Lentil & Spinach Dahl
Ingredients
1 1/2 cups red lentils
3 1/2 cups water
1 tbsp sea salt
1 tbsp turmeric
1 tbsp chili powder
4 cups spinach, cut into strips
2 tbsp butter
1 tbsp olive oil
1 onion, chopped
1 tbsp cumin
1 tbsp ground mustard
1 tbsp curry powder
1 tbsp ginger
1/2 cup coconut milk
Instructions
Rinse lentils and soak for 20 minutes
In a large pot, bring salted water to a boil. Add in lentils, turmeric, and chili powder
Stir well and return to a boil
Cover and reduce heat to low. Let simmer for 15 minutes
Add spinach to lentils, stir, and leave over low heat
In a small saucepan, melt butter with olive oil and add in onions and remaining spices
Cook onions until softened, about 5 minutes
Stir onions into lentils and pour in coconut milk
Cook until heated through and serve over brown rice
7.8.1.2
110
https://thehonoursystem.com/red-lentil-spinach-dahl/