Deviled Egg Salad Sandwich
I hate wasting food and sometimes after the party is over there is often leftovers. This Deviled Egg Salad Sandwich is a tasty way to re-purpose those extras!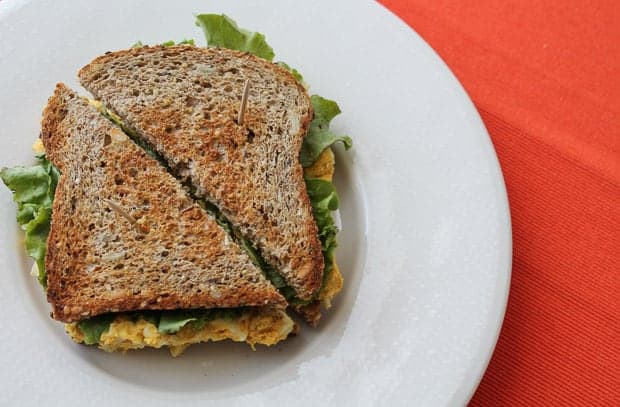 DEVILED EGG SALAD SANDWICH
Didn't I just read about deviled eggs somewhere?
No, it's not deja vu, it's more hummus and eggs!
My main goal with cooking/meal planning/ grocery shopping is to not waste. That goes for food, dollars and time. No wasting!
So from the hummus I made last week I spawned the hummus deviled eggs and from those I whipped up this tasty little lunch.
And by whipped up I mean, mashed up the remaining deviled eggs with a fork and scooped it onto some toasted Ezekiel bread. Done. It was so easy I even prepared the whole thing while cradling the phone on my shoulder and chatting away to my BFF. Truth be told I took the pictures with one hand as well as we also talked our way through the photo shoot.
Call it multitasking…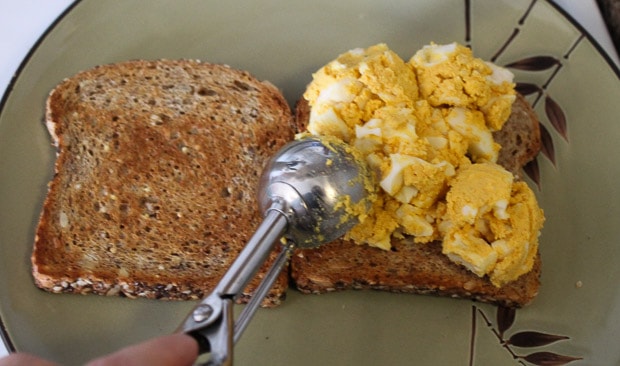 It was a pretty tasty little devil (get it? deviled?), if I do say so myself and a great way to use up the leftovers. The only thing I would change would have been to put some kind of spread on the toast.
Maybe butter or Earth Balance as the toast was a bit dry.
It fit the bill for a quick lunch and with the protein power of eggs and garbanzos I was set for my busy afternoon.
I could see this served up with greens, a potato or bean salad of some kind.
Put this in one in the vault. 🙂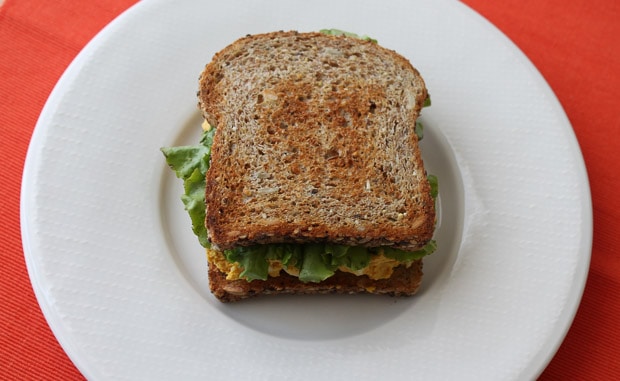 *Originally posted April 30, 2013. February 2, 2019*
Be sure to follow me on social media! I love pinning to Pinterest, sharing on Facebook and posting pics to Instagram. See you there.  🙂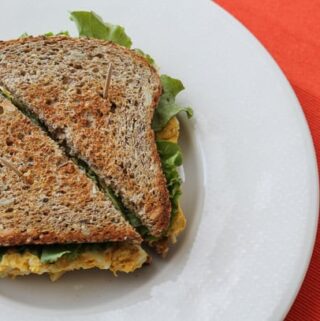 Deviled Egg Salad Sandwich
Ingredients
4

deviled eggs halves

bread for toasting
Instructions
Mash up deviled eggs with a fork.

Scoop onto toasted bread and add lettuce or sprouts.
Nutrition
Serving:
1
Calories:
310
kcal
Carbohydrates:
2
g
Protein:
25
g
Fat:
21
g
Saturated Fat:
6
g
Cholesterol:
746
mg
Sodium:
248
mg
Potassium:
252
mg
Sugar:
2
g
Vitamin A:
1040
IU
Calcium:
100
mg
Iron:
2.4
mg