This Chicken Tortilla Soup is packed with protein and crunch! I love that it is gluten free and easy to make but mostly I love the spicy/creamy flavor. Crunch the chips on top or leave them on the side as your "bread basket". <— my personal favorite.
One of the nice things about the dreary fall weather is the return of warm soups and comforting stews.
And by one of the nice things, I mean the only nice thing. 😉
Let's just say it was a good thing we 'geared up' for the rain with waterproof boots and hooded raincoats, because it has been a-rainin'!
We had a laugh the other day over our 'white noise' sound.
Does any else use those?
It's an app that plays ambient noise in your bedroom if you don't like it super quiet.
We were going through all of the options like dishwasher, computer fan, and rain falling. Neither of us thought we needed any more rain in our lives, let alone while we sleep!
Lol.
We settled on crackling fireplace. Love it. 🙂
I shouldn't complain too hard though. Yesterday the weather was sunny and bright and our walk around False Creek featured clear blue skies.
And Cirque du Soleil is in town! They are performing inside the striped tents, just off of the False Creek Seawall.
How exciting!
I made a mental note to look into tickets for that.
Anyways, onto the aforementioned warm, comforting soup.
CHICKEN TORTILLA SOUP
For the base of this Chicken Tortilla Soup, I used chicken from a whole cooked rotisserie one.
Buying an already cooked bird really useful when you are crunched for time.
I've started picking one up every shopping trip and if we aren't eating it that night, I shred it up and store it in the fridge for salads or soups like this one. I also made a homemade fajita spice mix from the variety of spices in the bulk area.
I used this recipe sans the white sugar.
This Chicken Tortilla Soup delivers lots of protein from both the chicken and black beans, and we loved the crunch from the chips.
You can either crumble them into the soup or leave them on the side, take a spoonful of soup, take a bite of chip and repeat.
That's my personal method. 🙂
MORE GLUTEN FREE CHICKEN RECIPES:
Spicy Chicken Soup with Peppers
Creamy Coconut Curry Chicken Vegetable Soup
Enjoy!
*Originally posted November 13, 2015. Updated August 10, 2019*
Be sure to follow me on social media! I love pinning to Pinterest, sharing on Facebook and posting pics to Instagram. See you there. 🙂
As an Amazon Associate I earn from qualifying purchases.
I use non toxic ceramic cookware.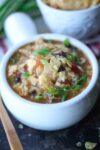 Chicken Tortilla Soup
Course:
Main Course, Soup
Keyword:
chicken tortilla soup
Instructions
In a soup pot over medium low, melt together the butter and olive oil

Add the onion, season with sea salt & pepper and stir. Saute, stirring occasionally, until softened, 5-6 minutes. Stir in the minced garlic and cook for another minute, stirring constantly. Stir in the flour and stir constantly for another minute. Stir in the fajita seasonings, then the broth and milk. Stir well

Add the salsa, chicken, and black beans and stir once more. Bring to a low boil, then reduce to a simmer for 30 minutes

Serve with tortilla chips, sliced green onions and grated cheese.
Nutrition Facts
Chicken Tortilla Soup
Amount Per Serving (4 g)
Calories 514
Calories from Fat 216
% Daily Value*
Fat 24g37%
Cholesterol 120mg40%
Sodium 1628mg71%
Potassium 1003mg29%
Carbohydrates 28g9%
Protein 43g86%
Vitamin A 465IU9%
Vitamin C 22.3mg27%
Calcium 154mg15%
Iron 4.5mg25%
* Percent Daily Values are based on a 2000 calorie diet.