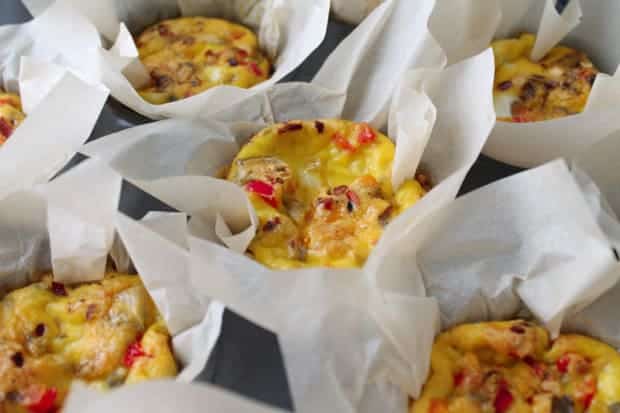 Here we are on day two of my cleanse and things are going well. I successfully made it through day one without coffee which, I'm happy to report, was not that difficult. I found that pretty surprising! I was sure I may suffer from a headache or even some grouchiness (which, in turn, Joe would suffer from) but, thankfully we both made it through the day unscathed.
I was also happy to have a break from the crazy weather we've been experiencing here in Southern Ontario. This past weekend was really wild with violent storms leaving trees down and people left without power for hours and some, even days. I took this photo yesterday while out for a walk down by the lake. Poor tree:(
The heat has also been unbearable. It's been in the 40's (which is over 100 degrees fahrenheit!) and turning on the oven has just not been an option. We've finally caught a break and I was able to bake up these cute little mini frittatas.
Keeping with the guidelines of my cleanse, they are simply veggies and eggs. Easy peasy but very tasty.
I sauteed the chopped peppers and onion in a bit of olive oil sprinkled with some sea salt and pepper.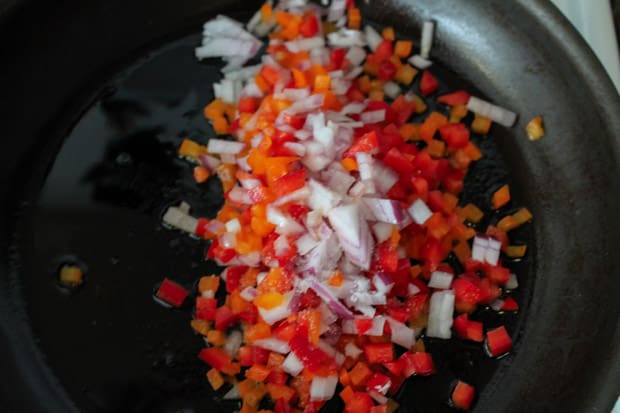 Once the veggies were soft, I evenly spooned some into each of the lined muffin wells. Then poured the beaten eggs on top and gave them a little stir. On top I sprinkled some chili flakes and popped them into the oven.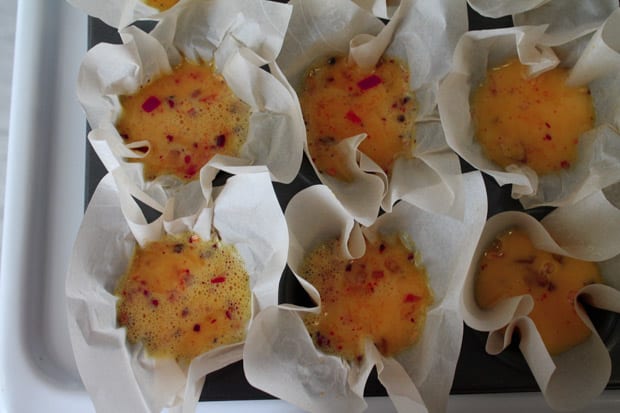 Bake them until they are set. It took about 15 minutes.
These are nice little bites of goodness. Because this is a cleanse friendly recipe there is no cheese like the carmelized onion and goat cheese frittata I made awhile back and when I make these again I think I would add a bit of parmesan on top. Just because.
I plan to eat these with a side of salsa, because I love the spice, and a big green salad with balsamic dressing. The nice thing about these mini frittatas is their shelf life. After they've cooled you can pop them into a container and they will keep in the fridge. You can reheat them or even eat them cold!
Oh, and I busted out the Union Jack placemat in honour of the Royal Baby! If you didn't already know, I'm a fan of the Will & Kate🙂
As an Amazon Associate I earn from qualifying purchases.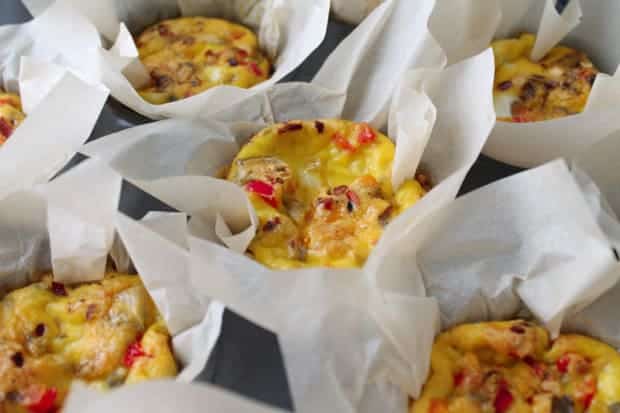 Veggie Frittata
Course:
Breakfast, Main Course
Instructions
Preheat oven to 350

Heat the olive oil in a pan over medium heat

Add the peppers and onion, season with sea salt and pepper and sauté until soft, about 5 minutes

Evenly spoon the veggies into each well of the lined muffin tin, then pour the beaten eggs over top

Sprinkle each with chili flakes and bake until set, approximately 15 minutes
Nutrition Facts
Veggie Frittata
Amount Per Serving
Calories 57
Calories from Fat 27
% Daily Value*
Total Fat 3g 5%
Cholesterol 109mg 36%
Sodium 42mg 2%
Potassium 68mg 2%
Total Carbohydrates 1g 0%
Protein 3g 6%
* Percent Daily Values are based on a 2000 calorie diet.