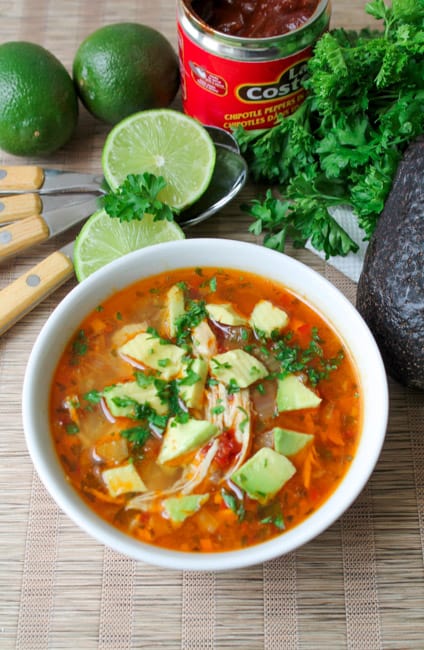 Boom!
One of my favourite ways to add flavour to my cooking is by adding a little heat. Chipotle is nice because instead of setting your mouth ablaze, it simply adds smokiness with just the slightest touch of fire.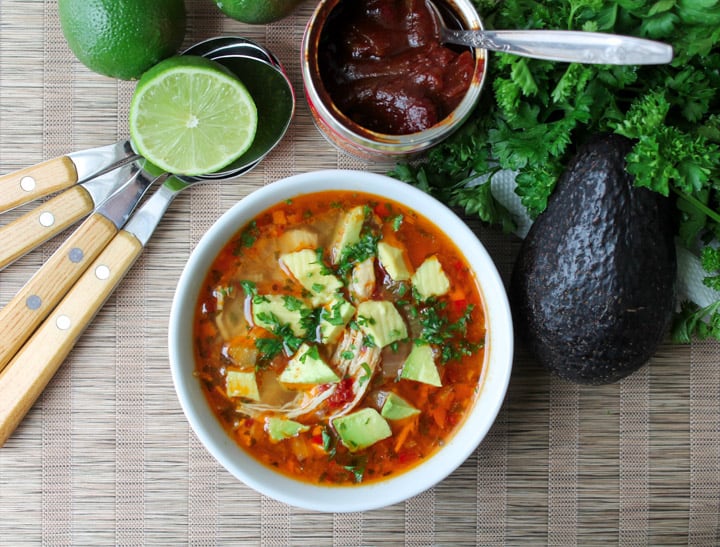 I usually buy the tin of chipotle in adobo sauce. What I don't use in this soup I will transfer to a little air tight container and add to this chipotle chicken salad or this healthier seven layer dip.
In this particular instance, the chipotles were the glue that held together this clean-out-the-crisper and lets-have-dinner soup. With an onion, a couple of half peppers and some celery on it's last legs, I needed all the help I could get. 😉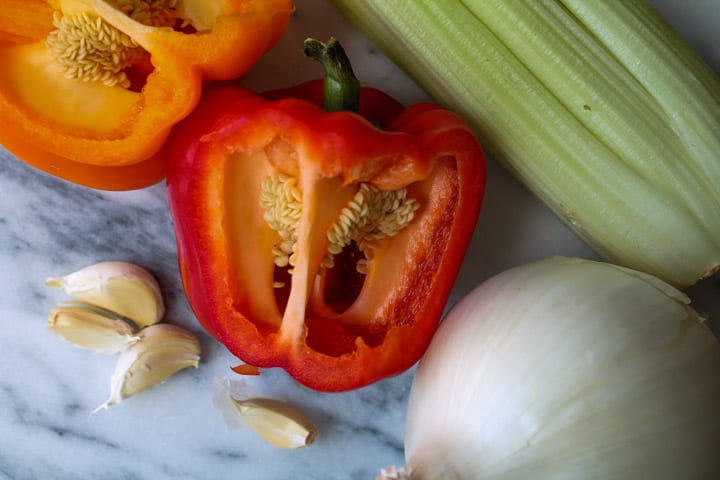 Sautéing your veggies with the peppers allows them to soak up all the smoky goodness.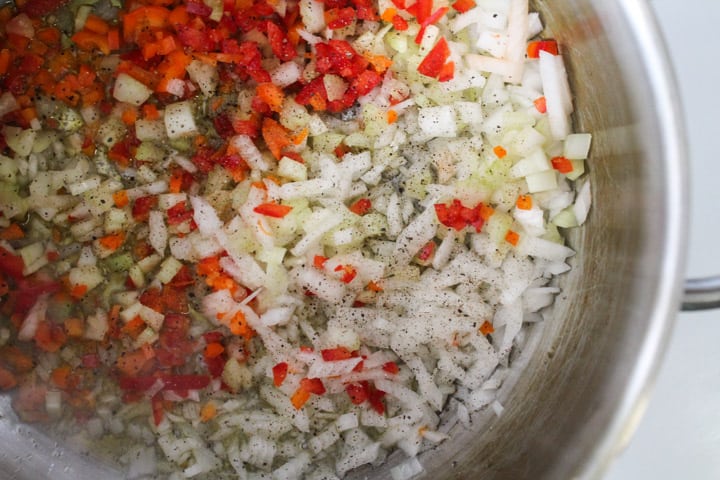 To make this soup even easier, just toss the chicken breasts into the soup whole to cook. The chicken will poach in the liquid and will absorb all the flavours. It makes it nice and tender and juicy. Yum!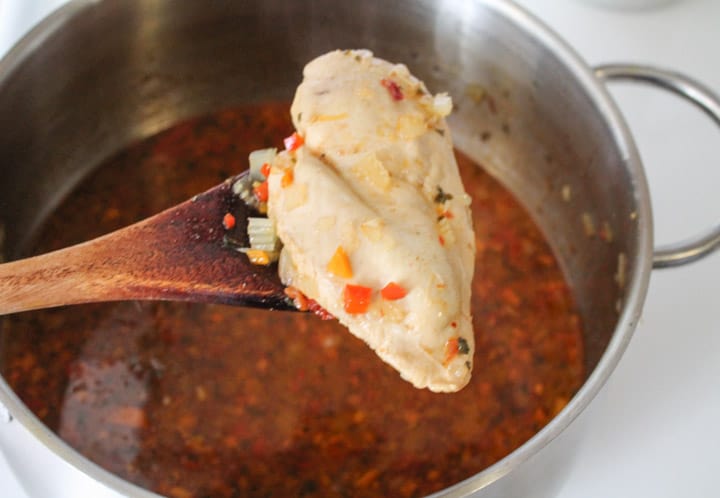 When the soup is ready the chicken can be simply shredded with a couple of forks and stirred back in. If you have some cooked grains like brown rice or quinoa throw those in too!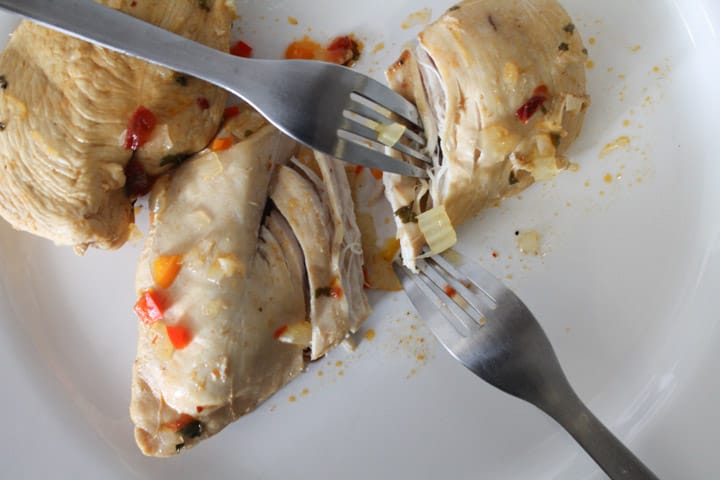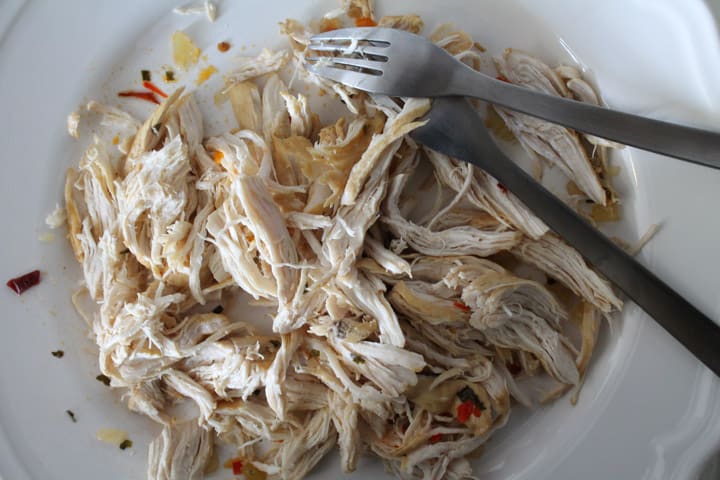 Finish it off with a squeeze of fresh lime and it. is. on! I may have added more hot sauce because I'm crazy like that. I actually got a bit too crazy and added so much extra hot sauce that beads of sweat kind of broke out on my forehead! I had an avocado that was almost too ripe and was destined for a smoothie so instead of that I diced it into my soup. It added just the right amount of creaminess to balance my over zealous hot sauce action. If you have some avocado, toss it in!
I enjoyed this soup the next day heated up with some cooked brown rice and it was a great lunch. I love cooking once/eating twice meals, don't you? 🙂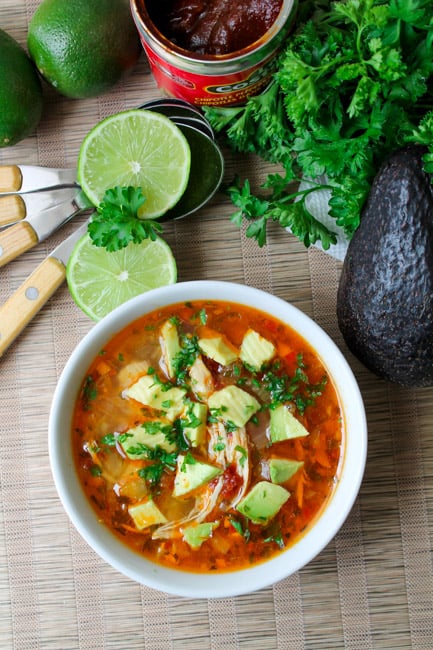 Chipotle Lime Soup with Shredded Chicken – Gluten Free
Ingredients
2 tbsp olive oil
½ medium onion, chopped
2 celery stalks, chopped
1 pepper, chopped
2 chipotle peppers (in adobo), chopped
3 garlic cloves, minced
2 chicken breasts
6 cups broth
1 tbsp tomato paste
½ tbsp cumin
½ lime, juiced
¼ cup fresh parsley, chopped
1 medium avocado, chopped
Instructions
Heat the oil over medium heat then add the onion, celery and red pepper. Sauté the veggies until softened, about 5 minutes. Stir in the garlic and chipotle peppers
Add the remaining ingredients, except the avocado, lime and parsley. Bring to a boil
Reduce the heat and simmer for an hour
Remove the chicken from the pot and shred it with two forks. Return the chicken to the pot and stir in the lime juice and parsley
Top each bowl with the fresh chopped avocado
7.8.1.2
358
https://thehonoursystem.com/chipotle-lime-soup-with-shredded-chicken-gluten-free/