Cheesy Vegetarian Enchiladas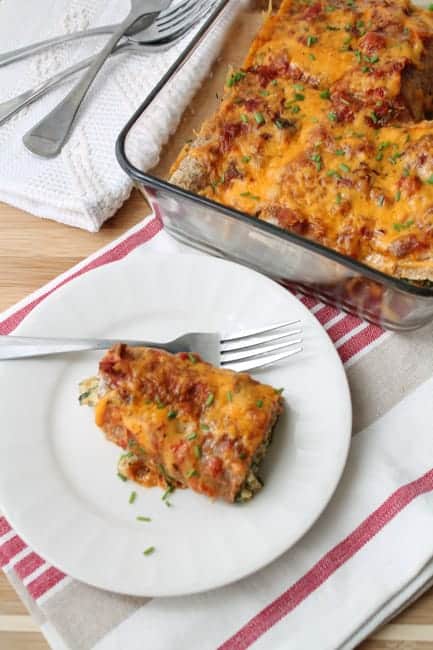 I've been on a big Mexican kick lately! Bean dip, Chipotle Lime Soup, Baked Chicken Fajitas. Ay Chihuahua! 🙂 Apparently, I can't be stopped and here I go again with these cheesy and super flavourful Veggie Enchiladas.
I like to keep things meatless for a few meals a week and really that means subbing out the chicken for cheese. Yum!
I kid.
Not really.
There is quite a bit of dairy in this meal so if that's an issue for you, turn away now.
And I'm sorry. 😉
In this dish there is ricotta, sour cream and a spiced up cheddar. All organic, and considering this recipe makes 6 portions not all that guilt inducing either. The rich flavours are rounded out with the addition of spinach, sautéed in garlic, olive oil, and a bit of good old butter. So delicious! I almost just wanted to stop at the sautéed spinach and start dinner. The spinach tasted ah-mazing.
To get started, I roughly chopped up some baby spinach.
Then, over a medium low heat, I softened up some garlic and chives …
… and added in the spinach.
Create some bulk with a few cups of cooked brown rice. I had some in the fridge that I had precooked earlier in the week when we had Chicken Fried Brown Rice.
The brown rice gives your enchiladas that oomph you think you'll miss out on by not having any meat.
Stirring in the ricotta, spiced cheddar, sour cream, and a few choice spices finishes off the enchilada filling.
I rolled mine up in the same sprouted grain 10 inch wraps that I used for the baked Fajitas I made a few weeks back. They worked perfectly.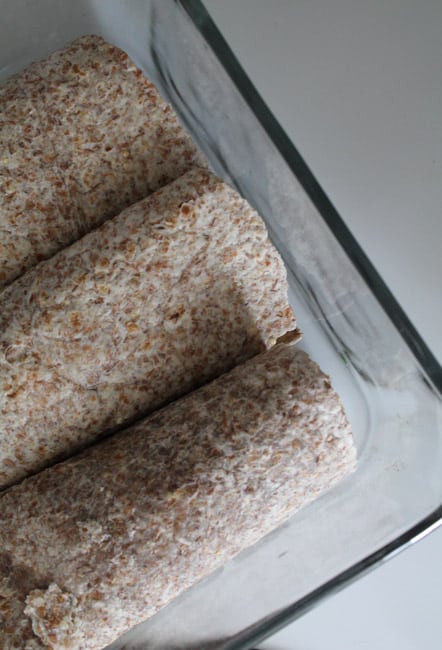 Douse them with a mild salsa and some shredded cheddar. Off they go into the oven.
And when they come out?
Delicious Enchiladas that have so much flavour you won't miss the meat. The cheese was crisp on the outer layer and the salsa gave it some heat, which I happen to love.
Serve them up with a great big salad on the side and you're good to go.
Ole!
As an Amazon Associate I earn from qualifying purchases.
Vegetarian Enchiladas
Ingredients
1/2

cup

chopped chives

3

cloves

garlic

minced

1

tbsp

butter

1

tbsp

olive oil

2

cups

spinach

roughly chopped

2

cups

cooked brown rice

1/2

tbsp

chili powder

1/2

tbsp

cumin

1

cup

ricotta cheese

1/4

cup

sour cream

2

cups

shredded cheese

tossed with 1 tbsp chili flakes

3 10

inch

tortillas

I used Ezekiel sprouted grain wraps

1

cup

salsa

I used mild
Instructions
Preheat the oven to 375

Melt butter and olive oil together in a saucepan over medium-low heat. Add garlic and onion and stir until fragrant, but not brown. About 1 minute. Stir in spinach, and cook for about 5 more minutes

Remove from the heat, and mix in the cooked brown rice, ricotta, sour cream, and 1 cup of the shredded cheese

Spoon 1/3 of the mixture onto the center of each wrap. Roll up, and place seam side down in a 9x13 glass baking dish

Pour the salsa over the top, and top with the rest of the shredded cheese

Bake for 15 to 20 minutes, until sauce is bubbling then set the oven to broil

Broil the Enchiladas for about 2-3 minutes until the cheese is browned

Cut each into Enchilada in half and serve
Nutrition
Serving:
4
Calories:
716
kcal
Carbohydrates:
69
g
Protein:
29
g
Fat:
35
g
Saturated Fat:
17
g
Cholesterol:
90
mg
Sodium:
1419
mg
Potassium:
639
mg
Fiber:
5
g
Sugar:
7
g
Vitamin A:
3065
IU
Vitamin C:
9.1
mg
Calcium:
565
mg
Iron:
4.8
mg