Mini Caramelized Onion Frittatas with Spaghetti Squash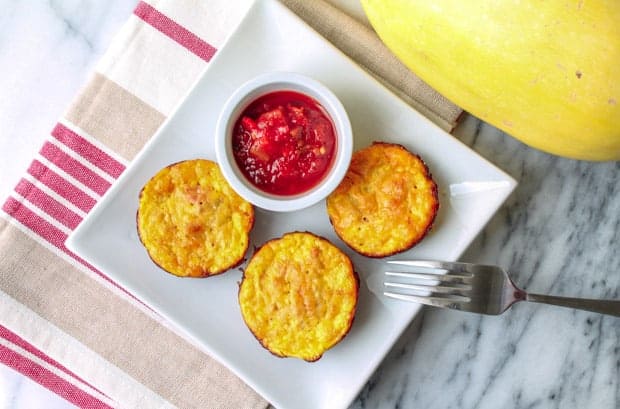 I love spaghetti squash. It was such a great discovery for me and is a staple for dinner at least once a week. You know who doesn't love spaghetti squash? Joe. No big deal, he prefers to have his pasta sauce with actual pasta. Typical man, I guess. My only problem is I'm left with quite a lot of leftover spaghetti squash and I've been looking for ways to use up my overage. I saw this recipe floating around on Pinterest that used the squash in egg cups and I thought it was a great idea.
Caramelized onions are perfect in egg dishes, so the first order of business was to get the onions going.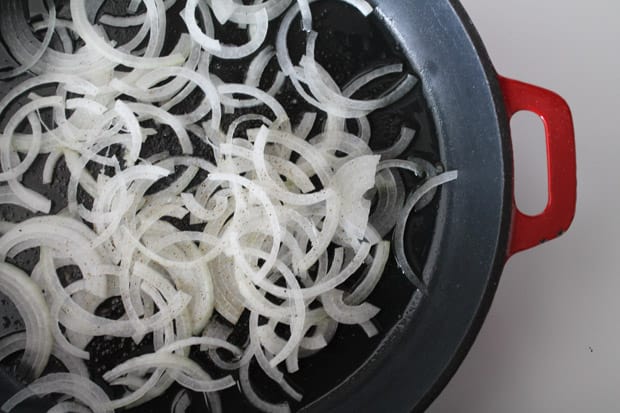 Once the onions are nice and caramelized, add the cooked spaghetti squash to the pan. If you would like to use the method I use to make spaghetti squash, click here! Stir everything around and remove the pan from the heat.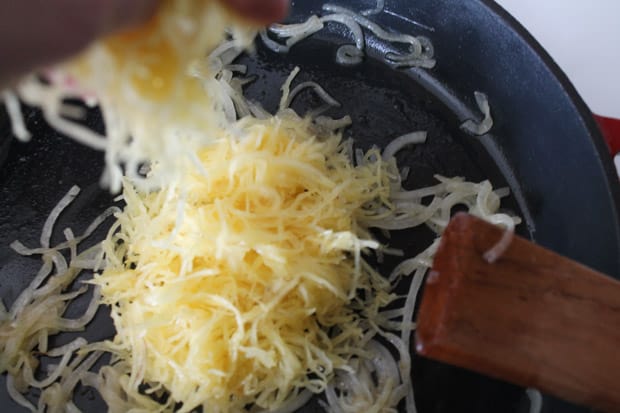 In a mixing bowl, whisk together four eggs.
Since I like things on the spicier side I also incorporated some salsa into the mix. Salsa and eggs are a match made in heaven in my humble opinion. Everything is mixed together and poured into a greased muffin tin. I used a large measuring container with a spout to pour the mixture into the wells of the muffin tin. A nice sprinkling of freshly grated parmesan cheese and these protein and veggie packed cups were ready for the oven.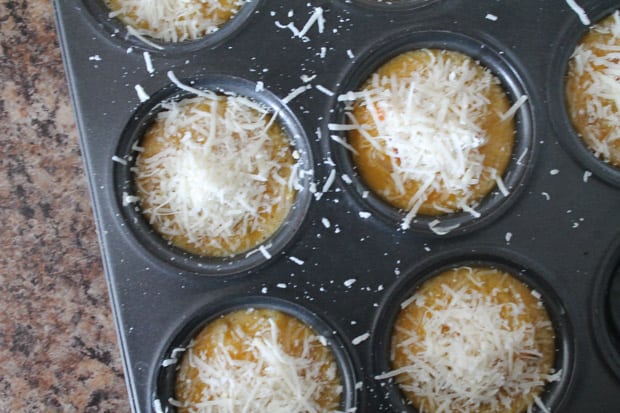 Once my little frittatas were cooked, I let them cool a tad then tried to pry them from the muffin tin. I must admit they did stick a bit the pan which was super annoying. I suppose I could have used liners. Anyone have experience using silicone liners? I've heard good things but for some reason they scare me a tad. Like they will leach something into my food. Something to investigate …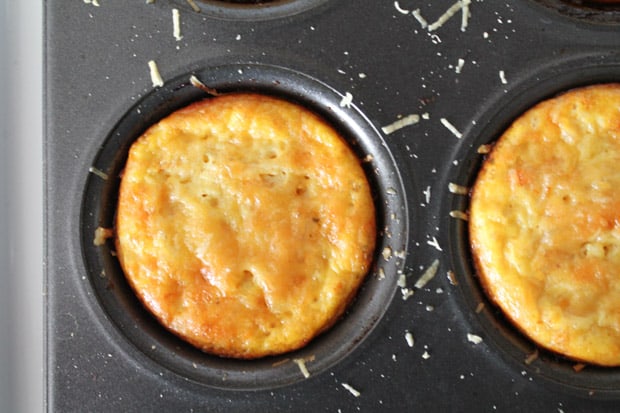 Anywho, this sticky situation didn't affect the deliciousness of the finished product. Not only were these frittatas super tasty with a hint of spice, they had staying power. I had three of them for lunch and was barely hungry for dinner. Love that.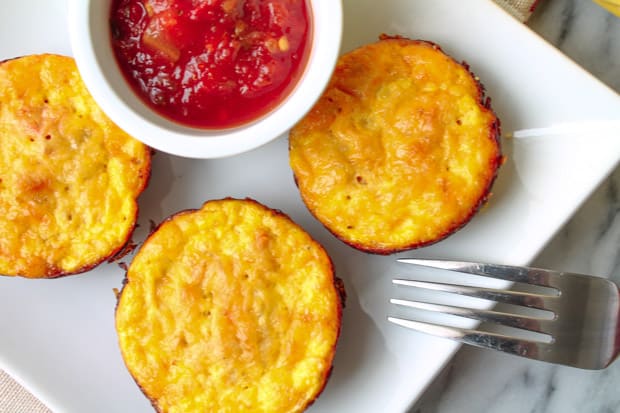 As an Amazon Associate I earn from qualifying purchases.
Mini Caramelized Onion Frittatas with Spaghetti Squash
Ingredients
1/2

medium onion

thinly sliced

2

cups

cooked spaghetti squash

approximately ½ a medium cooked squash

¼

cup

salsa

4

eggs

¼

cup

freshly grated parmesan

1

tbsp

olive oil
sea salt & pepper

to taste
Instructions
Preheat the oven to 350 and line a muffin tin (or grease it but mine stuck a bit to the pan). This recipe yields 7 mini frittatas

Heat olive oil over medium low heat then add in the thinly sliced onions and season with sea salt and fresh pepper. Cook the onions, stirring every so often until they are browned and caramelized, about 10 minutes

Stir in the spaghetti squash, remove from the heat and set aside

Whisk together the eggs then stir in the salsa. Add in the veggies and stir again

Pour the mixture into your prepared muffin tin and top with grated cheese

Bake for 25-30 minutes, until eggs are set
Nutrition
Serving:
2
Calories:
284
kcal
Carbohydrates:
10
g
Protein:
17
g
Fat:
19
g
Saturated Fat:
5
g
Cholesterol:
338
mg
Sodium:
558
mg
Potassium:
331
mg
Fiber:
2
g
Sugar:
4
g
Vitamin A:
825
IU
Vitamin C:
4.1
mg
Calcium:
220
mg
Iron:
2
mg