Ripe bananas are the only sweetener in this easy recipe for Sugar Free Banana Bread while coconut and almond flour is swapped in so we have a gluten free treat as well. I call that a pretty sweet deal. 😉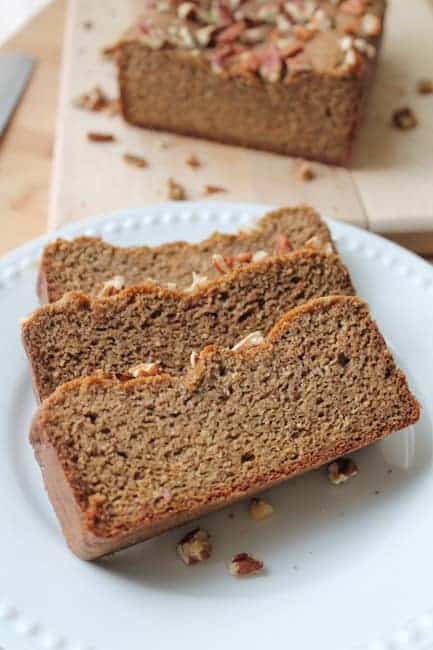 Are you ready for a super healthy banana bread?
It's sugar free, grain free and gluten free and, as evidenced by the fact only the crumbs remain, we . loved . it .
Ultra ripe bananas bring the natural sweetness and ground almonds lend the buttery richness.
If this is detox food, I could do this for awhile. 😉
Simple, healthy sugar free banana bread. Yes!
SUGAR FREE BANANA BREAD
And, speaking of which, my detox is officially over!
As I type this, I am one day out from my cleanse.
Curious what I ate today?
Well, I started with lemon water then it I thoroughly enjoyed two cups of coffee with almond milk and a bit of sugar. Then spelt flour pancakes with maple syrup. Yummy. I was so full from the pancakes, that was the only meal I ended up having today! At work in the afternoon I had a cappuccino (can you tell I like coffee?) and a couple of biscotti.
I finished out the day with a giant honey crisp apple.
I planned to have a smoothie but it didn't end up happening. That's OK. Twelve days of straight Detox Smoothies earns me a day off. 😉
Tomorrow, the cheese! –> update! Cheese happened while I finished editing this post. Cold slices of marble. Straight. 😉
Alright! With that out of the way, back to the Sugar Free Banana Bread.
HOW TO MAKE SUGAR FREE BANANA BREAD:
Try to get your bananas ripening a couple of days beforehand. You can use the greener/less ripe ones for the Sugar Free Granola if you wanted, but for the bread, the riper the better.
The method couldn't be easier by simply placing the ingredients in a blender and pouring them into a loaf pan. Boom!
TIP! Have you seen this kitchen hack for lining your loaf pans?
Flip your pan over, lay your piece of parchment over it and fold the edges in like a Christmas present. Then flip the loaf pan back over and your piece of parchment paper will sit right in.
So cool, right?
I've been on a huge pecan kick lately, so pecans it was as my nut of choice in this bread.
You could also use walnuts! They are a classic pairing for bananas.
Now you have to remember, this recipe has no sugar besides from the bananas so don't expect cake-y, fluffy and syrupy sweet.
It's more dense and rich. The pecans added crunch as well as that unmistakable toasty flavour.
Even though Joe isn't fully on the cleanse he really enjoyed the bread, too.
We demolished the loaf, but felt no shame. I love that. 🙂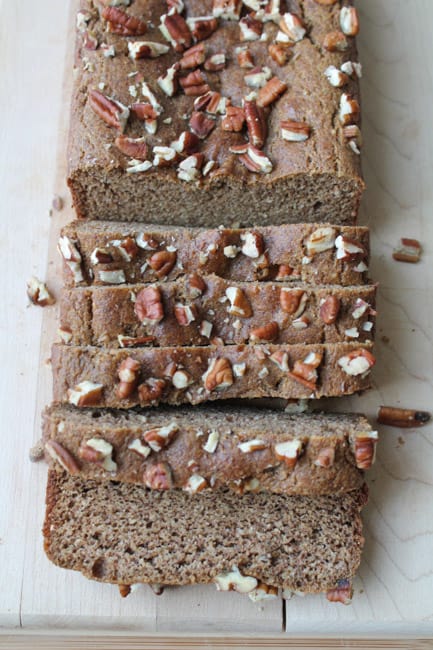 Here are the recaps from the last two days:
Day 11:
lemon H2O / cayenne

blood orange

hard boiled egg

strawberry cucumber smoothie

almonds

lemon basil chicken salad

almonds

apple/cinnamon/almond butter
Day 12:
lemon H2O / cayenne
navel orange
hard boiled egg
strawberry cucumber smoothie
hard boiled egg
apple + almond butter
So there it is! Ending on a high note, feeling great. Lost just over five pounds, which I was happy with. I felt like I had ample to eat and did not feel deprived.
I've heard from a number of you that you plan on giving it a go so please let me know how you fare! Shoot me a message if you have any questions. 🙂
Meanwhile, Banana bread. Happy Friday!
MORE HEALTHY BANANA RECIPES:
Banana Bread Breakfast Cookies
*Originally posted January 9, 2015. Updated January 29, 2020*
Be sure to follow me on social media! I love pinning to Pinterest, sharing on Facebook and posting pics to Instagram. See you there. 🙂
As an Amazon Associate I earn from qualifying purchases.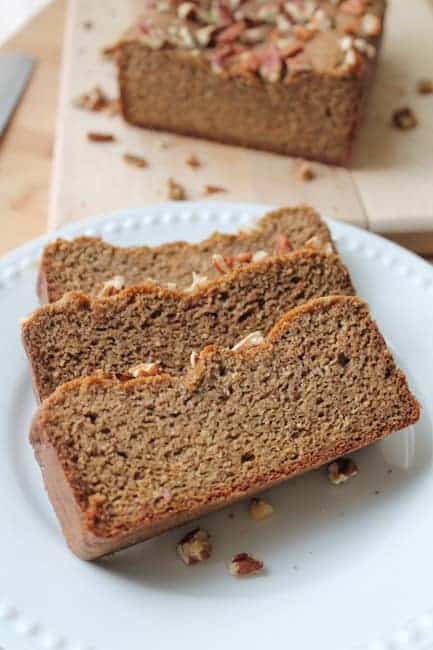 Sugar Free Banana Bread
Keyword:
gluten free banana bread, sugar free banana bread
Instructions
Preheat oven to 350 and line a loaf pan with parchment paper.

Place almond flour, coconut flour, flax, salt and baking soda in a bowl and whisk together. Transfer to blender and add in the eggs, coconut oil, mashed bananas and vanilla and blend until smooth. Pour batter into the lined loaf pan and top with the crushed pecans

Bake for 30-35 minutes, checking the centre with a toothpick

Cool on a rack for 10 minutes
Nutrition Facts
Sugar Free Banana Bread
Amount Per Serving
Calories 190
Calories from Fat 135
% Daily Value*
Fat 15g23%
Cholesterol 40mg13%
Sodium 225mg10%
Potassium 121mg3%
Carbohydrates 9g3%
Protein 5g10%
Vitamin A 70IU1%
Vitamin C 1.7mg2%
Calcium 47mg5%
Iron 1mg6%
* Percent Daily Values are based on a 2000 calorie diet.