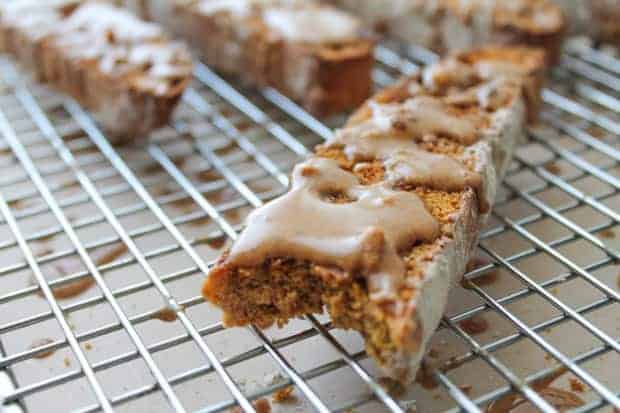 Being a total newbie to cooking with pumpkin, I had no idea you'd have to roast an actual pumpkin. How sad is that?! When I made these delicious Pumpkin Cupcakes, I used pumpkin from a can. And to make these biscotti, I used leftover pumpkin from a can 🙂
Just like the cupcakes, these pumpkin biscotti had me wondering why I had lived my entire life up to this point, totally ignoring pumpkins. They add such a subtle sweetness, just a hint of what, I swear, tastes just like fall. I promise that my next foray into cooking with pumpkin will involve an actual, whole pumpkin being roasted. It's on the ever growing list of projects to keep me busy. Part of what I love about being a food blogger are the challenges I give myself to try new things. It all ties into a healthy lifestyle as well … try something new! You just might find you love something that you thought you'd hate. Like me and my new boyfriend, pumpkin 😉
I wanted this biscotti to be like the huge ones you find in coffee houses. A biscotti that can double as a meal if you are so inclined. And since this particular biscotti has a vegetable in it, it certainly can be classified as breakfast, right?
It all came together quite simply, however, since there is a long cooling period, followed by a second stint in the oven, it is time consuming. I made these on my day off so I didn't feel rushed.
Start with the basics by whisking together the dry ingredients and setting them aside. Then mix together the pumpkin and sugar and add in the eggs and vanilla. Lastly, mix in the dry ingredients then add in the chopped almonds.
Now, it's time to shape your log! As I mentioned earlier, I wanted to have nice, long biscotti. Not those wimpy ones you sometimes see on the saucer with your cappuccino. So I shaped the log into a long rectangle.
Off it went into the oven until it was hard to the touch.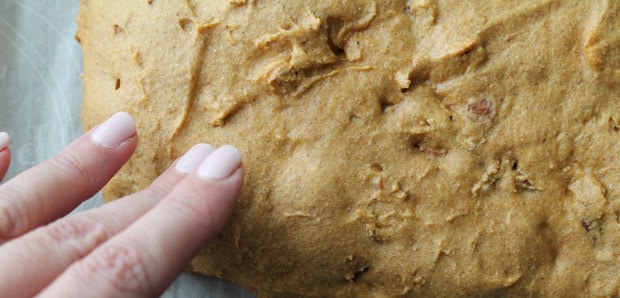 Now the waiting game. This has to cool for about an hour. I went to the gym for a quick workout and when I came back the kitchen smelled amazing. I love walking into my home to the aroma of fresh baking. It's like a warm hug.
Slice your cooled biscotti and lay them out, cut side down onto 2 parchment lined baking sheets.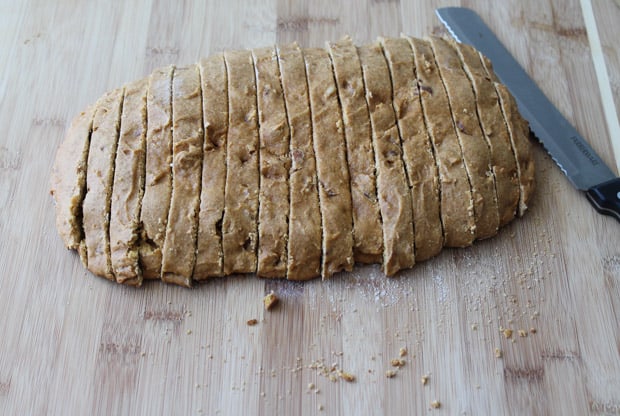 Then back to the oven they go to get that unique, biscotti crispiness. Flip them over half way through so they crisp up on both sides.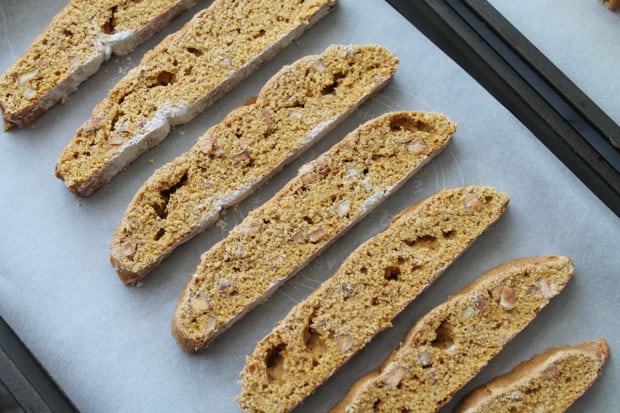 I then whipped up a quick almond butter glaze to drizzle on top. This is totally optional. They don't travel well with the glaze so if you plan to tote them around, like I did as I gave some to my friend, Melody when I saw her last week, leave some plain, without the glaze.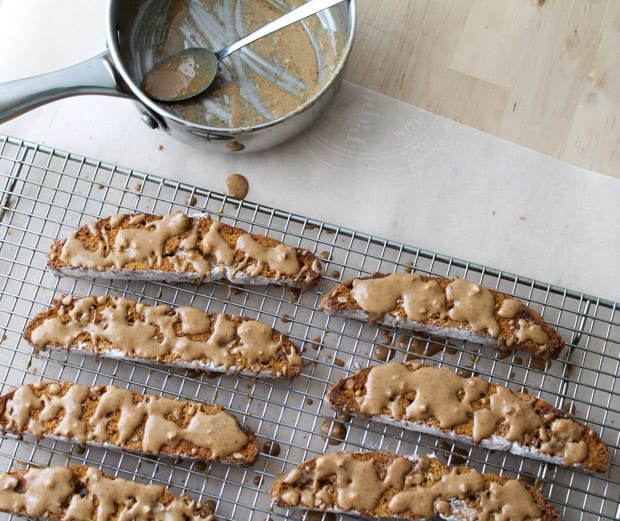 I enjoyed my fresh baked biscotti with a lovely cup of Yogi tea. What's different about Yogi teas are the little sayings they print on the tab. I especially liked this one …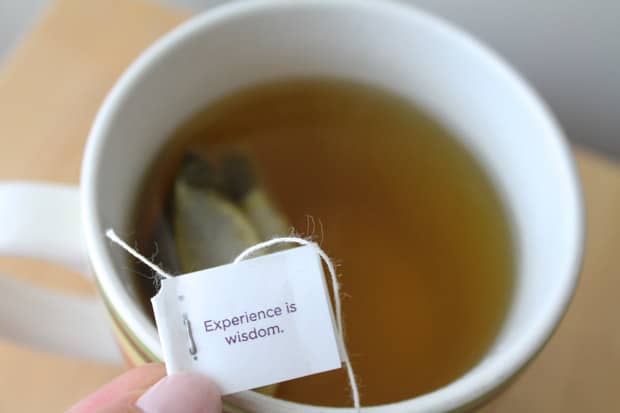 I hope you enjoy these! They disappeared really fast at our house 🙂
As an Amazon Associate I earn from qualifying purchases.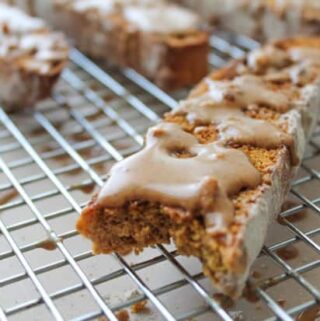 Pumpkin Biscotti
Instructions
Preheat your oven to 350 and line a baking sheet with parchment paper

In a large bowl, whisk together the spelt flour, salt, baking powder, and spices and set aside

In a large bowl, using a hand mixer, cream together the pumpkin and sugar until smooth. Add the eggs one at at time, making sure the first one is completely blended in before you add the next one. Add the vanilla and mix to combine

Bit by bit, add the flour mixture to the wet mixture until all is incorporated then gently fold in the chopped almonds

Transfer the dough to your parchment lined sheet and shape it into a rectangle shaped log.

Bake at 350 degrees for 25-30 minutes or until just hard to the touch

Remove from the oven and let cool COMPLETELY for about an hour

Transfer the biscotti to a cutting board and cut it into ½ inch slices

Line two baking sheets with parchment paper and lay out the biscotti slices, cut side down

Bake again for about 15 minutes, flipping the biscotti over halfway through baking

Remove from the oven and let cool for 10 minutes on the baking sheets, then transfer to a cooling rack to cool the rest of the way

I added an almond butter glaze to mine, which is optional. Melt the almond butter, coconut oil and vanilla together in a small saucepan over medium low heat. Drizzle over the cooled biscotti.
Nutrition
Calories:
171
kcal
Carbohydrates:
23
g
Protein:
4
g
Fat:
6
g
Saturated Fat:
1
g
Cholesterol:
19
mg
Sodium:
77
mg
Potassium:
134
mg
Fiber:
3
g
Sugar:
9
g
Vitamin A:
1150
IU
Vitamin C:
0.3
mg
Calcium:
53
mg
Iron:
1.4
mg