Quinoa & Bolognese Sauce – Gluten Free
Quinoa & Bolognese Sauce is a healthier and gluten free twist on the classic pasta dish. Rich and hearty, this delicious meal will leave you satisfied.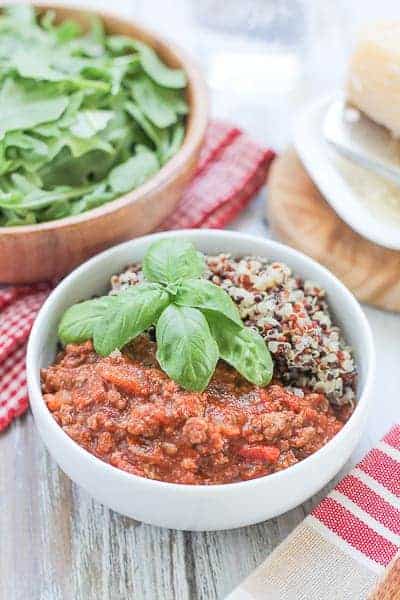 Sometimes a rich and hearty meat sauce and a perfectly cooked side is what you want for dinner.
I say go for it!
But instead of the nutritionally void white pasta, I like to make Quinoa & Bolognese Sauce which totally satisfies the craving. Fresh basil or a big handful of Parmesan cheese takes it to the next level.
One of the first detoxes I did involved eliminating wheat for 28 days. Initially, I wondered if I would be able to do it. What on Earth would I eat? My diet was full of wheat and I ate it at most meals.
During this cleanse I needed to source out other options that would replace my constant wheat based staples. Where would I start? I thought things like 'what do lentils taste like?' and 'you cook brown rice for how long?'
This was when I discovered quinoa. <— Check out those health benefits!!
QUINOA BOLOGNESE SAUCE
I cook enough quinoa for 2 portions and pack up 1/2 for lunch tomorrow or the next day.
Quinoa is simple to prepare.
IMPORTANT QUINOA TIP!
An important quinoa preparation step is to rinse it well!
Quinoa has a film of a chemical compound called saponin that will give the grain a bitter taste if it's not washed off. Saponin easily dissolves in water.
Most commercial brands may claim to be pre-rinsed but it's best to give it a good swish yourself first.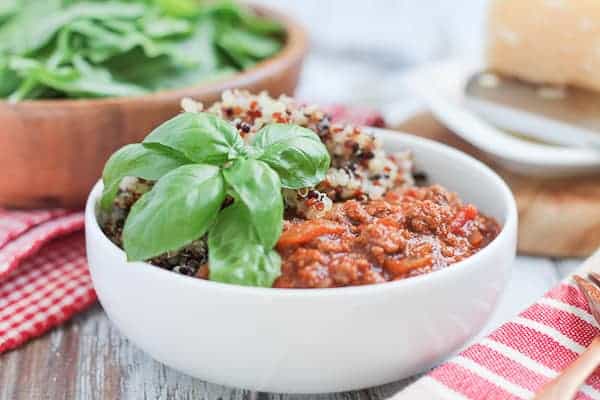 I'm making this quinoa for a meat based sauce so, for extra flavour I'm cooking it in beef broth. Any vegetarians/vegans can use veggie broth and omit the beef from the bolognese sauce.
Bring the combination of quinoa and broth to a bubble, turn the heat down to a simmer, and let it cook, covered for approximately 10 minutes. Watch it towards the end. You want to see all of the liquid absorbed. Remove from heat and let it stand another 10 minutes, covered, before fluffing it with a fork.
Or Make Your Quinoa in the Instant Pot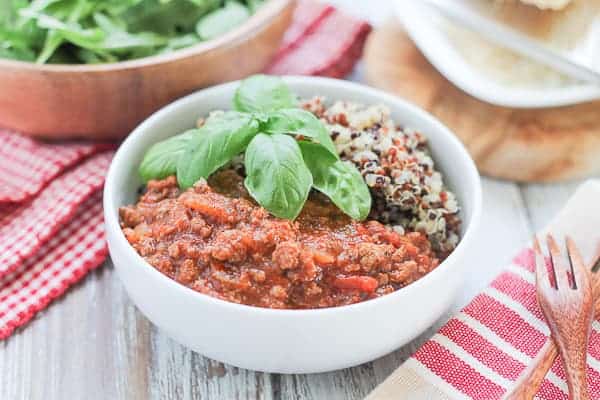 How to Make Quinoa & Bolognese Sauce
1. Brown the beef over medium heat, adding 2-3 generous pinches of seal salt and quite a few grinds of fresh pepper.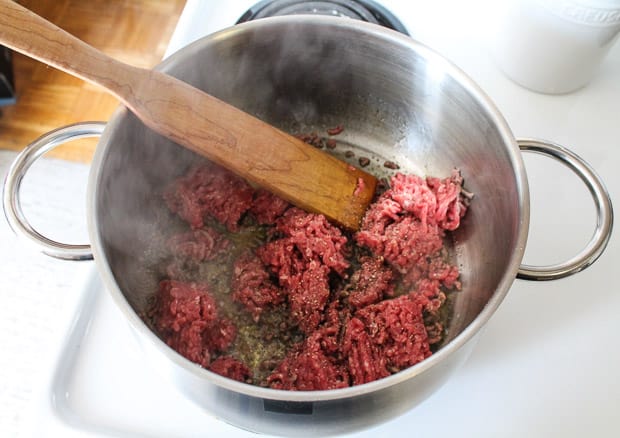 2. Add in chopped onion, celery and garlic.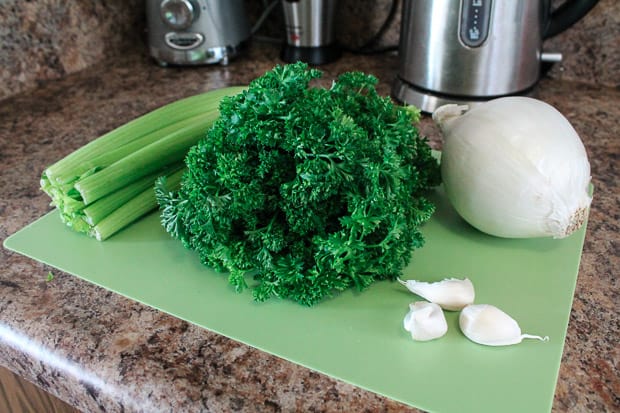 3. Add sauce and simmer. Stir the parsley in right before serving.
And, if you're really nice like me, you could add a third pot to the stove and make a regular pasta noodle for the picky member of your family.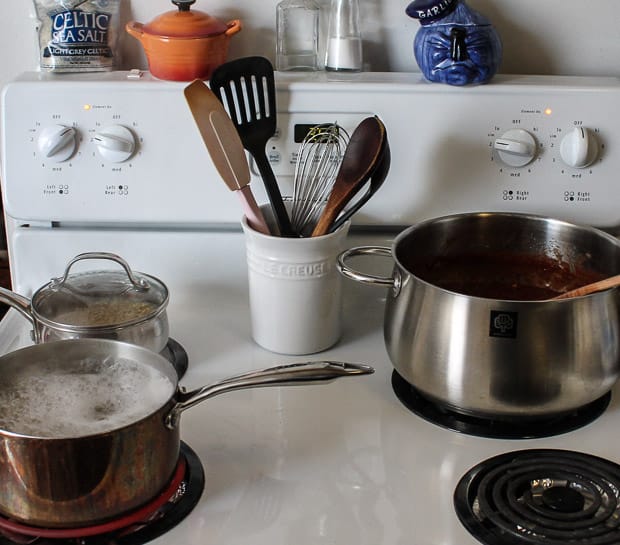 It all comes together quite easily. I like to make a big batch of sauce so that I can freeze half and cut down on some cook time on a meal in the future. Just heat up the sauce and make the quinoa.
Boom!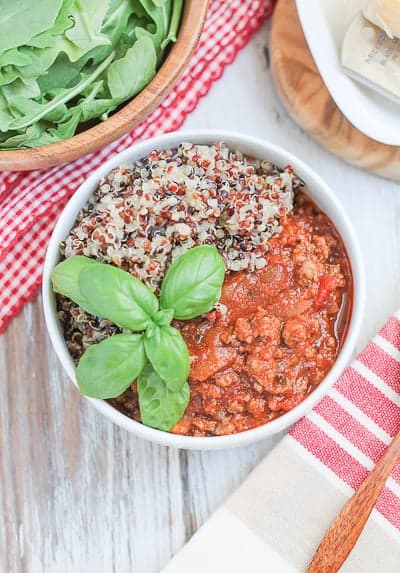 It's great to have a meal that's reminiscent of a pasta dish but without the inevitable bloat-y feeling from traditional wheat noodles.
The best part is you really feel like you have eaten.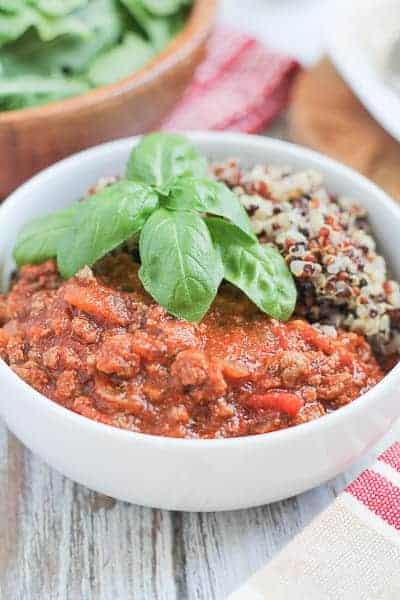 MORE HEALTHY GLUTEN FREE DINNER RECIPES:
Instant Pot Brown Rice Chicken Burrito Bowls
*Originally posted April 8, 2013. Updated October 5, 2018*
Be sure to follow me on social media! I love pinning to Pinterest, sharing on Facebook and posting pics to Instagram. See you there. 🙂
As an Amazon Associate I earn from qualifying purchases.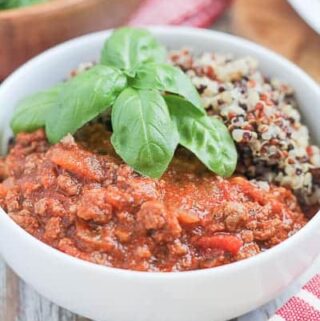 Quinoa with Bolognese Sauce
Quinoa & Bolognese Sauce is a healthier and gluten free twist on the classic pasta dish. Rich and hearty, this delicious meal will leave you satisfied.

Ingredients
1

lb

extra lean ground beef

preferably local & grass fed

1

white onion

finely chopped

4

medium celery stalks

finely chopped

3

garlic cloves

minced

2

lg. jars of natural tomato sauce

I like President's Choice Fire Roasted Tomato or White Linen from Costco

2

tbsp

olive oil

1

cup

quinoa

1.5

cups

of broth

1

tbsp

minced garlic

1/4

cup

parsley

chopped fine
Instructions
Heat olive oil over medium. Add beef with salt & pepper and brown, breaking it up with a spoon. Once it's browned, add onion & celery and saute for around 5 minutes. Stir in minced garlic and mix all together. Pour in 2 jars of tomato sauce and bring to a quick boil. Turn down and simmer while you make your quinoa and/or noodles

TO MAKE QUINOA:

Bring all ingredients to a boil in a covered saucepan.

Turn heat to a low simmer, still covered, for approximately 10 minutes. Check to see all liquid has been absorbed. Move pot off the heat and let stand covered for 10 minutes. Fluff with a fork and spoon into bowls.
Nutrition
Calories:
398
kcal
Carbohydrates:
33
g
Protein:
31
g
Fat:
15
g
Saturated Fat:
4
g
Trans Fat:
1
g
Cholesterol:
70
mg
Sodium:
439
mg
Potassium:
722
mg
Fiber:
4
g
Sugar:
2
g
Vitamin A:
531
IU
Vitamin C:
9
mg
Calcium:
51
mg
Iron:
5
mg