Creamy Tomato & Spinach Pasta – Gluten Free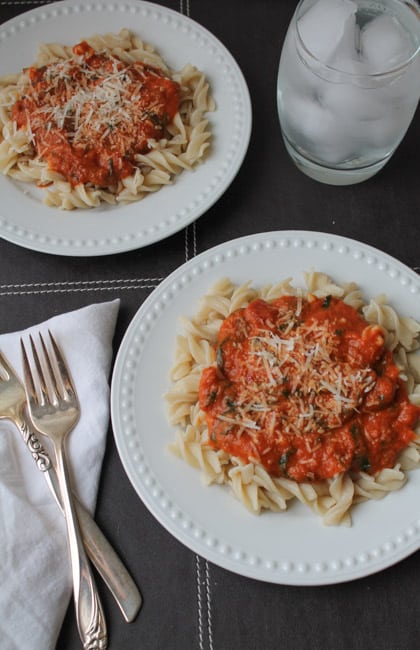 Just because you don't have a lot of time to make dinner, it shouldn't mean that it has to be either a) crap from a box or b)toast. 😉
Take this quick and easy Creamy Tomato and Spinach Pasta Sauce. It might take a little more effort than pouring yourself a bowl of cereal (what? It happens.), but it will be worth it. Trust.
I've taken to brown rice pasta noodles in dishes like this. Highly recommended. If you are making the transition from the white, bleached out, nutrient void stuff, the brown rice pasta is such a great alternative. For this recipe I used a fusilli variety. I like the little ridges for grabbing the sauce.
One of my favourite tricks for a quick dinner is bottled tomato sauce. I wish I had access to a garden and a plethora of jarred, fresh tomatoes in my pantry to grab, but alas, that is not the case for me, so an organic store bought version has to do.
Greek yogurt is what I use to give the sauce some creamy tang. I just goes perfectly with the tomatoes. And since I just love adding greens into everything, the base of this sauce is beautiful thinly sliced spinach. Sautéed with the magic of garlic, the spinach softens and adds some nice texture to this sauce.
We topped ours with a healthy dose of fresh parmesan because that, my friends, is how we roll.
This is a great week night option when your time is at a premium. Toss together a quick salad and dinner can be on the table in about thirty minutes. And the cereal can return to it's regular role of late night snack. 😉
As an Amazon Associate I earn from qualifying purchases.
Creamy Tomato & Spinach Pasta – Gluten Free
Instructions
Start your pasta cooking according to the package directions

Meanwhile, make the sauce

Heat oil in a medium sauce pan over medium low heat. Add in the sliced spinach and minced garlic and sauté until tender, about 5 minutes

Stir in tomato sauce and once warmed, stir in the Greek yogurt and reduce heat to low

Drain your cooked pasta and top with the sauce
Nutrition
Calories:
242
kcal
Carbohydrates:
45
g
Protein:
10
g
Fat:
3
g
Cholesterol:
2
mg
Sodium:
680
mg
Potassium:
568
mg
Fiber:
5
g
Sugar:
7
g
Vitamin A:
1935
IU
Vitamin C:
13.5
mg
Calcium:
90
mg
Iron:
1.7
mg