Fruity Iced Tea Coolers have become a recipe we use all the time once the warm weather hits. So easy to make and uses natural sweeteners instead of white sugar. Win win!
Welcome to summer!
Well, not technically, but we have been enjoying 30 degree weather here in Southern Ontario for last few days and it has been glorious.
Joe and I ventured out for a long walk along the lakeshore and returned home with red necks. And no, it wasn't some country folk, our necks were actually red! My face has a bit of colour and all is well with the world.
See how easy that was? Just a bit of sunshine and warmth. 😉
I thought whipping up something refreshing to drink that isn't lemon water would be fun. Not that there's anything wrong with lemon water. It's all kinds of right, but sometimes you want something with a little more oomph, if you know what I mean.
It's also a chance to bust out my favourite tea pot!
I'm not a huge fan of fizzy soda pops and we all know that the fruit juices on the store shelves are more sugar than anything, so it looks like homemade for the win. 🙂
I have a few drink recipes here on the Honour System. Homemade Gatorade which was far and away Joe's favourite and a nice Minted Green Tea that was super refreshing.
FRUITY ICED TEA COOLERS
I'm calling this particular drink recipe Fruity Iced Tea Coolers. Sounds like something you'd reach for on a hot, sunny day, yes? I used tea that contained hibiscus which is what lends that bright colour. Hopefully the red will entice any Kool-Aid lovers in your house to give this a try.
I sweetened the pot with only 2 tablespoons of honey (use maple syrup or stevia if vegan) and it was plenty. Pour it over a glass full of ice and enjoy the frosty goodness.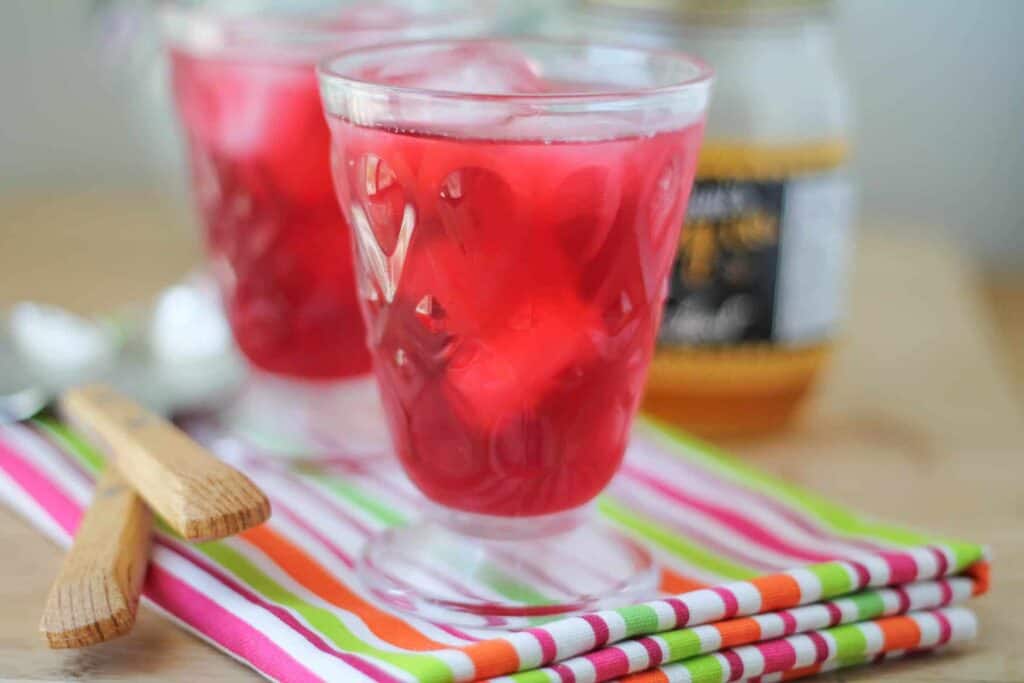 The sky's the limit with tea flavours.
God knows there's tons of them. Experiment and enjoy!
MORE HEALTHY SUMMER DRINK RECIPES:
Be sure to follow me on social media! I love pinning to Pinterest, sharing on Facebook and posting pics to Instagram. See you there. 🙂
Originally posted on May 29, 2015. Updated August 6, 2019
As an Amazon Associate I earn from qualifying purchases.
I use a stainless steel kettle for making tea.
Iced Tea Coolers - Vegan, Gluten Free, Paleo
Instructions
Pour boiling water over tea bags in a large pot and steep for 5 minutes

Cover with cool water

Place in the fridge to cool more or pour over ice

Store in the fridge
Nutrition
Serving:
4
Calories:
22
kcal
Carbohydrates:
6
g
Sodium:
15
mg
Sugar:
6
g
Calcium:
8
mg
Click for Nutritional Stats