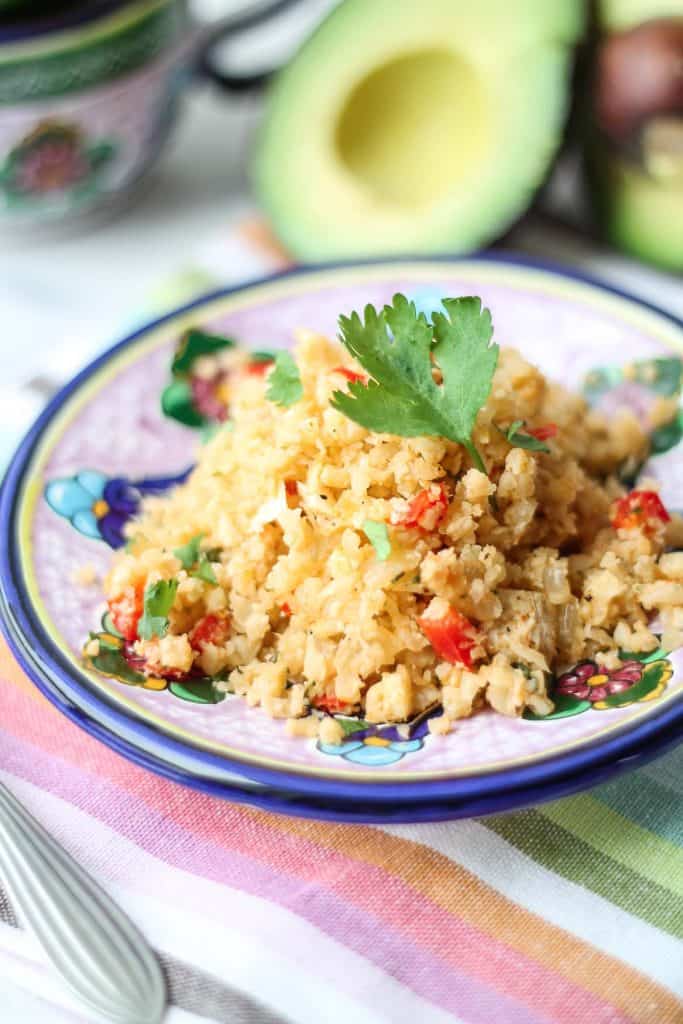 After the success of my first attempt at making rice out of cauliflower, I knew more variations of the dish would be in our future. Welcome, Mexican Cauliflower "Rice".
Since I love the heat, Mexican spices and salsa were just the thing for this veggie based side dish.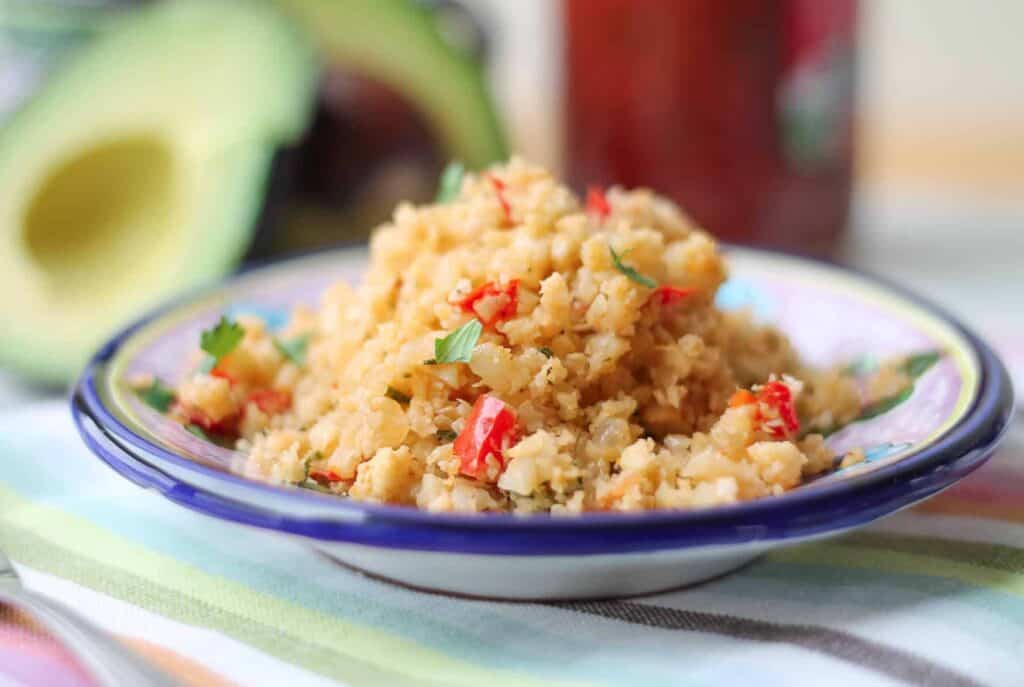 It's funny, I always see helpful articles or info-graphics on how to sneak more vegetables into our kids, yet not a lot about making it interesting for adults also. I mean, I am a healthy eater but always getting the recommended amount of veggies can be a challenge. I like to do a green smoothie daily to get those nutrient rich leafies into my system, but after that veggies lose their star power to more glamorous ingredients like avocado or dark chocolate. 😉
The discovery of making the rice like side dish out of cauliflower first came onto my radar when I did the Whole 30 Challenge back in April. I liked it, Joe liked it and we have enjoyed the Chicken Fried Cauliflower "Rice" a number of times since. Now to head south and give it a Mexican kick. The flavours were perfect with the texture of the riced cauliflower and when you hook yourself up with some avocado to go along with it? Heaven. Such a tasty dish and it reheats really well too. I liked that it was entirely vegetable based, yet super filling like you had eaten a plate of grains. We had it alongside some Chili Lime Chicken.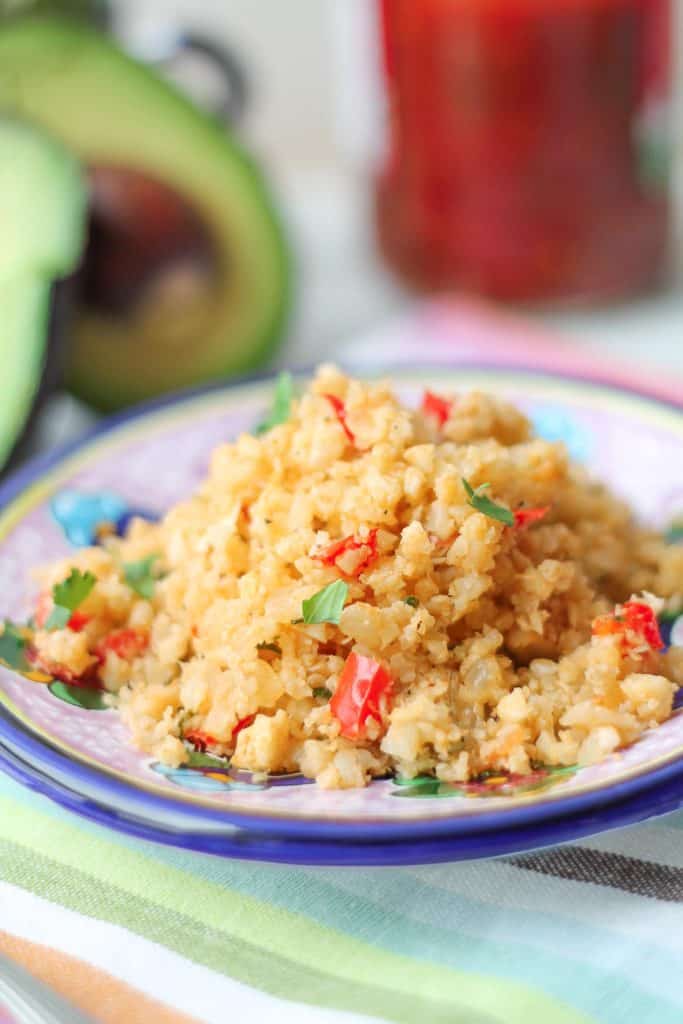 The plate, by the way was a gift from my bestie Julie who brought it back from Mexico with her a few years back when she visiting family. Makes it more authentic when you serve it on ceramic directly from Mexico, dontcha think? 🙂
Yields 4-6
Mexican Cauliflower "Rice" - Vegan, Gluten Free, Paleo
Ingredients
1 head cauliflower
1 tbsp. olive oil
1 small yellow onion, diced
1/2 red pepper, diced
2 garlic cloves, minced
1 tsp ground cumin
1 tsp garlic powder
1/4 tsp cayenne
1/2 cup salsa
1/4 cup fresh chopped cilantro
1 avocado, sliced
Instructions
Make the cauliflower into rice by pulsing florets in a food processor ( I work in two batches ) until it resembles rice, about 10-15 pulses. Place it in a bowl and set aside
Heat the olive oil in a large skillet over medium low heat. Add the diced onion and peppers and sauté until soft, about 5 minutes. Stir in minced garlic and cook for another minute, stirring. Add the cumin, garlic powder and cayenne and stir to combine everything
Add the cauliflower rice, stir, reduce heat to low and cover the pan. Let cook for 5-8 minutes, checking for desired tenderness
Stir in the salsa and fresh cilantro and garnish with avocado slices
7.8.1.2
19
https://thehonoursystem.com/mexican-cauliflower-rice-vegan-gluten-free-paleo/