Curry Chicken Brown Rice Bowl – Gluten Free
A quick and easy dinner is a must on those busy weeknights! This simple Curry Chicken Brown Rice Bowl recipe is a gluten-free, veggie-packed meal that can be on the table in just thirty minutes.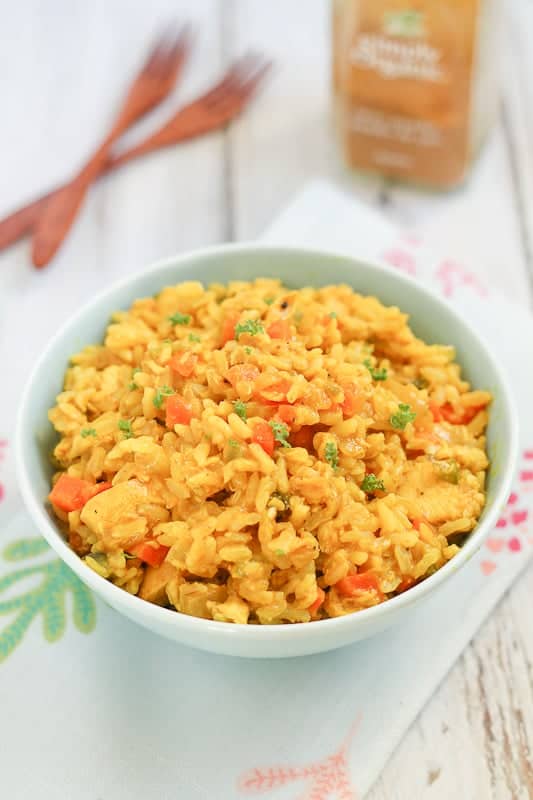 We love a good chicken dinner! Check out this Chicken Broccoli Potato Casserole for a creamy meal or this Italian-inspired Chicken Murphy. Yum.
CURRY CHICKEN BROWN RICE BOWL
If you're anything like me sometimes you just don't have time to spend hours in the kitchen making dinner.
I try, for the most part, to keep my recipes simple and not terribly time-consuming.
The thing with meal planning is to do it! It can make for some easy mealtimes, where if you didn't have a plan it could mean toast for dinner or, worse yet, dreaded fast food.
When I cook healthy grains or chicken I like to cook up extra to have on hand in my fridge for days, like this day in particular, when I'm running around and I know I'll be crunched for time.
On my days off I have much more time to spend cooking, so this past weekend when I made chicken for dinner I also cooked up a couple of extra breasts using this marinade.
I kept it in a sealed glass container in the fridge. So on my busy day, which is usually Thursdays, I only have to spend 30 minutes getting a great dinner on the table.
CURRY CHICKEN RICE BOWL Step by Step
Get your brown rice on the stove first.
While your rice simmers away, chop up your veggies.
I kind of cleaned out the crisper and sliced up onion, celery, carrots, and half a green pepper.
Saute up your veggies in some coconut oil over medium-low heat.
After about five minutes, add the garlic.
Next up, the spices!
Nothing adds drama to your dinner like this curry spice blend. If you like things on the spicier side sprinkle in a bit of heat with some chili flakes and cayenne. I also like adding in turmeric.
Turmeric adds an earthy flavour and also has been linked to a host of health benefits ranging from slowing the progression of diseases to detoxifying your liver.
Let the veggies be soaked in the goodness.
Next add in the cooked rice, and some veggie broth and stir everything really well.
Then toss in the cooked chicken.
TIP! Using leftover rotisserie makes this part much easier.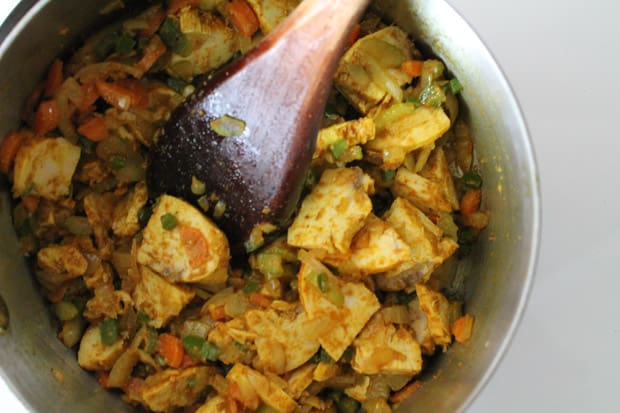 If you're feeling super industrious, toss up a nice salad! This vinaigrette is my fave.
This is a tasty, healthy dish with some impact. I really dig a good curry. 🙂 Come to think of it this Curry Chicken Brown Rice Bowl could be useful as a Sunday dinner if you had too many glasses of vino on a Saturday night. 😉
Enjoy!
MORE GLUTEN FREE CHICKEN RECIPES:
Curry Spiced Baked Chicken Breasts
Chicken Enchilada Bake with Butternut Squash
Originally posted January 31, 2014. Updated April 24, 2020.
Be sure to follow me on social media! I love pinning to Pinterest, sharing on Facebook and posting pics to Instagram. See you there. 🙂
As an Amazon Associate I earn from qualifying purchases.
I use non toxic ceramic cookware.
Chicken Curry Rice Bowl
A quick and easy dinner is must on those busy weeknights! This simple Curry Chicken Brown Rice Bowl recipe is a gluten free, veggie packed meal that can be on the table in thirty minutes.
Instructions
First get the rice on the stove and cook according to the package directions

Meanwhile, chop all your veggies

Next, melt the coconut oil over medium low heat in a medium saucepan

Once the oil is liquid add the vegetables and sauté until softened, about 5 minutes

Add in the spices, stir, and cook for one minute more

Stir in the chicken, then the cooked rice, and finally the broth. Stir well serve.
Nutrition
Serving:
2
servings
Calories:
754
kcal
Carbohydrates:
80
g
Protein:
56
g
Fat:
22
g
Saturated Fat:
13
g
Cholesterol:
144
mg
Sodium:
408
mg
Potassium:
1285
mg
Fiber:
5
g
Sugar:
3
g
Vitamin A:
5680
IU
Vitamin C:
30.5
mg
Calcium:
59
mg
Iron:
3
mg