Nothing makes you feel like a true cook like making your own broth. This is what I learned last Friday evening when I decided that the time had come for me to do just that. Make my own broth, from scratch. Something else I learned was that even if the package says 'organic' it doesn't necessarily mean healthy.
I usually take the easy, less time consuming route when it comes to broth by purchasing the handy tetra packs from the grocery store. Well, since I'm a big label reader, I took a close look at this one.
Did you notice it? Organic cane syrup is listed twice on the ingredient list! That's sugar, folks. Now don't get me wrong, I'm not saying I never have sugar, I just prefer it in my cupcakes instead of my soup 😉 It also contains wheat, which is no good for those avoiding gluten.
So, here I am, on a mission to make my own broth.  Let's get started!
Into a large pot goes some sliced onions, carrots and celery. Just a rough chop is good, it doesn't need to look pretty. Saute for about 5 minutes.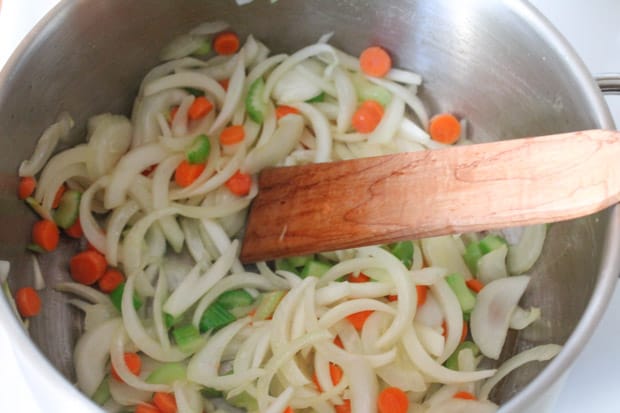 Then put a lid on the pot and let the onions carmelize a bit. I let it sit for about 30 minutes.
Add in fresh water and give it a good stir.
Then comes the flavour! All week I was saving my veggie scraps, like kale stems from smoothies, the core of a red pepper, the tops and bottoms from onions, etc. I dumped those in as well some crushed cloves of garlic. This is what's going to give this broth some depth.
The lid goes on again and this simmers for about 2 hours.
The final touch was to add the sprigs from this fennel.
I read that adding aromatics like fennel or parsley makes your broth taste amazing and I always want things to taste amazing 🙂
After adding in the sprigs from the fennel, I turned the heat off, covered the pot, and went to bed …
In the morning, I strained the veggies from the liquid, really pressing down on them on the mesh strainer to make sure that every last bit of flavour was released. I couldn't snap a pic of this process as it was a two hand job 😉
I poured the fruits of my labour into large mason jars. One was popped into the freezer and one into the fridge. I heated up a cup of it later on at work and I was so happy with the result. Not only did it taste like broth, it was so good. With the air getting cooler now that Fall has arrived, what's better than warm, comforting sips of homemade broth?
Use it for a base for homemade soups or on it's own if you're feeling under the weather.

As an Amazon Associate I earn from qualifying purchases.
Homemade Vegetable Broth
Keyword:
gluten free homemade broth, homemade vegetable broth
Instructions
Heat olive oil in a large pot over medium heat

Add the onions, carrots, and celery and sauté for about 5 minutes until the onions are translucent

Cover and reduce the heat to medium-low. Leave covered for about 30 minutes for the onions to caramelize

Add the water, vegetable pieces, smashed garlic and a generous pinch of sea salt

Cover and lower the heat to low. Simmer for 2 hours. Turn the heat off, and add fennel sprigs.

Cover and leave overnight (or until completely cooled)

Strain the broth and make sure to press the vegetables to get all of the liquid out
Nutrition Facts
Homemade Vegetable Broth
Amount Per Serving (6 g)
Calories 539
Calories from Fat 153
% Daily Value*
Total Fat 17g 26%
Cholesterol 234mg 78%
Sodium 205mg 9%
Potassium 1416mg 40%
Total Carbohydrates 5g 2%
Protein 85g 170%
* Percent Daily Values are based on a 2000 calorie diet.