With my cleanse coming up next week, I've been devising my meal plan and came up with this delicious, clean, three bean salad. The bonus with bean salads is a ton of protein with out having to cook meat! In the summer heat there is nothing nicer than a cool meal out of the fridge, ready to go and full of flavour.
This salad had humble beginnings with the beans. I used kidney beans, black beans and chickpeas, as well as some sliced bell peppers and red onion.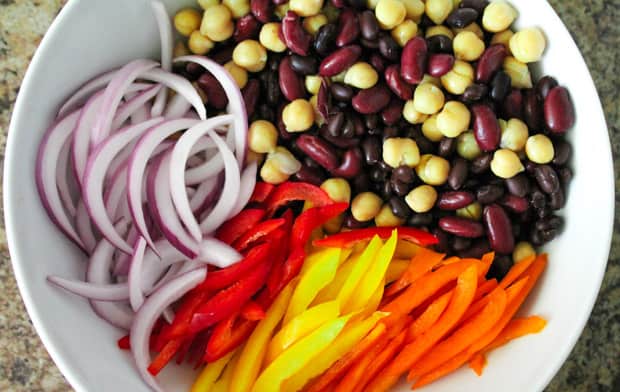 There was a bit of cilantro in the fridge from the chicken soup I made a few days back. Actually, the peppers were leftover from that soup as well! This is my usual routine to make sure that all the food in my fridge has been eaten before the next grocery shop. Considering that I do spend quite bit of money on my food by purchasing organic and local when possible, I do not want to be throwing any of that in the garbage. So with peppers and cilantro leftover, into this meal they went!
I have to say that a wee bit of magic was created when I made the dressing for this bean salad. I had a jar of salsa in the fridge that needed to be used up so that became the base for this simple dressing. I'm a fan of making my salad dressings in a small mason jar but since I would be using all the salsa that was left, the salsa jar became my mixing bowl. 🙂 Into the jar with the salsa went chopped cilantro, minced garlic, and both white and apple cider vinegar. Then I gave it a good shake.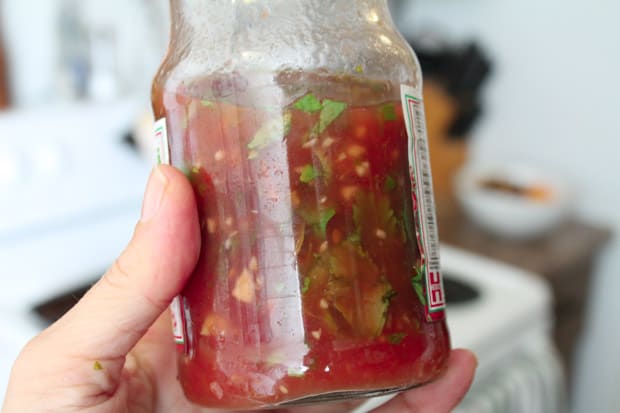 I poured this over the beans, peppers and onions and tossed everything together thouroughly.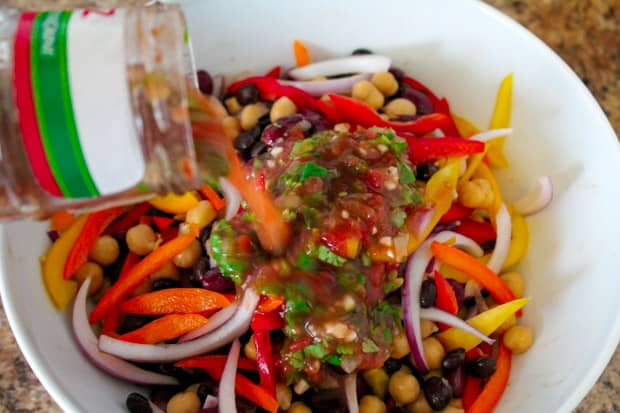 The bowl was covered then stored in the fridge for a couple of hours to let all the flavours marry together.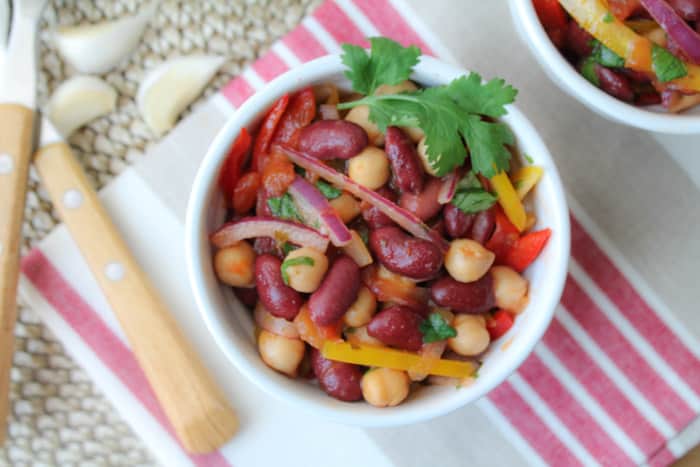 For me, it was love at first bite. This dish had taste, tang, and texture. A perfect salad, not just for my upcoming cleanse but, probably many more times this summer.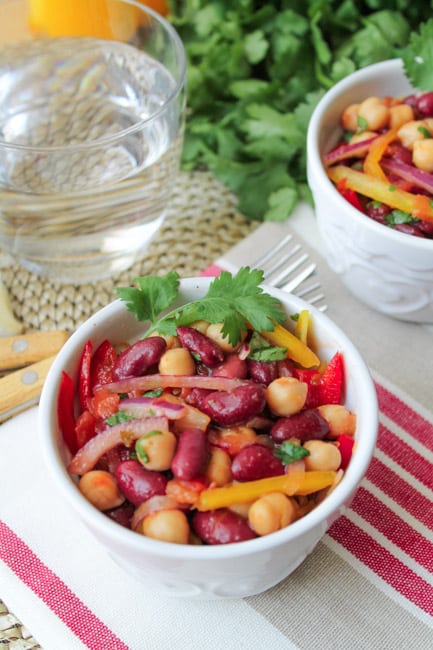 Clean 3 Bean Salad with Cilantro Salsa Dressing
Ingredients
3 tins (398ml) of beans, rinsed & drained (I used kidney beans, black beans, & chickpeas)
1 ½ bell peppers, thinly sliced
½ red onion, thinly sliced
1 cup salsa (I love Herdez brand)
2 garlic cloves, minced
¼ cup cilantro, chopped
¼ cup white vinegar
¼ cup apple cider vinegar
Instructions
Place the beans, peppers, and onion in a large bowl and toss
In a mason jar (or the salsa bottle!) combine the remaining ingredients and shake well
Pour dressing over the bean mixture and toss until well combined
Cover and refrigerate for at least an hour
7.6.7
158
https://thehonoursystem.com/clean-3-bean-salad-with-cilantro-salsa-dressing/