Mocha Hazelnut Freezer Fudge – Vegan & Gluten Free
This is a combo of glorious coffee flavour with toasty hazelnut goodness.
Then I made it into fudge.
Deal with it. 😉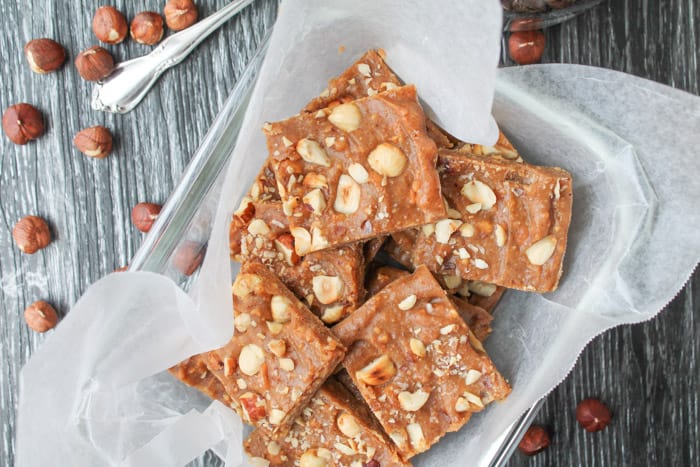 Coconut oil, which happens to be my favourite ingredient for everything, makes this treat both healthy and fudge at the same time. Brilliant! You know what else I've been doing lately with coconut oil? Oil pulling. I've you are a fan of The Honour System on facebook, you may have read the updates I've posted about it. Check out –> this article <– for info on what all the fuss is about. I'm giving it a two thumbs up. Well, one thumb, really since it's the like on facebook. 😉
An overestimation of how much coffee I planned on drinking inspired the mocha portion of this fudge. Adding in some brewed coffee to compliment the nuts with the added bonus of caffeine jolt! Kidding. A little bit.
Last week's roasted hazelnut experiment gave me the topping for this fudge.
Roughly chopped and strewn all over, these crunchy beauties just look so perfect. I didn't have any chocolate on hand but I'd bet my hat that these would be glorious with a hefty drizzle of dark chocolate over top of it all. Next time for sure.
Super easy method of making this fudge. Mixing, spreading and freezing.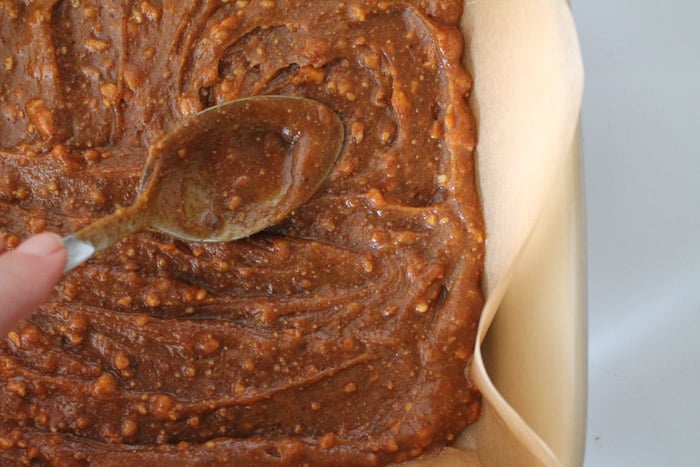 Even without the seductive chocolate, this fudge was delightful. Not too sweet with a nice crunch. Easily cut into squares from the freezer. Keep in mind that this fudge will melt at room temp, so don't leave it unattended!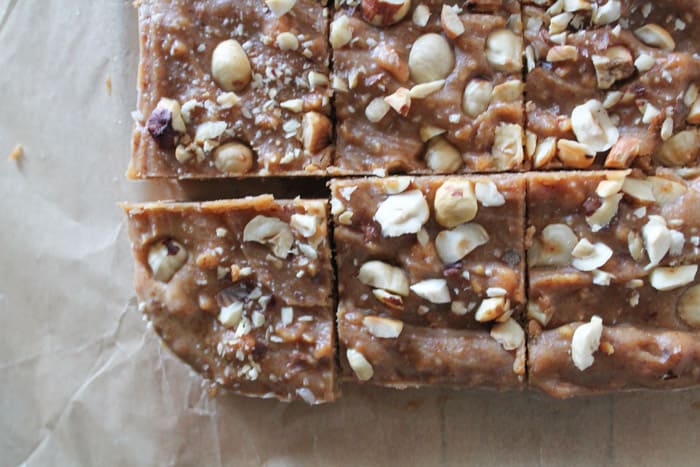 Hazelnuts = Texture = Yum!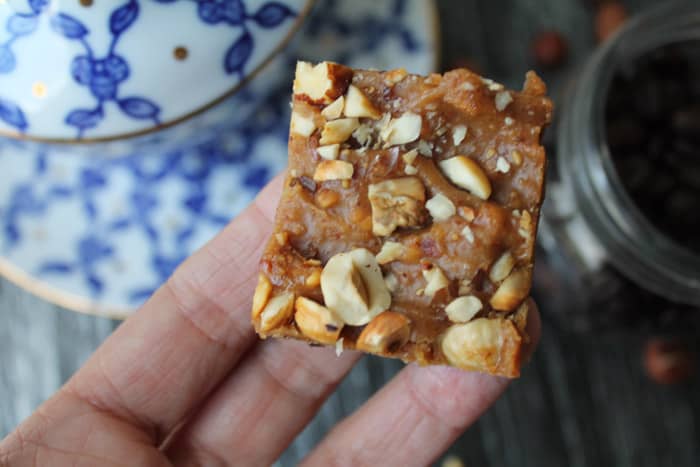 As an Amazon Associate I earn from qualifying purchases.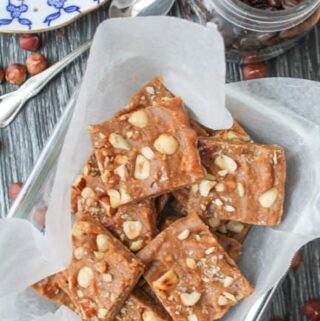 Mocha Hazelnut Freezer Fudge – Vegan & Gluten Free
Instructions
Mix almond butter, maple syrup, coconut oil, coffee and salt together in a bowl

Pour mixture into a lined 8×8 dish (I used parchment)

Sprinkle hazelnuts over the top and freeze for an hour

Cut into squares and store in the freezer
Nutrition
Calories:
162
kcal
Carbohydrates:
6
g
Protein:
3
g
Fat:
14
g
Saturated Fat:
3
g
Sodium:
37
mg
Potassium:
153
mg
Fiber:
1
g
Sugar:
3
g
Vitamin C:
0.2
mg
Calcium:
64
mg
Iron:
0.7
mg