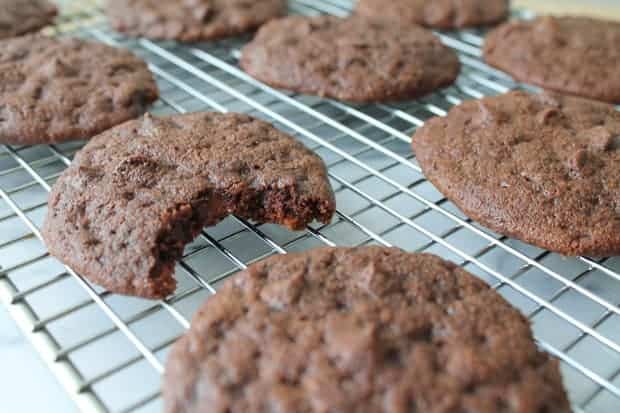 If the title of this post doesn't send you scurrying into the kitchen for your cookie sheets, I don't know what will!
This week I am making steak tacos with red cabbage slaw and Joe likes to slap some sour cream onto his. The downside to this is, our grocery store only sells the larger size tub of organic sour cream and we never seem to use it up before  it goes bad. Check out this article on why you should always purchase local, organic dairy products.
My determination to find a way to use up that extra sour cream was the inspiration for this super delicious cookie recipe. Using unrefined sugars, spelt flour and coconut oil makes this a keeper for those looking to avoid processed ingredients.
Here we go!
Whisk together the spelt flour, cocoa powder, salt and baking powder and set aside.
In a large mixing bowl, using a mixer, combine the coconut oil and sugars. The coconut oil should be liquid, which is easy when the weather is humid. Mine has been liquid all summer:)
Add the sour cream into the sugar/coconut oil and combine well. Then, bit by bit, add in the flour mixture, until it is all blended.
This cookie dough is incredibly good. I kept dipping my finger in 'to test' out the flavours and found it hard to stop:) I moved onto the beaters, which brought me back to my childhood. When my mom would bake, one of us kids would get to lick the beaters, one would get the spoon and one would get the bowl. Well, in my kitchen today it was  just me and the cat so all the utensils were mine to lick clean. And trust me, they were sparkling!
I poured in some dark chocolate chips for good measure.
I baked these in 2 batches with 8 scoops of batter on each cookie sheet.
Crisp on the outside and chocolatey with a hint of tanginess from the sour cream in the middle. It was a winning combination. I will have to use all my will power to not eat the majority of this batch of cookies. I have a feeling I will be packing these to work with me tomorrow for my lucky, lucky co-workers:)

As an Amazon Associate I earn from qualifying purchases.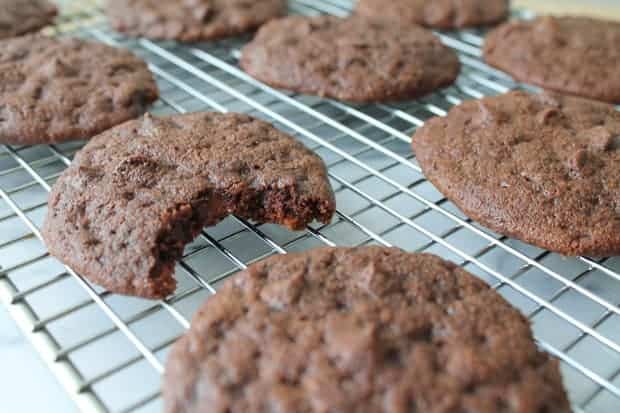 Double Dark Chocolate Sour Cream Cookies
Keyword:
chocolate sour cream cookies
Instructions
Preheat the oven to 350 and line 2 cookie sheets with parchment paper

In a medium sized bowl, whisk together flour, cocoa powder, sea salt and baking powder and set aside

In a large bowl, using a mixer, combine coconut oil with the sugars

Add in the sour cream and vanilla and continue mixing

Slowly, add in the flour mixture and mix until well combined

Stir in the chocolate chips

With a small scoop, scoop out dough onto cookie sheets leaving 2 inches between each. I fit 8 on each cookie sheet

Bake for 15-18 minutes, rotating cookie sheets halfway through

Place first batch on a wire rack and re-line the cookie sheets with parchment paper

Repeat with the second batch
Nutrition Facts
Double Dark Chocolate Sour Cream Cookies
Amount Per Serving
Calories 130
Calories from Fat 54
% Daily Value*
Total Fat 6g 9%
Cholesterol 3mg 1%
Sodium 30mg 1%
Potassium 82mg 2%
Total Carbohydrates 16g 5%
Protein 1g 2%
* Percent Daily Values are based on a 2000 calorie diet.