Using a pressure cooker turns a tedious task like cooking beans into an easy kitchen project. These Instant Pot Black Beans are ready in no time and will also save you big on your grocery bill.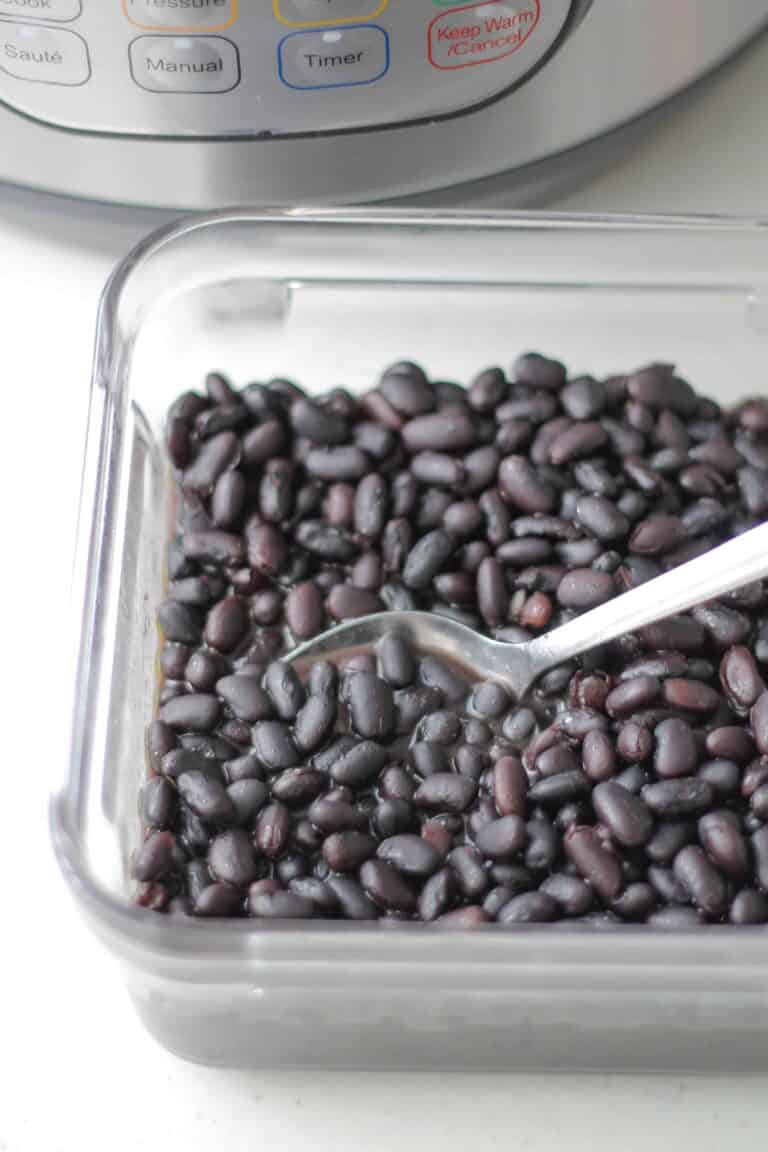 Did you know that I'm a big fan of beans? Submitting permanently to an elimination style diet, like Paleo or vegan for instance, is not for me.
Obviously, I'm not saying I don't enjoy grain free dishes or a good vegan dessert, but I could never go in full measure.
Keeping my protein levels up is hard without meat (I have an absorption issue), oatmeal is for breakfast more days than it isn't and, let's be honest, life isn't worth living without cheese. 😉
So a staple in my version of a healthy diet also includes beans.  Instant Pot Black Beans to be exact.
In my previous life, before my IP, I think I maybe made beans from dried once. Obviously it was not a pleasant enough experience because ever since, I've simply opted to shell out the dough for the fancy ( no BPA ) canned variety.
While this shortcut method is much, much easier I did often feel guilty and a tad sheepish. I mean, I'm a food blogger. I should be doing this from scratch!
So when my appliance savvy friend originally recommended the Instant Pot to me, one of the big selling features was cooking dried beans in under an hour and completely hands off.
I love being able to multi task while the IP does all the work.
My bean of choice is usually black beans. I like them in salads and in chili. I also liked that they were on sale at the bulk bins in Whole Foods. 😉
Basically you cover your beans with water and turn on your Instant Pot.
When they are done, you can divvy out your cooked beans into containers and cover them with the cooking liquid.
Now they're just like the cans you buy at the store. Only they're stored in glass and you made them.
Congrats! 🙂
As an Amazon Associate I earn from qualifying purchases.
For my Instant Pot Recipes I use the Instant Pot DUO60 6 Qt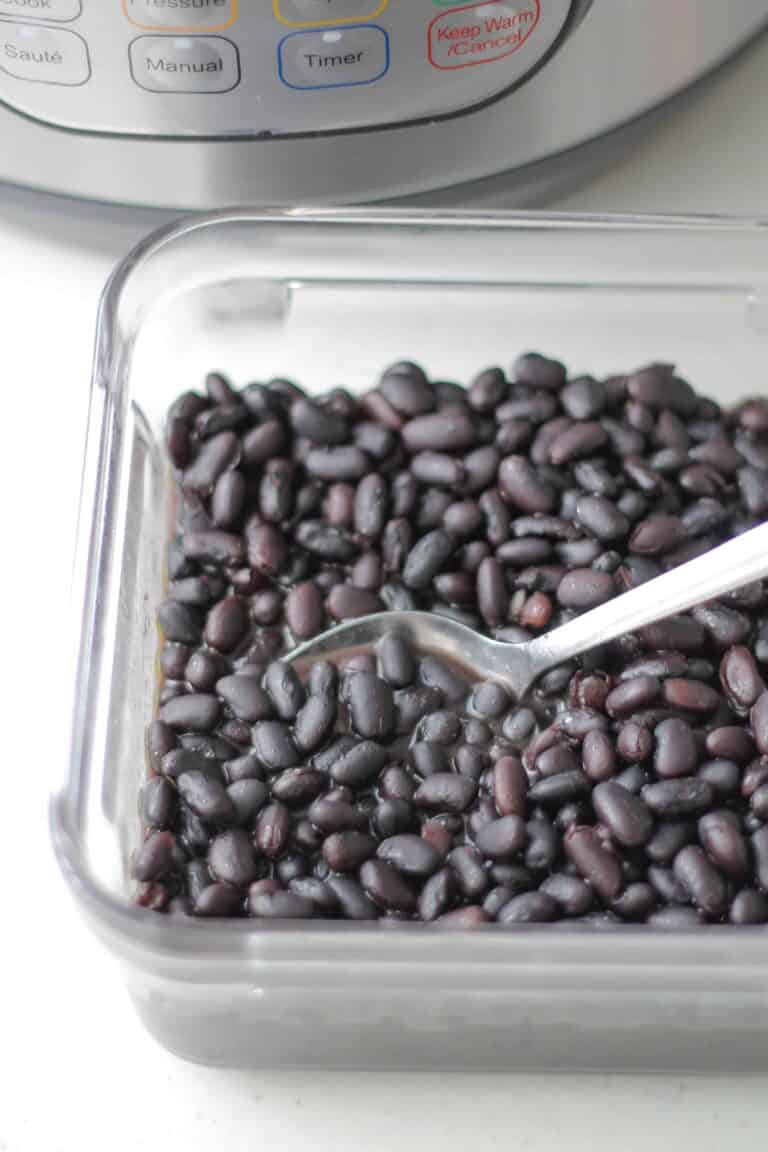 Instant Pot Black Beans
Keyword:
Instant Pot Black Beans
Instructions
Add your rinsed black beans to the Instant Pot and add enough water to cover them

Lock the lid in place and ensure the steam valve is sealed. Press manual and adjust the time to 20 minutes at high pressure. When the time is up, allow the pressure to release naturally for 5 minutes before carefully releasing the rest of the pressure. Open the lid and stir. Check your beans for doneness & add salt if you like it. If you like the beans softer, simply lock the lid in place again and set it for another 5 minutes

Pour the beans, liquid and all, into a glass storage container (I split it into 2 containers) and store covered in the fridge for up to a week or freezes for 3 months

Simply strain and rinse before using, like you would with canned beans
Nutrition Facts
Instant Pot Black Beans
Amount Per Serving
Calories 165
% Daily Value*
Sodium 2mg0%
Potassium 719mg21%
Carbohydrates 30g10%
Protein 10g20%
Vitamin A 10IU0%
Calcium 60mg6%
Iron 2.4mg13%
* Percent Daily Values are based on a 2000 calorie diet.