Fiesta Brown Rice Salad – Gluten Free + Vegan
This Fiesta Brown Rice Salad is a great side dish or an easy, meatless packable lunch for those warmer summer months. Fresh, colourful, and chock-full of both nutrients and healthy fats.
Back in February, you may recall the Oscar project I participated in organized by one of my blog BFF's Haley, from Cheap Recipe Blog. I made these scrummy Texas Glazed Pecans inspired by the movie Hell or High Water.
Recently, Haley reached out to see if a few bloggers were interested in a Mexican themed recipe collaboration to celebrate Cinco de Mayo. I was in like Flynn. I am a HUGE fan of all things Mexican food. Much of it centers around fresh flavours and often scratch cooking. Also fun? Partnering with other bloggers and sharing their creativity.
It's been slowly showing signs of spring here in Vancouver and I'm determined to help it along by cooking as though the warm weather has already arrived. The cloudy skies say soup, but I'm saying salad. If there is salad on the table, the weather must fall into suit, right? Please say I'm right. It's been raining since October.
The sunshine on this salad is the creamy chunks of avocado. What would we do without the glorious avocado in our lives? Eat more cheese, probably. 😉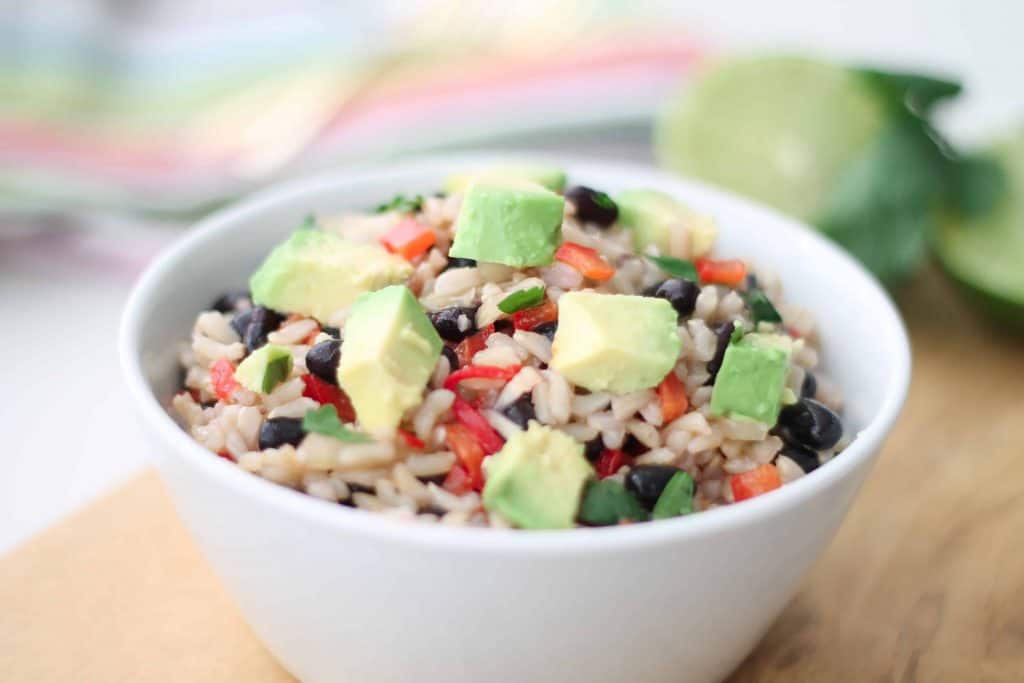 And if you thought you were getting away with a post that didn't involve my Instant Pot, then you my friend, were dead wrong. 😉 I used my IP to make the brown rice (always perfect!) and I also prepared the black beans from dried using my wonder appliance. Making beans in the IP is a huge money saver, especially if you're like me and spent the big bucks on the non-BPA lined tins. Post upcoming with a how-to on the beans!
In the meantime, enjoy this lovely fresh salad alongside some chili lime chicken or use it as a burrito filler. It keeps well in the fridge and it is wonderful as leftovers. I actually reinvented the salad bit for lunch the next day using the leftovers by adding a few cups of chopped romaine and some salsa. Packed up nice and easy to bring with me to work.
Deliciosa!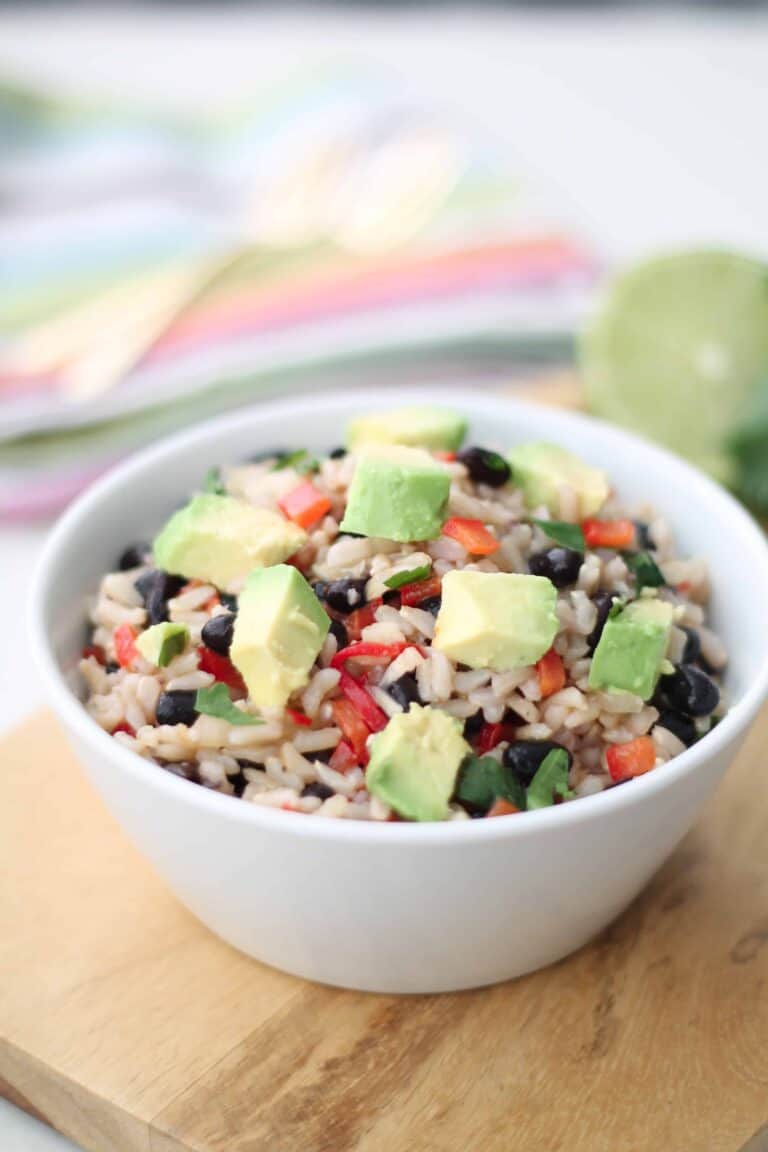 Scroll to the bottom for the Fiesta Brown Rice Salad recipe, but first! … Check out these other Mexican themed recipes from these talented bloggers: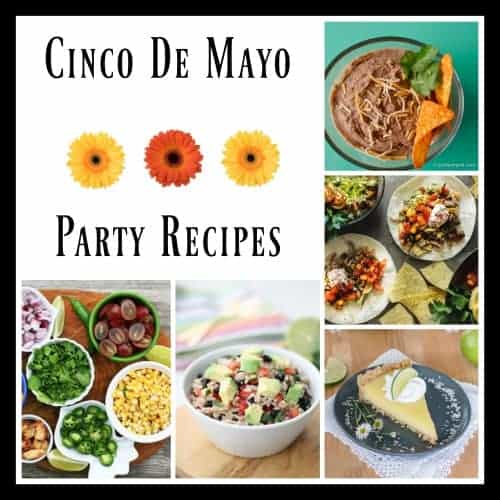 DIY Guacamole Bar by Haley from Cheap Recipe Blog
Refried Beans by Greta from Pickles Travel
Margarita Tart with Tortilla Chip Crust by Suzanne from Flour Arrangements
Crispy Lemongrass Chicken Tacos by Joyce from Pups with Chopsticks
Enjoy the flavours and celebrate Cinco de Mayo!
This salad was based on this yummy recipe!
As an Amazon Associate I earn from qualifying purchases.
Fiesta Brown Rice Salad – Gluten Free + Vegan
Instructions
Cook brown rice and set aside to cool

Chop red pepper, onion and garlic and stir together in a large mixing bowl. Add the black beans and stir again. Season with sea salt & cayenne and stir again. Add the avocado oil, lime zest & lime and stir. Finally fold in the cilantro

Cover the bowl and place in the fridge for about 30 minutes. Stir before serving. Top each portion with cubes of avocado (and salsa if you have it!)
Nutrition
Calories:
265
kcal
Carbohydrates:
37
g
Protein:
6
g
Fat:
10
g
Saturated Fat:
1
g
Sodium:
558
mg
Potassium:
446
mg
Fiber:
7
g
Sugar:
1
g
Vitamin A:
730
IU
Vitamin C:
34.2
mg
Calcium:
37
mg
Iron:
1.7
mg